How She Does It
New Hampshire's governor, a prep-school campus, and the meaning of women in politics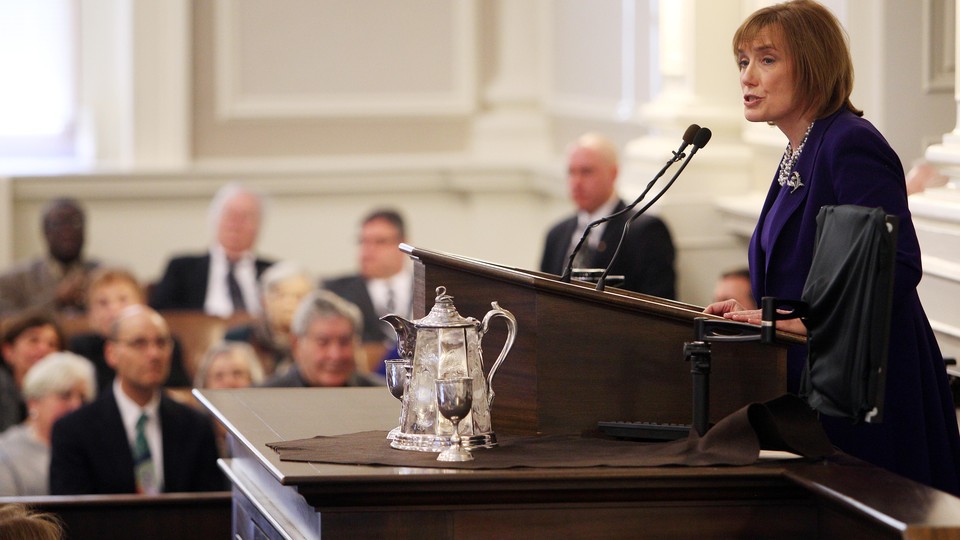 The governor of New Hampshire does not live in the governor's mansion. Instead, Maggie Hassan lives on the grounds of Phillips Exeter Academy, the exclusive 228-year-old prep school of the Northeast's privileged set, where her husband, Thomas Hassan, has been the principal since 2008—a job that comes with lodging in a stately colonial on the school's campus.
The Hassans' is thus the marriage of two New England institutions, and the house in Exeter has opened Maggie Hassan to charges of elitism. (The name, pronounced "HASS-un," comes from Tom's Black Irish ancestors, thought to be the result of some long-ago Moorish migration.) An attack ad aired during her 2012 campaign faulted her for living in "a half-million-dollar home that Hassan pays no property taxes on," failing to mention her husband's job and that they don't own it. Before I visited their house last month, I imagined Maggie and Tom—who met at Brown—hosting tea for Brahmins on an opulent lawn, he in headmasterish tweed, she in, say, a Colonial-style powdered wig. More realistically, perhaps the end of the term would find her marking up budgets while he marked up final exams, or plotting strategy in a campaign war room next door to a pizza party of well-scrubbed junior WASPs.
But if I thought I would encounter a scene from Preppy Heaven, what I found instead at the Hassans' was rather more prosaic: the overscheduled life of a high-powered professional couple, one half of which just happens to get picked up for work by a state trooper. The house in Exeter turned out to be a symbol of what Maggie Hassan represents as a politician—just not in the way I expected.
At seven o'clock, Hassan, 56, descends the stairs to the kitchen, pantsuited and in stocking feet. Her 25-year-old son, Ben, who has cerebral palsy, is in his wheelchair being fed breakfast by his caregiver, Joyce; Hassan addresses him as "knucklehead"—the nickname is unmistakably, endearingly affectionate—while the family's adopted mutt, Honey Mae, bounds around her heels. The fridge displays snapshots with John Kerry and Michelle Obama alongside a magnet reading "Only Dull People Are Brilliant at Breakfast." Exeter is 45 minutes' drive from the capitol in Concord; when Hassan, a lawyer and former state senator, was elected governor in 2012, it was easier to commute than to move. Because New Hampshire is so small, most of its governors don't move to the statehouse. Not since Mel Thompson in the 1970s, who hailed from a far-flung farm along the Appalachian Trail, has the governor made a home in the executive residence, known as Bridges House, which is used primarily for official functions.
Ben is the reason for his mother's political career. His mind is alive and he hears everything, but he cannot speak or use his hands. The lofty old house has been fitted with special counters, ramps, and ceiling tracks to help him get around. More than a decade ago, when Hassan was a lawyer in private practice, her work to make Ben's public elementary school accommodate his needs got her involved in disability-rights activism. In 1999, then-Governor Jeanne Shaheen—now the state's senior U.S. senator—appointed her to a state education-advisory commission, and in 2002 Democratic Party leaders asked her to run for an open state-senate seat.
"I called my husband and said, 'Isn't it nice they called me and asked me to run? But of course, I can't possibly—you know, job, kids, your job.'" Hassan is recounting this history from the front seat of an SUV as the trooper drives us from Exeter to Concord. (Her other state trooper, the one who takes her home at the end of the day, drives a minivan.) "And Tom just said, 'You'd be good at it and we'll make it work.'" So she ran, and lost, and ran again in 2004 and won. In 2010, she lost her Senate seat; in 2012 she was elected to her first two-year term as governor. She ran on a moderate platform that sought to thread the needle between the state's libertarian ethos and its increasing blue tilt, promising to invest in jobs and education while vetoing any proposed increase in taxes. So far, the opponents she has drawn for her reelection this year do not appear to pose a major threat.
Hassan is not the world's most electrifying politician. Relentlessly on message, even in private, she speaks in the sort of scripted, too-boring-to-quote genericisms that drive reporters crazy: Solving problems ... bringing people together ... focused on innovation .... She is an assiduous handshaker and small-talker, but her plodding, evenly delivered speeches will not soon light up the national stage, and she lacks the affable schmooziness of her predecessor, former Democratic Governor John Lynch. Riding around with her during a 12-hour day that sees her crisscrossing the state—honoring New Hampshire math teachers, giving awards to high-school athletes, touring a veterans' retirement home, two St. Patrick's Day meals—sometimes seems like an unfunny episode of Veep, as the candidate and her communications director, Marc Goldberg, shuffle briefing books and takeout meals while worrying over how her jokes went over.
At a St. Patrick's Day lunch in Salem, complete with beer and a fife-and-drum corps, Hassan opens with a pair of comedic lines. The first lands: "It's great to be here in Salem, straddling the border of New Hampshire and Massachusetts—but enough about Scott Brown." Brown, the former Massachusetts senator now plotting a comeback in New Hampshire, stands up from his table and grins, making a bring-it-on gesture. Hassan's other joke, a mock announcement for a plan to save the town's old horse track despite the failure of Hassan's push for a casino, is met with applause before she can get to the punch line and reveal that it's a joke about moving the state legislature to Salem. "I don't think they realized it was a joke!" she frets to Goldberg afterward.
Yet despite her lack of flash, there is something to be said for the sort of steady, even-keeled competence Hassan represents: A governor who will not likely gain national renown as a presidential prospect—though some in New Hampshire think she might run for U.S. Senate in a couple of years, a question she declines to address—but who simply does the job, day in and day out. She strikes me as a plugger, and that's an admirable thing to be. Hassan's boosters describe her as hardworking, dogged, focused, patient, and tough. "Maggie lost a couple of elections, but that did not stop her," Kathy Sullivan, the state's Democratic committeewoman, notes. "She just never gives up, and she will always go the extra mile," state Democratic chairman Ray Buckley says.
The two-year budget Hassan signed last July passed the Senate unanimously and the 400-member House with fewer than 20 dissenting votes—evidence of Hassan's commitment to bipartisan compromise. She can also take a political risk based on personal conviction and succeed. In 2009, she was the driving force behind the bill that made New Hampshire one of the first states to legalize gay marriage. Some of her fellow Democrats wondered if the state was ready for it, Senator Sylvia Larsen, the leader of the Democratic minority, told me. But Hassan convinced them that "the time was right and we should do it because it's the right thing."
Hassan's detractors charge, however, that she has been an ineffective governor. Her push to establish New Hampshire's first legal casino, the biggest controversy of her governorship so far, has twice failed in the state legislature. It's not a matter of partisanship—the Republican-led Senate has approved the measure, while the Democrat-led House has rejected it both times. The wrangling over the issue precedes Hassan's governorship and touches on a variety of ideological fault lines, from fiscal issues (because the state has no income or sales tax, increasing government revenue requires getting creative) to worries about moral decay.
In addition to Hassan's inability to get the casino passed, critics charge she was a bystander in the budget fight and in the recent, protracted negotiations to allow the state to accept the federal Medicaid expansion under the Affordable Care Act. Hassan claims the expansion, which finally passed last month, as a victory, but even her allies admit she was not a major part of the talks: "We really did a lot of negotiating just between senators and did not include either the House or the governor's office during that process," Larsen told me. Larsen added that this was a matter of strategy and that it was to Hassan's credit that she was more concerned with getting it done than controlling the process or taking credit for the result.
Hassan is the nation's only woman Democratic governor (there are four Republicans), a fact she downplays by noting that there were two others, Janet Napolitano and Kathleen Sebelius, before President Obama tapped them for his cabinet. How we talk about women in politics is a perpetually sticky question. Does it mean advancing a certain policy agenda, introducing a different temperament, making more people feel represented? Do we minimize women politicians by obsessing about their outfits and family lives?
To say that Maggie Hassan's house and family illustrate her as a politician shouldn't be to say that you can tell what a woman is about by the way she keeps her home. Rather, for Hassan and other women politicians today, politics seems like an extension of the volunteerism, family-wrangling, and advocacy to which women were long confined. Now that the old barriers aren't there those impulses, which were always political at their core, can find their full expression. It's a departure from the dichotomy that often trapped Hillary Clinton, who has had to spend her career pinging back and forth between roles perceived as masculine (lawyer, senator, secretary of state) and those seen as feminine (children's advocate, mother, first lady). Today's successful women politicians, from Sarah Palin to Maggie Hassan, get to integrate the two—and voters, rather than questioning their capabilities, seem to relate.
Often, Hassan ends her speeches to civic groups with an acknowledgment of the busy lives that constitute most people's daily reality. At the St. Patrick's Day lunch in Salem, she says, "As I look out, I see each and every one of you knowing that in addition to being here today, you're holding down jobs and raising families." Some people at the lunch, she notes, will get off work and go to a planning-board meeting or coach a youth-sports event. "You'll do that all while also making sure your kids get their homework done and dinner gets made and the laundry gets done." It's hard to imagine a male politician talking so frankly, and believably, about this daily reality. And yet it is the central drama of most people's lives.
Back at the house, we enter through the carport, where a small mud room is filled with shoes and snow gear. The formal dining room and other fancy spaces are dark, used only for Exeter entertaining. Tom is away on a fundraising trip, and the couple's daughter, Meg, is away at Brown; the campus is empty and cold. Ben is in his bedroom watching television. "All right, knucklehead, I've got to do some talking out here," the governor tells him as she enters and slips off her low-heeled pumps. Sitting down at the kitchen table, she peels a clementine and reflects on her career.
"The reason I ended up running for Senate is that I became acutely aware of the importance of the advocates and families who went before me," she tells me. "My son went to school in his hometown because of the work that those advocates and families did before the Hassan family came along. What it really teaches you is that our democracy is about bringing people in from the margins, generation by generation."
To her mind, this thought has implications for all kinds of political issues, from raising the minimum wage to equal pay. "What really has informed me since I first ran for office is that by empowering people, we all get stronger, we all thrive," she says. "That's the thing Ben, to me, is a living example of." Thirteen hours after New Hampshire's governor began her day, she shows me out and settles down to dinner with her son.