How Many Jobs Does Fracking Really Create?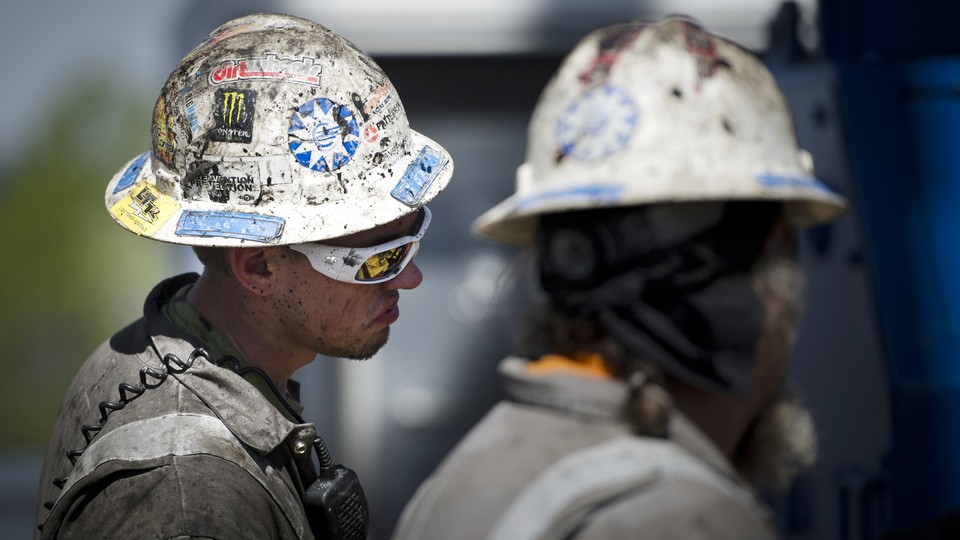 Fracking creates jobs.
That's the linchpin of the oil and gas industry argument for permitting the controversial drilling practice. And it's become the industry's trump card as the debate rages — among policymakers and scientists — over whether fracking is safe for the people and environment around it.
Getting an exact count of how many people collect paychecks as a result of fracking, however, is more art than science, and in many cases — particularly when it comes time for industry backers and politicians to tout the practice — a close look at the numbers shows that some of the largest estimates are based on the most generous economic assumptions.
Take Pennsylvania, a state at the center of the fracking boom. It sits atop the Marcellus shale, the largest rock formation of its kind in the U.S., and has seen a surge in shale gas production. Natural-gas production in Pennsylvania increased by 72 percent from 2011 to 2012, the largest jump out of all the major gas-producing states.
Supporters of fracking say the production explosion has generated a comparable increase in oil and gas jobs. Pennsylvania Gov. Tom Corbett, a Republican awaiting the winner of a crowded Democratic primary in what is projected to be a hotly contested gubernatorial race, has worked to put pro-fracking policies in place — and his campaign is telling Pennsylvanians that the policies have produced results.
Corbett's campaign proclaims in a television spot that the Marcellus shale natural-gas industry is supporting over 200,000 jobs. But according to the Pennsylvania Department of Labor and Industry, just over 30,000 people were employed by industries directly tied to the fracking boom in the third quarter of last year.
So what explains the 170,000-job gap between Corbett's campaign and his state agency calculation?
The 30,000 figure is the state's estimate of jobs that are closely connected to natural-gas production in the Marcellus shale — a tally that includes employment in fields like natural-gas extraction, well drilling, and pipeline transportation.
The state also provides another, broader metric of shale-related jobs. Instead of counting jobs in core Marcellus shale industries, it calculates employment in the larger natural-gas supply chain. The total for this category comes to 214,946 jobs in the third quarter of last year.
That's the figure Corbett is relying on for his ad, his campaign confirmed.
But the number was never intended to come without caveats. It covers industries whose connection to oil and gas development is tenuous at best, ranging from freight trucking to highway, street, and bridge construction. And agency officials openly admit that the figure — when used to estimate jobs supported by shale — amounts to little more than a guess.
"We have absolutely no idea how many jobs in that second category are due to natural-gas production," said Tim McElhinny, an economic research manager at the state Department of Labor and Industry's center for workforce information and analysis.
None of this is to say that fracking hasn't created jobs. In 2002, the oil and gas industry employed roughly 6,500 people in Pennsylvania, according to the federal Bureau of Labor Statistics. By 2012 — the latest year for which BLS had data available — that number had ballooned to more than 30,000, an increase of about 360 percent. During that period, the state saw a rise of only 1.3 percent in total employment.
The energy boom has injected fracking — and energy jobs in general — into the gubernatorial race, but its role in the political discussion dwarfs the sector's actual impact on the state economy: In 2012, jobs in core industries tied to natural-gas production made up less than 1 percent of Pennsylvania's total 5.5 million jobs.
"It's a drop in the bucket," said Tim Kelsey, a professor at the Pennsylvania State University and cofounder of the Center for Economic and Community Development. "Relative to statewide employment this is a very small number of jobs."
Pennsylvania's shale boom was enough to ease — but not erase — the state's pain during the recession. BLS reports the state shed a net total of 74,133 jobs between 2007 and 2012, while the oil and gas industry added roughly 21,000 jobs.
And fracking's ability to spur employment may be waning.
The industry continues to add jobs, but the pace has slowed. After posting its highest employment gains in a decade between 2010 to 2011 — an interval when the industry added roughly 8,800 jobs — the rate of job growth declined significantly the following year. (The industry added just over 5,000 jobs from 2011 to 2012.)
Market forces suggest this dip may be more than a blip: Natural gas has fallen victim to its own success. Fracking has dramatically expanded the natural-gas supply, and as customers pay less for the product, drillers have started to turn to energy sources like oil whose prices are higher and more stable.
That's good news for states like Ohio and North Dakota that sit on fields of the liquid fossil fuel — but bad news for Pennsylvania. It's also a reminder that the energy boom won't last forever.