How a Top Clinton Aide Helped Adam Silver Navigate the Sterling Saga
When the NBA is bigger than basketball, leaders of all stripes can take stock.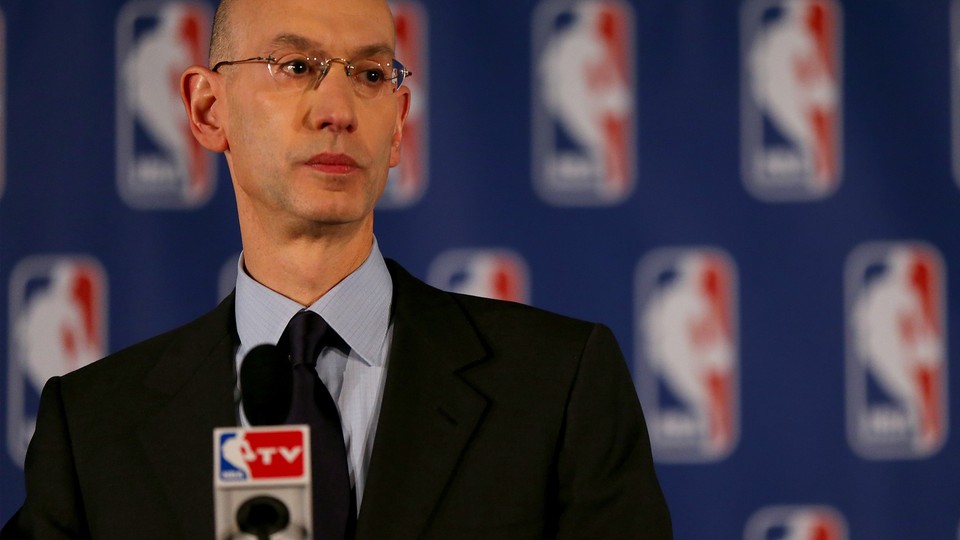 Standing on the sidelines of his son's soccer game Saturday morning, Doug Sosnik glanced at his Blackberry and noticed an email from NBA commissioner Adam Silver. It was the start of something bigger than basketball "" about bigotry, big business, and the challenges of modern leadership.
Silver's email included a link to a TMZ story accusing Clippers owner Donald Sterling of racist statements. He asked the consultant to listen to the recording. Please, Silver wrote, give me any suggestions.
Why would Silver email Sosnik, a former political director in the Clinton White House and adviser to Democratic groups? Simple answer: The NBA is one of several private sector clients who pay Sosnik handsomely for his crisis-management experience in politics.
Sosnik replied: Anything you need.
When Silver announced Sterling's lifetime league ban and a $2.5 million fine three days later, he addressed a press corps as large as most presidents face "" and his preparation was equally presidential. "It was intense," said Sosnik, who helped President Clinton survive the Monica Lewinsky impeachment scandal. He has advised the NBA for about 10 years.
Silver's handling of the explosive situation is a textbook example of crisis management: Gather the facts, determine a strong response, build consensus among natural allies and potential rivals, and announce the decision in firm and clear language.  "It was," Sosnik said, "real leadership."
There's that word "" leadership. Misunderstood and mishandled in Washington, leadership is a quality that Sosnik has studied up close. In addition to time spent in the Oval Office, Sosnik co-wrote "Applebee's America," a 2006 book that identified the shared attributes of successful political, business and religious leaders. His co-authors were Matthew Dowd, a former adviser to President Bush, and me.
Naturally, I called Sosnik shortly after he left the Silver news conference. We discussed what political leaders could learn from Silver's performance.
LESSON #1: Don't parse your words.
"Politicians, in the last 10 to 20 years, tend to deny allegations and parse their words and ultimately have to backtrack and clean up a second mess," Sosnik said. "The first mess is what got you in trouble. The second mess is what prevents you from getting out of trouble. Politicians are increasingly learning that when you get caught, own up to it and move on."
Silver's opening statement included unqualified contrition and accountability ("I apologize"), along with a clear explanation of wrongdoing and response.
I am banning Mr. Sterling for life from any association with the Clippers organization or the NBA. Mr. Sterling may not attend any NBA games or practices. He may not be present at any Clippers facility, and he may not participate in any business or player personnel decisions involving the team.

He will also be barred from attending NBA Board of Governors meetings or participating in any other league activity.

I am also fining Mr. Sterling $2.5 million, the maximum amount allowed under the NBA constitution. These funds will be donated to organizations dedicated to anti-discrimination and tolerance efforts that will be jointly selected by the NBA and its Players Association.
LESSON #2: Don't waste your words.
Americans crave authenticity and action from their leaders. They've witnessed the failure of American institutions to adapt to change, to shoot straight and to listen to their customers.
Political leaders, in particular, tend to preach rather than produce.
"People have been talked at to death," Sosnik said. "That's particularly true of young Americans; they're really looking for action. They see action as the true measure of a leader, not words."
Read the transcript of the first five questions asked of Silver. He replied in just 83 words, an average of about 16 words per answer.
Q. Do you or any of your emissaries have any clue as to whether Mr. Sterling will acquiesce to your wishes to sell the team, or do you expect a fight?

ADAM SILVER: I have no idea.

Q. From polling the owners that you've spoken to, what support do you think you have to force Mr. Sterling to sell the team?

ADAM SILVER: I didn't poll the owners. I spoke to several owners, and I have their full support.

Q. What kind of authority do they have to force a sale?

ADAM SILVER: The owners have the authority subject to three quarters vote of the ownership group, of the partners, to remove him as an owner.

Q. The word you used specifically was outrage. You said that you were personally outraged, yet many people believe that they are outraged that for years people have known that this man is a racist slumlord and the NBA hasn't done anything until today. Can you please answer why.

ADAM SILVER: I can't speak to past actions other than to say that when specific evidence was brought to the NBA, we acted.

Q. Should someone lose their team for remarks shared in private as this is a slippery slope?

ADAM SILVER: Whether or not these remarks were initially shared in private, they are now public, and they represent his views.
Such concision signals strength, certitude and honesty "" particularly at a time when long-winded leaders seem determined to hide their true intent behind a flood of empty words and promises.
Sixteen words per answer. By contrast, notice how much longer most politicians take to reply to questions from reporters and voters. President Obama, for all of his rhetorical skills and experience with news conferences, can take 500 words to clear his throat.
LESSON #3: Share credit.
Silver thanked his allies, including members of a union that could have been an obstacle to his effort.
This has been a painful moment for all members of the NBA family. I appreciate the support and understanding of our players during this process, and I am particularly grateful for the leadership shown by Coach Doc Rivers, Union President Chris Paul and Mayor Kevin Johnson of Sacramento, who has been acting as the players' representative in this matter.

We stand together in condemning Mr. Sterling's views. They simply have no place in the NBA.
LESSON #4: Keep your audience focused on a mission, preferably one that calls them to a cause bigger than one's self.
When asked to speak directly to fans of Sterling's team, the Los Angeles Clippers, Silver aimed high. The commissioner spoke proudly of a league that has struggled in the past with drug abuse and race, and that has on occasion been bigger than the game "" such as when Magic Johnson announced in 1991 that he had contracted HIV, a seminal moment in the fight against HIV/AIDS. (On that recording obtained by TMZ, Sterling told his mistress he didn't want her to bring Johnson or any other black players to his games.)
"My message to the Clippers fans is this league is far bigger than any one owner, any one coach, any one player," Silver said. "This institution has been around for a long time, and it will stand for a long time, and I have complete confidence in Doc Rivers, in the basketball management of that club, and the players deserve their support. They've just been through an incredibly difficult incident in their lives."
Leading any enterprise, any institution, through a crisis or great change is a difficult job "" and Silver's has just begun. The new commissioner couldn't explain why the NBA ignored evidence of Sterling's racism for years ("Now you get religion?" columnist Mitch Albom writes). But for a few minutes on the third day of an NBA scandal, a sports figure led by example.
{{ BIZOBJ (video: 4924) }}