House Votes to Give D.C. More Penthouses
Take that, Height of Buildings Act of 1910.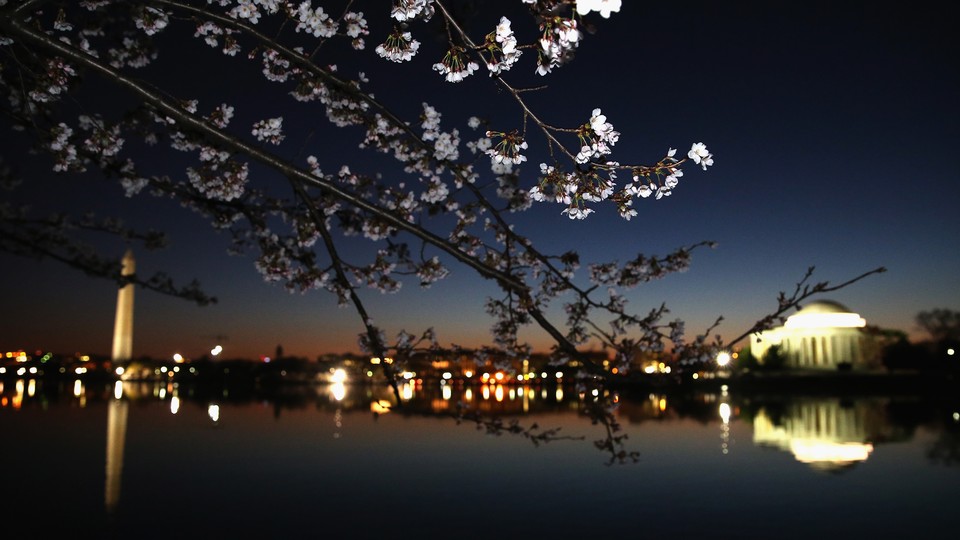 Members of the House on Monday waded into the ongoing battle between Congress and Washington over the city's desire for home rule, passing legislation to eliminate the city's height restrictions for buildings — if only for penthouses.
Since 1899, Congress has restricted the heights of all buildings in the District of Columbia. The law, altered once in 1910, remains in effect, preventing developers from building any structure taller than 130 feet within Washington's borders. As such, many of the city's monuments are widely visible from all over the nation's capital city and dominate Washington's skyline (The Atlantic's Kaid Benfield mounts an interesting defense of the law, based partially on that fact, here). But critics say that the law has prevented the city from expanding and kept real estate prices high.
The new House legislation passed Monday, which is just three paragraphs long, does little to change that. Rep. Darrell Issa, R-Calif., a strong proponent of home rule for the District, offered a partial solution. Currently, some buildings are allowed to breach the height requirements for utility-only penthouses; this bill would allow those areas to be occupied by residents and for architects to construct new penthouses for human occupancy.
In other words, the bill merely takes the 1910 law's section regarding the construction of floors above roof level and inserts the words "except in the case of a penthouse which is erected to a height of one story of 20 feet or less above the level of the roof...."
The legislation, which passed overwhelmingly with 366 yea votes on Monday, follows a yearlong study Issa requested that was conducted by the National Capital Planning Commission and the D.C. Office of Planning. The penthouse exception is just one of several proposals that came out of the study. Those recommendations, released in November, also included that Congress allow the city to make exceptions to the Height Act in its Comprehensive Plan (which requires congressional approval) and allow Washington to increase its building height based on street width, with a maximum height of 200 feet.
The Washington Post has some fascinating graphical representations of what the city might look like if some of the city's recommendations were approved by Congress, including the penthouse exception, which you can check out here.