House Barely Passes Paul Ryan's Budget, With 12 Republicans Voting No
All Democrats voted against the bill.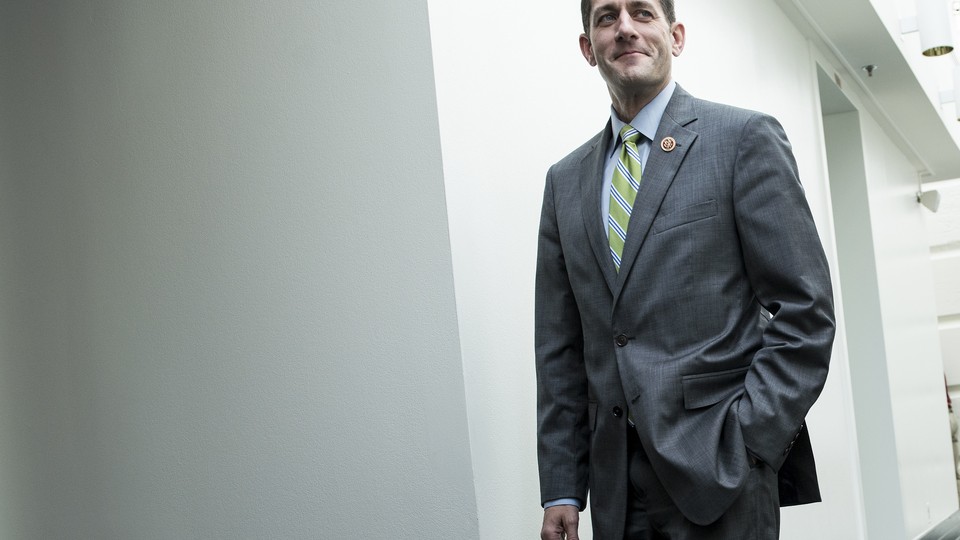 The House on Thursday narrowly passed Rep. Paul Ryan's Republican budget, which includes $5.1 trillion in spending cuts over 10 years without closing tax loopholes, as Ryan and other GOP leaders averted a potentially embarrassing defeat on the bill because of party defections.
The measure passed 219 to 205, with 12 Republicans joining all Democrats in voting no. A swing of just seven Republican votes would have defeated the measure.
Those Republicans who lined up against the budget are a blend of mostly conservative members and some moderates. They were: Reps. Paul Broun, Phil Gingrey, Jack Kingston, and Austin Scott of Georgia; Thomas Massie of Kentucky; Rick Crawford of Arkansas; Chris Gibson of New York; Frank LoBiondo of New Jersey; Ralph Hall of Texas; Dave Jolly of Florida; Walter Jones of North Carolina; and David McKinley of West Virginia.
Kingston voted for the Ryan budget in 2013, while Broun and Gingrey opposed it. All three are locked in a contentious, seven-way Republican primary for retiring Sen. Saxby Chambliss's seat. Scott, Hall, and LoBiondo also supported Ryan's budget last year.
Meanwhile, Reps. Justin Amash of Michigan, Joe Heck of Nevada, and Randy Forbes of Virginia, who opposed the Ryan budget last year, voted in favor of the 2014 budget Thursday.
GOP Rep. Vance McAllister of Louisiana, who has missed votes all week on the heels of a kissing scandal, and Rep. Jon Runyan of New Jersey did not vote. Six Democrats also did not vote, including Rep. Allyson Schwartz, who is running for governor of Pennsylvania.
The action followed a series of House votes on alternatives, including defeats earlier Thursday of a House Democratic alternative and Wednesday of what Republicans offered as a version of President Obama's proposed fiscal 2015 budget — a depiction Democrats disputed.
In a lead-up to the vote on the Ryan plan, the Budget Committee chairman and 2012 GOP vice presidential nominee defended his proposal on the chamber floor and cast the Democratic alternative as one that "never balances."
"At the end of the day, it's just not credible," Ryan said.
But Democrats, led by Budget Committee ranking member Chris Van Hollen and Minority Leader Nancy Pelosi, cast the Ryan plan as one that protects the rich and special interests at the expense of the middle class, with Pelosi saying it is "a path to ruin; it is not a path to prosperity."
Passage of the Ryan bill is effectively a symbolic messaging maneuver in a midterm-election year.
In fact, Democrats who lead the Senate don't plan to pass a budget at all for fiscal 2015, which begins Oct. 1, saying that the two-year spending agreement Senate Budget Committee Chairwoman Patty Murray reached in December with Ryan makes that unnecessary. The Murray-Ryan agreement set discretionary spending levels for the upcoming fiscal year at $1.014 trillion.
Even some Republicans acknowledge passage of the Ryan budget is more an aspirational declaration of their party's priorities and vision of government spending.
But the vote Thursday showed that it is not necessarily a reflection of all House Republicans' vision. Some conservative defections had been anticipated.
"This is a messaging bill. What it says is, if you give us the Senate and we have the House, this is what we will do, this is what we can do," Massie said earlier this week.
"And so I think it should be bold, it should be credible.... I think it should be bolder than it is and I can't support it."
"The reason I'm not going to vote for the Ryan budget is it has the 10-year number "¦ before we balance it," he said. "When the American people look at this and say we elected them to balance a budget and now they're going to rely on people 10 years from now to actually get the job done — when in fact this year we raised the budget gap, we couldn't even keep the promise that we made a year or two ago."
Still, Ryan's plan does represent a sort of Republican manifesto on dealing with the nation's finances. And Ryan had said in unveiling the plan last week that he thinks "it's important to show our vision as a party for the future." The federal government is now about $17.5 trillion in debt.
His budget pushes higher defense spending — and cuts and changes to Medicare, Medicaid, food stamps, and other social safety-net programs.
Some 40 percent of the $5.1 trillion in savings envisioned in Ryan's "bigger picture" for the next 10 years is depicted as coming through a full repeal of the Affordable Care Act. In all, his plan would spend about $42.6 trillion over 10 years, compared with about $47.8 trillion under existing policies.
At the same time, Ryan's budget does not say precisely what he would replace Obamacare with, only offering the expectation that it will be replaced. And Democrats, like Van Hollen of Maryland, complain that Ryan's proposal, even while scrapping the health care law, keeps all of its more than $700 billion in Medicare savings, as well as $1 trillion in revenues from Obamacare.
And Ryan's budget calls for reducing taxes on the wealthy — individuals would have just two rates, 25 percent and 10 percent — and cutting the corporate tax rate to 25 percent. But it does not lay out a detailed route to those goals or even embrace a recent one proposed by Ways and Means Committee Chairman Dave Camp of Michigan.
Ryan's plan would abide by the agreement with Murray on a split in spending levels between defense and nondefense programs for fiscal 2014 and 2015. But his longer-range military spending would blow past that deal. Military spending through 2024 would actually be increased by $483 billion over a cap established in 2011, and to pre-sequester levels — $274 billion more than requested by the president. Meanwhile, nondefense spending would be cut by $791 billion.
To reach balance in 10 years, Ryan's plan embraces a controversial "dynamic scoring" notion that there would be some positive impact on the nation's economic growth simply by reducing the deficit and cutting spending — although some economists disagree with this and even suggest that it could slow the economy. Ryan had not included such a calculation in his previous budget proposals.
Ryan's plan also would turn more control of Medicaid and food stamps over to states — an annual proposal that some say would save money but has been a popular election-year target for Democrats.
The plan retains Ryan's idea for each Medicare recipient to choose from a list of coverage options and payments that would "best suit his or her needs," and then payments would be made directly to that plan. Over the longer term, the proposal discusses giving seniors who first become eligible when turning 65 on or after Jan. 1, 2024, a choice of selecting private plans alongside the traditional fee-for-service Medicare program.
Ryan insists that this is not a "voucher system."
But Van Hollen has disputed that. And he said on the House floor before the vote that "budgets reflect the choices we make for our country. They tell the American people what we care about and what we care less about."