Harry Reid Floats Keystone Vote — but What Is He Really Offering?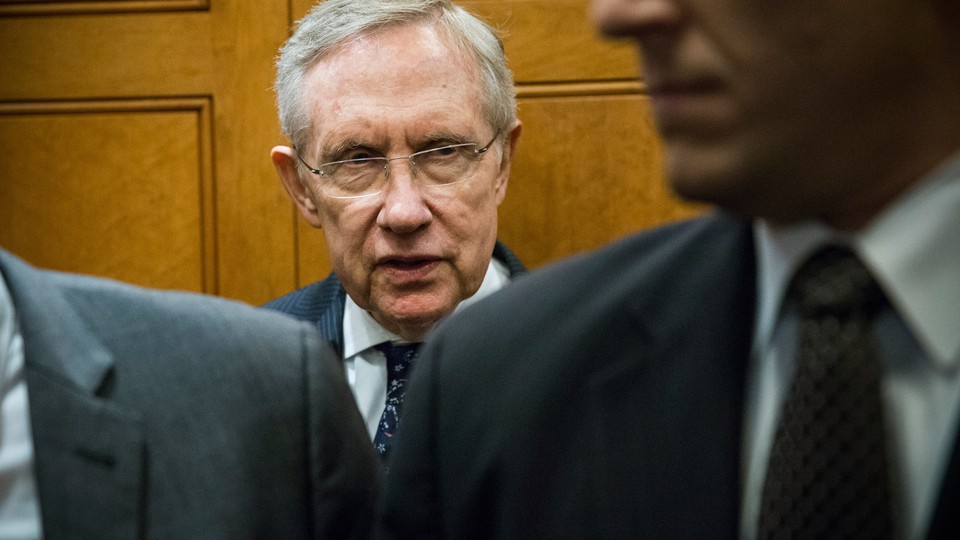 Republicans may get their long-awaited vote on the Keystone XL pipeline as early as next week as part of the debate over an energy-efficiency bill. But will it be the vote they want?
Senate Majority Leader Harry Reid opened the door to a vote on the controversial oil-sands pipeline Tuesday as part of the debate on the Shaheen-Portman energy-efficiency bill. "I'm open to anything that will move energy efficiency," Reid said in response to a question about a vote on the pipeline.
Sen. John Hoeven, the North Dakota Republican who's been at the front of the Keystone approval push, said he's been discussing a vote on congressional approval for the pipeline, not a looser sense-of-the-Senate resolution. A nonbinding resolution on approval or on an expedited timeline would have been acceptable until President Obama "changed the ballgame" by delaying the deadline for review of the pipeline's permit, he said.
Reid told reporters Tuesday that he's had conversations with Hoeven and fellow pipeline boosters Rob Portman, a Republican, and Democrat Mary Landrieu in the last 24 hours about pairing a Keystone vote to the energy bill. However, he left open how binding that vote could be.
"They keep moving the ball," Reid said. "You know, originally it was going to be sense-of-the-Senate; now they can't decide on what they want to vote on. So I can't agree to something that I don't know what it is."
A nonbinding Sense of the Senate solution — which already gathered 62 votes on last year's budget — does not seem acceptable to Republicans. In a statement, Republican Sen. John Thune of South Dakota said: "It's easy to talk the talk, but it's time for all members to walk the walk on the Keystone XL pipeline."
Republicans also took to the floor Tuesday afternoon to discuss their support of the pipeline, which would bring hundreds of thousands of barrels of oil a day from Alberta's oil-sands projects to the Gulf Coast.
Sen. Jeanne Shaheen of New Hampshire, one of the sponsors of the energy-efficiency bill in question, said there's been no agreement yet on the amendment process for the measure, which is expected to come to the floor next week. It's unclear if the Keystone vote would be an amendment to the bill or brought up as a standalone, but Hoeven said that it must be attached to the energy bill in some form.
As he pushes to 60 votes, Hoeven said he has nearly all Republicans on board and a handful of Democrats, with six or seven "maybes." However, it's less likely that he will be able to garner 67 votes to overcome a presidential veto — leaving a vote in any form as largely symbolic.
CORRECTION: Sen. John Thune's state was incorrect in an earlier version of this story.