Former FCC Official to Head Cell-Phone Lobby
Meredith Attwell Baker will leave Comcast for the wireless group CTIA.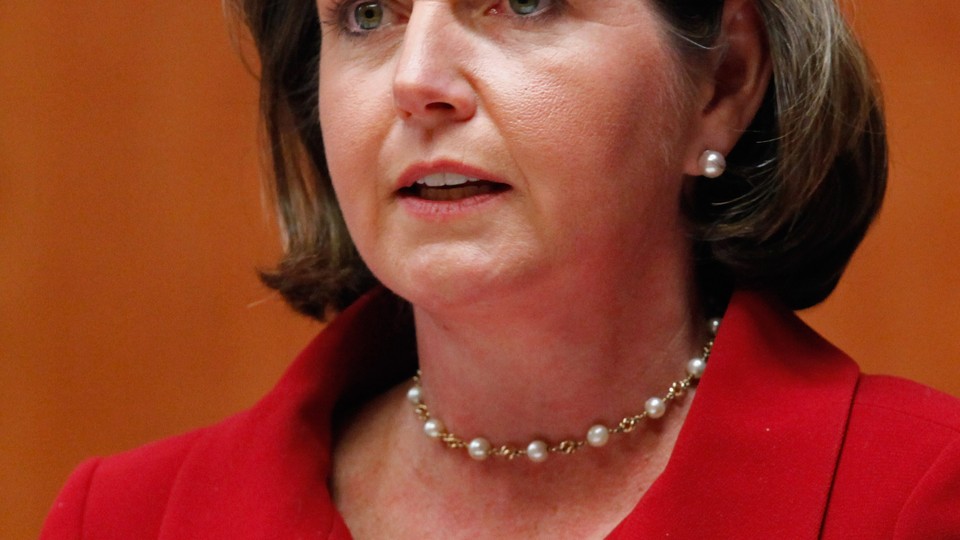 Verizon, AT&T, and the other cell-phone service providers have a new top lobbyist.
Meredith Attwell Baker, a former member of the Federal Communications Commission, will be the new CEO of CTIA-The Wireless Association, the group announced Wednesday.
Baker, a Republican, was a target of fierce criticism from consumer groups when she stepped down from the FCC in 2011 to become a lobbyist for Comcast. Although top government officials often join the influence industry, Baker's move was considered particularly ostentatious because she joined Comcast just four months after voting to approve the cable giant's purchase of NBC-Universal.
Comcast is now ramping up its lobbying force to get permission to buy Time Warner Cable. Losing Baker will be a blow, but the company still has an impressive roster of lobbyists, including former Sens. Blanche Lincoln and Don Nickles and former Reps. Robert Walker and Ron Klink.
At CTIA, Baker will replace Steve Largent, a Republican, former Oklahoma congressman, and NFL Hall of Fame wide receiver who announced his plan to retire last October.
The explosive growth of the wireless industry over the past decade has helped CTIA become one of the most influential lobbies in Washington. A top priority for the group is to gain access to more airwaves for the industry. Surging demand for wireless data could lead to congestion and slower speeds for smartphones in the coming years.
In a statement, Baker said she will develop a five-year plan for future use of the airwaves, and will put more emphasis on technical and engineering expertise at the group.
"I plan to bring new ideas and new initiatives to the association that will take it from good to great. We will recruit and keep the best and brightest experts in spectrum and wireless communications," she said.
Baker will have to balance the competing interests of her group's members. AT&T and Verizon are frequently at odds with the industry's smaller players, such as Sprint and T-Mobile.