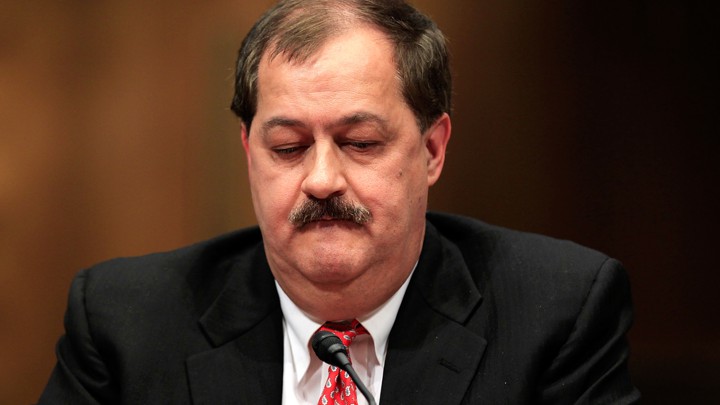 This article is from the archive of our partner

{{ BIZOBJ (video: 4855) }}
Former Massey Energy CEO Don Blankenship says that his opinions on climate change influenced a federal investigation that blamed his company's shoddy safety record for a 2010 mine disaster that killed 29 miners.
Speaking on MSNBC on Monday, Blankenship reiterated his opinion that the Upper Big Branch mine disaster was caused by natural gas, contrary to federal, state, and independent reports that blamed the explosion on a buildup of coal dust and a faulty ventilation system. As to why the Mine Safety and Health Administration would reach a different conclusion, Blankenship said it was personal.
"The fact that I've been very politically involved, I don't believe in climate change being man-made and a whole host of other reasons," Blankenship said in an interview with Steve Kornacki. "There are a lot of things that MSHA is doing that's making miners unsafe. Basically you have an opportunity to help us make the mines safer "¦ if it's not just a personal attack but a focus on what really happened at UBB."
Blankenship's appearance was tied to the release of a video Monday in which he lays out the case for the natural-gas explosion and blames federal regulators for not doing enough to implement safety measures that can protect miners. That video gained notoriety after Sen. Joe Manchin, who is featured heavily, said he was duped into appearing in it.
Blankenship on Tuesday blasted Manchin, who has since called for the video to be pulled from the Internet. In a series of tweets, Blankenship criticizes the Democratic senator and former West Virginia governor for his criticism of the documentary.
@Sen_JoeManchin thinks this is about his feelings. It's not. It's about miner safety and jobs.

— Don Blankenship (@DonBlankenship) April 1, 2014
@Sen_JoeManchin says the doc is tough for the families but they still have friends & relatives in the mines & they want them to be safe.

— Don Blankenship (@DonBlankenship) April 1, 2014
All WV people want the mines to be safe. Politics will not make them safer but science can.

— Don Blankenship (@DonBlankenship) April 1, 2014
@Sen_JoeManchin is a great politician but he needs to help us protect miner health and safety. You can't do that by hiding the truth.

— Don Blankenship (@DonBlankenship) April 1, 2014
Manchin, meanwhile, sent a letter to Adroit Films, the production company behind the 50-minute video, requesting that it be withdrawn.
"Your fraudulent behavior in securing the interview and your misrepresentation of my interview are actionable offenses," Manchin said. "I expect you to cease distribution of this film and remove any references to my name, image, and likeness."
Adroit Films has not responded to multiple requests for comment.
This article is from the archive of our partner National Journal.
We want to hear what you think about this article. Submit a letter to the editor or write to letters@theatlantic.com.
Jason Plautz
is a Colorado-based reporter covering energy and environment policy.