Florida Special Election Pits Candidate's Personal Wealth Against the Power of Super PACs
Curt Clawson has spent millions of his own fortune to become a member of Congress. His two Republican opponents are relying on super PAC money to stop him.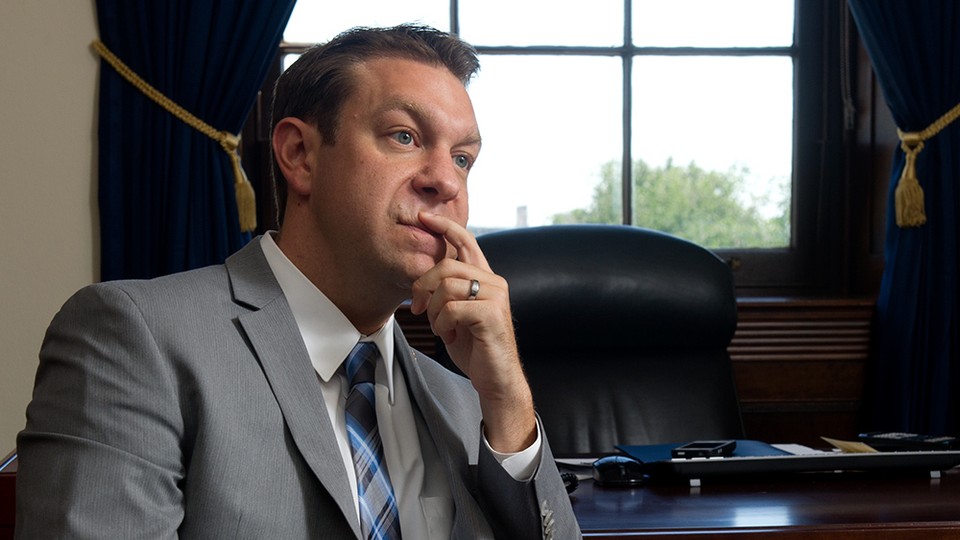 Curt Clawson wants you to know he's an outsider.
Unlike his two leading opponents in a Florida special election on Tuesday, the millionaire former automotive executive never spent any time in the state Legislature. The word "outsider" appeared in an ad he aired during the Super Bowl, it's in the name of his campaign committee, and even in his Twitter handle, @ClawsonOutsider. It's also reflected in his endorsements from Sen. Rand Paul of Kentucky, Rep. Michele Bachmann of Minnesota, and the State Tea Party Express.
But even as he boasts about his lack of political experience, he's relying on his personal wealth to overwhelm the opposition in Tuesday's race for former Rep. Trey Radel's House seat. In the primary, Clawson faces state Senate Majority Leader Lizbeth Benacquisto and former state Rep. Paige Kreegel, both of whom have two things Clawson does not: political experience and personal super PACs. Clawson has spent $2.65 million of his own money drawing attention to that fact, repeatedly mentioning that he is not a politician, and lumping Benacquisto and Kreegel together as the collective Tallahassee establishment.
In doing so, he has provoked a wave of outside spending from the Liberty and Leadership Fund, which has spent more than $677,000 backing Benacquisto, and Values Are Vital, which has spent nearly $1.3 million backing Kreegel. Neither super PAC has spent money on any other race, and while Benacquisto notes that she has no affiliation with the Liberty and Leadership Fund, it has the same address as her own PAC, Alliance For a Strong Economy.
It's rare to see two super PACs — both of which exist for the sole purpose of a single race — fire back on behalf of two so-called establishment Republicans. In that sense, Clawson may have experienced something that becomes more common in future primaries, spokesman John Yob said.
"In other campaigns, you see something like the Club For Growth involved, but it's always those national organizations," Yob said. "Here, they were very specific to the candidates they support."
Clawson's business background gave the super PACs plenty of ammunition. A series of ads by both PACs criticized Clawson for a deadly explosion in one of his company's factories, for accepting a taxpayer-funded bailout for his business that went bankrupt, for his connections to a Utah sex offender, and for once donating to a Democrat.
After Clawson had framed the race as a battle between him and everyone else, he had felt the sting when the Liberty and Leadership Fund and Values Are Vital struck back, along with A Bright Future, a smaller pro-Kreegel super PAC that spent $100,000 on the race.
There hasn't been much reliable public polling on the race: An automated survey conducted by Public Policy Polling indicates he's the favorite, with support from 38 percent of respondents compared to 19 percent for Benacquisto and 17 percent for Kreegel. Aviation consultant Michael Dreikorn, who has struggled to raise funds, has no political experience, and is not backed by any PACs, received 18 percent of the vote.
If it wasn't for the presence of the outside super PACs, Clawson's personal wealth would have all but guaranteed him the seat. Instead, Benacquisto's and Kreegel's super PACs have narrowed Clawson's financial advantage.
Clawson is also not the sole victim of negative ads: His campaign released a TV ad implying Kreegel illegally coordinated with Values Are Vital and criticizing Benacquisto for past campaign finance violations. Kreegel had left a voice message for Clawson to warn him of forthcoming negative ads by Values Are Vital, later saying he had seen the public FEC reports.
"If we learned one thing from the voicemail situation, it is that even an act of civility can be turned against you," said Kreegel campaign manager Alex Melendez in an email. "The fact that it was used against us in a political advertisement just shows that no good deed goes unpunished."
The winner of the Republican primary will be the favorite in the special general election on June 24, facing public relations firm owner April Freeman, the lone Democrat in the race.