Fight Over Rules Delays Spring Break for Democratic Senators
Frustrations over Senate rules are keeping senators in Washington just a little while longer, at least for now.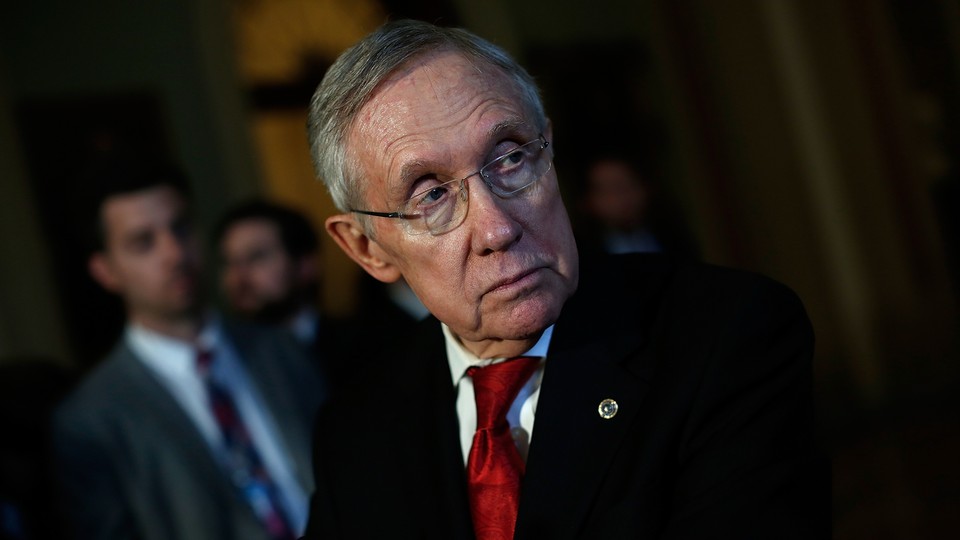 Tensions over changes in the Senate rules late last year resulted in an explosive confrontation between party leaders on the Senate floor and a delayed vacation for Democratic members on Thursday.
At issue are two of President Obama's judicial nominations and long-simmering Republican anger over Majority Leader Harry Reid's decision in November to invoke the so-called nuclear option. Under the new rules, Democrats need just a simple majority of votes to approve the nominations, but they still have to allow for 30 hours of debate, absent an agreement from the minority.
But on Thursday, Republicans refused to come to an agreement to move up the vote, leading Reid to call for a rare vote requiring all absent senators to appear on the floor just after 3 p.m., as many members were preparing to leave for a two-week Easter recess. The motion succeeded with 55 members voting in favor, including Republican Sens. Dean Heller of Nevada and Richard Shelby of Alabama.
Reid was hopeful that once the members were together on the Senate floor with the sounds of jet engines running in the back of their minds, some kind of deal could be reached, but Republicans objected to moving forward with the vote.
"I'm so sorry," Reid said, apologizing to his fellow Democrats, the majority of whom had already left the Senate floor. Democrats will have to vote Friday afternoon to confirm Michelle T. Friedland to the 9th District Circuit Court of Appeals, Reid said, though Republicans who oppose the nomination will be free to go home. "They don't have to be here, we do," Reid lamented.
Republicans scoffed at Reid's request to move up the nomination, noting that many GOP senators oppose Friedland and deserve a full 30 hours of debate to outline their concerns. "There is controversy over this nominee," Sen. Chuck Grassley, R-Iowa, declaimed, asking for the vote to be delayed until after the two-week Easter recess, a proposal that Reid quickly rejected.
The 30 hours of debate is scheduled to expire between 4 and 5 p.m. Friday, forcing members to stick around for another day. It's unclear how many Democratic members are still in Washington, and some Republicans could be needed to complete the nomination on Friday.
Senate Minority Whip John Cornyn noted "there is some controversy associated" with a nominee, and said that Reid brought this situation upon himself when Democrats changed the Senate rules around nominees. "Then when we're trying to apply the rules allowing for 30 hours post-cloture [time], he somehow thinks that's an unreasonable position," Cornyn said. "So I think there'd be a lot more bipartisan cooperation so everybody could be accommodated, but for the extreme position taken on the nuclear option."
Senate Minority Leader Mitch McConnell expressed outrage at Reid's request to advance the vote early, essentially asking Republicans to give up what little power they now hold over Senate proceedings in the post-nuclear age. "Despite this heavy-handed behavior, [Reid] expects the minority to expedite consideration."¦ We're simply exercising our right under the rules of the Senate," McConnell said.
Democrats argued that the 30 hours of debate time (more than two weeks, really, given the recess) would not be used by Republicans anyway. "The reality is if they want 30 hours, then debate it, but that's not what they're going to do," said Sen. Mark Begich, D-Alaska. "They're just going to leave an empty floor. So the American people expect when you filibuster, you actually come to the floor and explain why you don't like this [nominee]."
Begich said that he had planned on sticking around D.C. until Saturday anyway, so a Friday vote won't be an issue for him. He predicted that this scenario will play out again in the future. "It's going to keep happening because this is what they like to do," Begich said of Republicans. "And it's too bad because it's really destructive to moving forward on other issues."
Reid said on the floor that during Obama's presidency, the Senate spent too much time on debate, which ultimately has no effect on the final vote. "We've wasted thousands of hours through the last five years," Reid complained.
Ultimately, Reid did not relent to Republican requests to take up the nomination after the recess. Although there is still time for the senators to come to an agreement on debate time this evening, Democrats will very likely spend another day in Washington before they board their flights home. "Most people work on Fridays," Reid said.