Few Americans Worry That Pre-K Takes Children Out of the Home Too Soon
Older Americans are most likely to fear that programs separate kids from their families.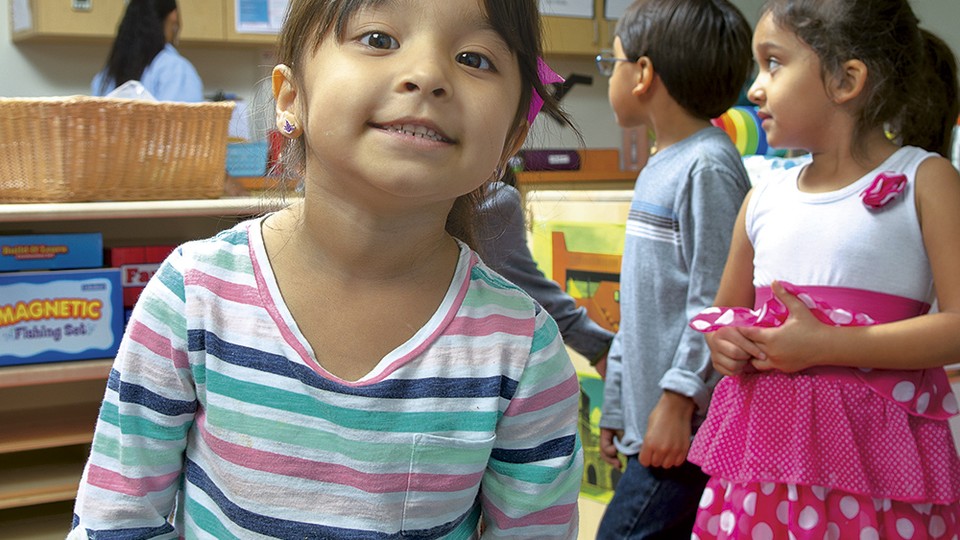 Would universal pre-K undermine the family and move children too quickly out of the house into an organized learning environment? A preponderant majority of Americans say no, according to the latest College Board/National Journal Next America Poll.
Asked about the impact of government policies to ensure that all 4-year-olds could attend prekindergarten classes, just 21 percent said they worried that such an initiative would "move children out of the house and away from their family at too young an age." By contrast, a 70 percent majority said such policies would "provide more children a better chance to succeed."
Faith that expanded preschool would improve the odds for more children was especially pronounced among African-Americans (82 percent), Asian-Americans (80 percent), and Hispanics (78 percent). But 66 percent of whites also agreed; just 25 percent of whites said they believed that expanded preschool would separate children from their families at too young an age.
Some party differences endured. Among self-identified Democrats, support for preschool was near-universal: 87 percent said it would increase opportunity, while only 9 percent worried it would separate kids too quickly. Independents also bent toward opportunity by a substantial 64 percent to 25 percent margin. Republicans were slightly more equivocal, but not much: 60 percent of them thought universal preschool would increase opportunity, exactly double the share that worried about moving young children from the home.
Fear of loosening family bonds was muted even among the GOP-leaning constituencies usually most receptive to socially conservative arguments. Just 21 percent of rural adults worried about separating kids too fast; 71 percent thought expanded preschool was more likely to expand opportunity. Likewise just 26 percent of whites without a college education saw a threat to family, while 64 percent saw more opportunity; that wasn't much different than the 22 percent to 69 percent split among college-educated whites, who usually take much more socially liberal stands.
The most hesitation was evident among whites over 65: Fully 36 percent of this group worried about separation, compared with 47 percent who saw more opportunity. That contrasts sharply with whites under 35 — who were over four times as likely to view expanded preschool as an opportunity than a threat — as well as with older minorities. Minorities over 50 were exactly as likely as younger minorities to see mostly benefits in expanded preschool; in each case, just 16 percent of those surveyed worried about moving kids away from their homes too fast, while 80 percent thought it would produce expanded opportunity. (Underscoring the depth of the consensus, those numbers were virtually identical among both male and female minorities and those with and without four-year college degrees.)
A separate Next America Poll question focusing on the effectiveness, rather than the family impact, of early-childhood intervention revealed somewhat more variation. On that question, Republicans were less likely than Democrats, and whites and Asians less likely than African-Americans and Hispanics, to agree that expanding access to pre-K would significantly boost the prospects for children. Still, even on that question, a majority of whites and Republicans said they believed expanded pre-K would exert a "major impact" in helping more children succeed.
The College Board/National Journal Next America Poll, conducted by Princeton Survey Research Associates International, surveyed 1,271 adults, including oversamples of African-Americans, Hispanics, and Asian-Americans, March 18-26. The interviews were conducted by landline and cell phone in English and Spanish. The poll has a margin of error of plus or minus 3.9 percentage points for the entire sample, and larger margins for racial subgroups.