Equal Pay Takes Center Stage as a Democratic Campaign Issue
Here's what female Democratic candidates are saying about equal pay. Spoiler: It's a united front.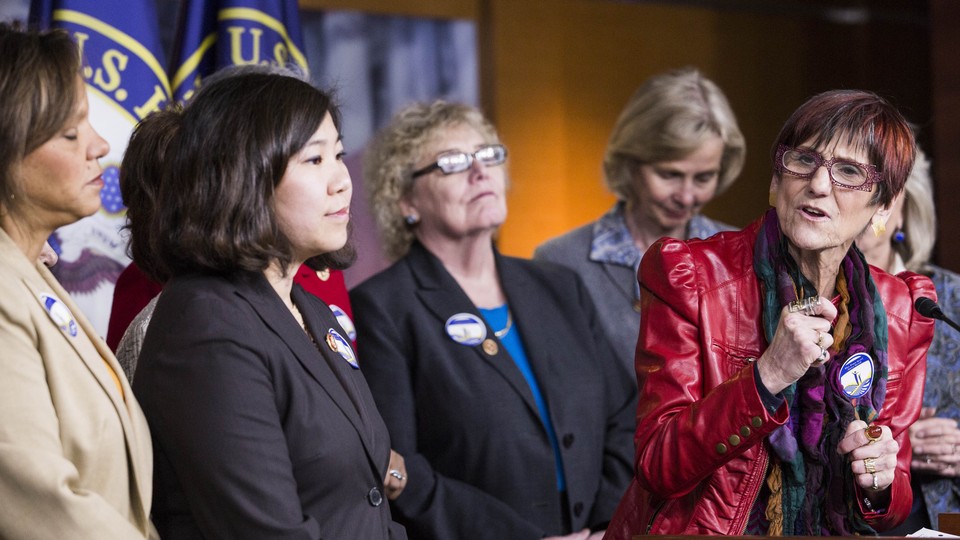 Nothing riles the Republic like disputes over equal pay. And Democratic politicians, thinking they have the edge in the argument, have been diving into those conversations — first in Texas, then in Washington, and now all across the country as midterm elections heat up.
Last week Democratic gubernatorial candidate Wendy Davis excoriated her Republican competitor Attorney General Greg Abbott for opposing legislation that would help workers file wage-discrimination claims. This week the Obama White House announced executive actions to help federal female contractors while top Democrats touted the Paycheck Fairness Act. And Tuesday, more than a dozen Democratic women added their names to the list of candidates stressing their allegiance to fighting for paycheck-fairness legislation. (The rub: Women make 77 to 82 percent of what men make, depending on the metric you use.)
"This is exactly the kind of thing that really hurts our kids and our future," said Amanda Rentería, a congressional candidate in California's 21st District, on a Tuesday conference call with reporters. "And it couldn't be more different between Congressman [David] Valadao and I when it comes to fighting for women and for making sure our families can really provide for their families and for our future."
Leticia Van de Putte, a candidate for lieutenant governor of Texas, echoed that sentiment. "Why would anyone want their sons to get paid more for the same job, for the same work?" she asked. "We love our children equally."
A quick survey of candidates supported by EMILY's List, the group that helps fund and groom female candidates who back abortion rights, shows such rhetoric is nearly universal. "Equal Pay Day has drawn a clear outline of the difference between the two parties," EMILY's List spokeswoman Marcy Stech told National Journal in a statement. "In state after state EMILY's List candidates are out on the trail talking to voters who know that it's well past time to end gender discrimination in pay while Republicans are fumbling the ball on a commonsense solution."
One such candidate is Ann Callis, a Democrat running for office in Illinois' 13th district. In a Tuesday interview with WCIA 3's Cynthia Bruno, she urged lawmakers to vote yes on the Paycheck Fairness Act and raise the minimum wage. Another is Hawaii's Colleen Hanabusa, who's running for U.S. Senate. In a Tuesday op-ed, Hanabusa argued pay equity and a higher minimum wage will help women, families, communities, and the nation.
Emily Cain, a Democrat running in Maine's 2nd District, similarly sounded her support. "Republicans in Congress have blocked equal-pay legislation and mocked the basic fairness and equality that working women and their families deserve," Cain said in a statement posted Tuesday. "We need to end this gender discrimination in pay and start rewarding equal work with equal pay immediately."
In the North Carolina Senate race, Democratic incumbent Kay Hagan made her feelings known and contrasted them with her likely opponent Thom Tillis's position. "Given Tillis's actions on the state equal-pay measure, North Carolinians can only assume that he opposes the Paycheck Fairness Act and the Lilly Ledbetter Fair Pay Act, which is already law," she wrote Tuesday. "As more and more families rely on women's income as the primary or co-breadwinner, this isn't just an issue that affects women — it has an impact on middle-class families and children in every corner of our state where women earn just 82 cents to the dollar that men earn."
In California's 31st District, Eloise Gomez Reyes called it "a fight to improve economic security for millions of children in America living in households that depend on the mothers' earnings to make ends meet." In Florida's 2nd, Gwen Graham called Republican recalcitrance on the issue "exactly the kind of thing North Floridians can't stand about Washington's out-of-touch priorities." And in Iowa's 3rd, Staci Appel vowed to "fight to end gender discrimination in pay in Congress and build an economy that works for all of Iowa's families."
Kentucky Senate candidate Alison Lundergan Grimes went on offense, noting her opponent, Senate Minority Leader Mitch McConnell, had twice voted to prevent women from seeking recourse for the pay discrimination.
These women are just a handful of the Democratic candidates hoping to mobilize female voters, an important voting block in 2014 and beyond. While many have noted the vested interest Democrats have in wooing female voters (in 2012, President Obama won women voters by 11 points), others have gone even further, suggesting the effort is nothing more than a "desperate" election ploy.
Lily Adams, deputy communications director for the Democratic National Committee, dismissed the notion. "It's not about scoring political points," she told reporters on Tuesday's call. "It's about basic fairness."
Update: An earlier version of this story contained a comment from Senate Minority Leader Mitch McConnell that Talking Points Memo had construed as criticism of the Democrats' focus on pay equity issues. As TPM is now reporting, McConnell's office has since said that TPM misconstrued his comments and that he was actually talking about the Democrats' focus on the Koch brothers. As a result, McConnell's comment has been removed from this story.