Elizabeth Warren: Internet 'Fast Lanes' Will Help 'Rich and Powerful'
The liberal senator bashes the FCC's net-neutrality proposal.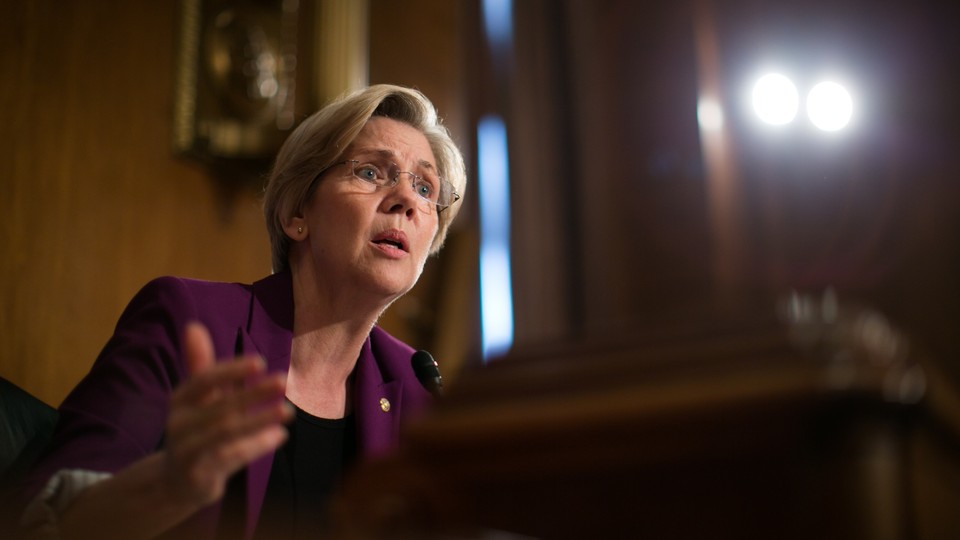 Sen. Elizabeth Warren urged the Federal Communications Commission on Wednesday to enact strong net-neutrality rules to ensure that all websites receive equal service.
"Reports that the FCC may gut net neutrality are disturbing, and would be just one more way the playing field is tilted for the rich and powerful who have already made it," the Massachusetts Democrat wrote in a Facebook post.
"Our regulators already have all the tools they need to protect a free and open Internet — where a handful of companies cannot block or filter or charge access fees for what we do online. They should stand up and use them."
FCC Chairman Tom Wheeler plans to advance net-neutrality regulations that would allow Internet service providers to charge websites for faster service as long as the arrangements are "commercially reasonable." The rules would bar ISPs from blocking any websites or degrading service.
Wheeler defended his proposal in a speech Wednesday before a conference of the National Cable & Telecommunications Association, a lobbying group that includes Comcast, Charter, and other broadband providers.
"Reports that we are gutting the Open Internet rules are incorrect," Wheeler said to the audience of cable and broadband executives. "I am here to say, 'Wait a minute. Put away the party hats. The Open Internet rules will be tough, enforceable, and, with the concurrence of my colleagues, in place with dispatch.' "
The FCC chairman is trying to rework the rules in a way that will survive legal challenges after a federal Appeals Court struck down the old, stronger rules in January.
In his speech, Wheeler said his goal is to "encourage broadband providers to continually upgrade service to all."
"We will not allow some companies to force Internet users into a slow lane so that others with special privileges can have superior service," Wheeler said.
He also warned that he will "not hesitate" to reclassify broadband Internet as a Title II "telecommunications service," which would dramatically expand his agency's power to regulate it. Liberal advocacy groups have been urging Wheeler to reclassify broadband and reinstate strong net-neutrality rules that ban Internet "fast lanes."
"If someone acts to divide the Internet between 'haves' and 'have-nots,' we will use every power at our disposal to stop it," Wheeler said.