Does Michigan Need Affirmative Action?
The state's selective universities are going to have a hard time ensuring diversity without it.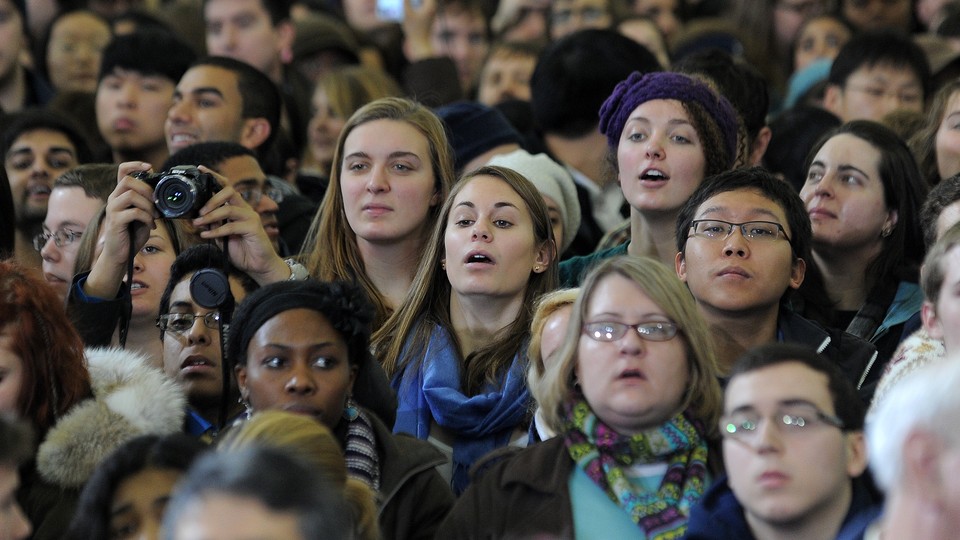 Michigan voters don't want public universities to treat applicants differently based on sex, race, or national origin. The Supreme Court, in the ruling Schuette v. Coalition to Defend Affirmative Action, said last week that's just fine. But without affirmative action, Michigan's public universities could become as segregated as its public schools.
Nationally, white college applicants with high grades and test scores greatly outnumber similarly qualified African-American and Hispanic student applicants. At the same time, minority students are overrepresented in public community colleges, which are open to everyone, and underrepresented at the most selective U.S. universities, according to the Georgetown Center on Education and the Workforce.
One reason for this split is that minority students are more likely to grow up clustered together in high-poverty neighborhoods. "We have an educational system that is very, very segregated, and the brute fact is that the quality of your high school education is frequently dependent on the income level of your ZIP code," says Terrence McDonald, former dean of the College of Literature, Science, and the Arts at the University of Michigan.
Without affirmative action, McDonald says, it's very hard for a selective college like the University of Michigan to assemble a freshman class with students from all backgrounds.
Michigan has a shrinking population that's 78 percent white, according to the U.S. Census Bureau. In 2020, projects the Western Interstate Commission for Higher Education, white students will still account for about three-quarters of Michigan's public high school graduates. All the state's public universities, and particularly the flagship University of Michigan (Ann Arbor), are increasingly recruiting out-of-state students as Michigan's college-age population declines.
There's a deep divide between the state's more affluent white population and its African-American and Hispanic residents, who are more likely to be born to low-income parents. The Civil Rights Project at the University of California (Los Angeles) frequently rates Michigan's schools as among the most segregated in the country for black students: In 2012, its researchers found that one-third of black students in the state attended public schools where less than 1 percent of the student body was white.
The end result is predictable. White students in Michigan get higher test scores starting in elementary school. They take more rigorous courses in high school, earn higher SAT and ACT scores, and are more likely to go on to college. Only 53 percent of African-American and Hispanic ninth-graders in Michigan graduate from high school in four years, and just 32 percent of minority high-school graduates go directly on to college, according to a 2012 report from the Michigan Consortium for Educational Research.
As in other states, Michigan's public two-year and four-year campuses tend to draw their students from the surrounding area — meaning that enrollment reflects local demographics. The more selective colleges get, the fewer minority and low-income students they enroll. About half of undergraduates at Wayne State University in Detroit are nonwhite. But Wayne State admits about three-quarters of applicants, and it has a six-year graduation rate of just 28 percent.
Meanwhile, the University of Michigan's undergraduate student body in Ann Arbor is almost two-thirds white, with about 16 percent of students receiving federal Pell Grants, according to the National Center for Education Statistics. Last year, just 5 percent of in-state freshmen were African-American; about 19 percent of the state's college-age residents are black.
Without special efforts to recruit and enroll a diverse student body — strategies that could involve enrolling students with lower-than-average SAT scores, or offering targeted scholarships — it's almost inevitable that top universities will stay homogeneous.
"In the United States, the problem has become not that we have racist or class-biased institutions," says Anthony Carnevale, director of the Georgetown Center for Education and the Workforce. "It's that we have color-blind or class-neutral institutions that, in our economy and in our education system, ... now systematically produce intergenerational reproduction of race and class privilege."
Under the affirmative-action ban, the University of Michigan's admissions team can't take even small steps to give certain applicants preferential treatment, such as waiving application fees. Private universities all over the country can. "Essentially, if you are a well-funded private school, you now have the ability to do much better in the recruitment of underrepresented students than almost any high-quality public university," McDonald says.
The best the University of Michigan can do is increase outreach. The university has found, for example, that low-income students in the state wildly overestimate tuition costs and underestimate financial-aid availability. Many aren't applying as a result, even when their grades and test scores would merit admission and their family incomes might result in generous aid packages.
In the years right before Michigan's 2006 ban on affirmative action went into effect, the University of Michigan graduated 10 percent more African-Americans than the three top University of California institutions combined, according to William Kidder, assistant provost at the University of California (Riverside). (California banned affirmative action in 1998.) Since Michigan's ban, enrollment of black freshmen at both the University of Michigan and Michigan State University has declined, as these charts from The New York Times demonstrate.
"We ought not sit back and wish away, rather than confront, the racial inequality that exists in our society," Justice Sonia Sotomayor wrote last week, dissenting with the Supreme Court's decision to uphold Michigan's affirmative-action ban. A state mandate that public universities treat applicants equally, despite inequality in K-12 education, diminishes the ability of public universities to encourage social mobility.