Does John McCain Care More About Deaths in Syria Than Gun Violence in America?
Contrast in reactions to deaths in Syria and gun violence in America speaks volumes about the GOP.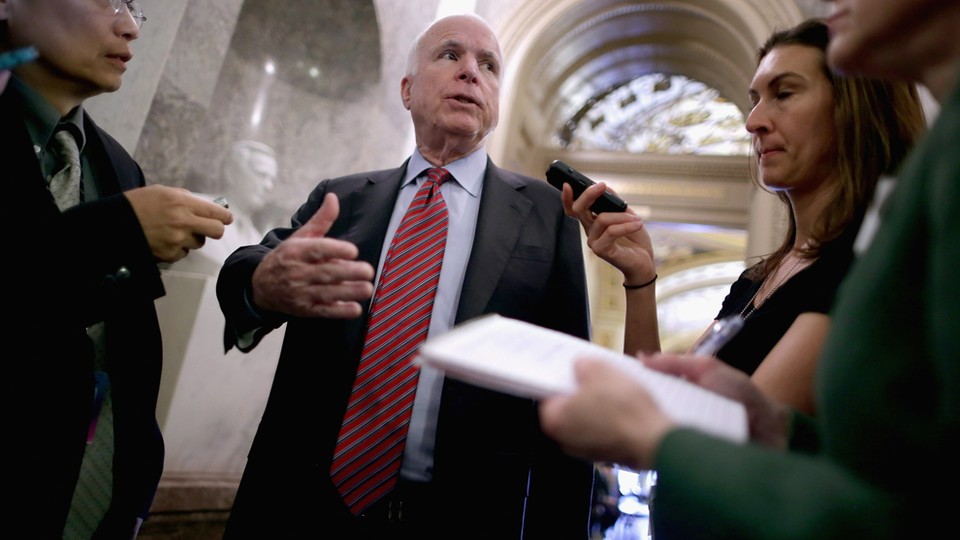 Please read these two statistics and notice your emotional reaction to them. Do they make you angry? Do they make you eager for government action? When you digest these roughly equivalent numbers, do they stir you equally?
A Human Rights groups says more than 150,000 civilians, rebels, and members of the Syrian military have been killed in the nation's three-year conflict.
A U.S. gun-control group says more than 100,000 Americans are shot every year in murders, assaults, suicides, and suicide attempts and accidents.
For Sen. John McCain, the hawkish Republican senator from Arizona, the first number makes him spitting mad, literally — as judged Wednesday from my front-row seat at the Harvard Institute of Politics forum, where he answered questions from a moderator and students.
"The Syrian decision has reverberated around the globe," McCain said, linking President Obama's blurred red line over Syria to aggressiveness from Russia, China, and Iran. He dismissed suggestions that Americans are war-weary — noting that Ronald Reagan grew the U.S. military in the immediate aftermath of the Vietnam War — and harshly criticized Obama for dithering on calls to arm Syrian rebels.
Visions of the dead and dying, women and children, lined in the streets after chemical attacks, keep him awake at night, McCain said.
"I am emotional," declared the infamously temperamental senator, his face reddening with anger. "I'm guilty. I'm emotional."
Contrast that reaction to the one a few minutes later when a Harvard student pressed McCain on gun control. With a shrug of his shoulders, the two-time presidential candidate noted that he had supported a bill that would have required background checks on all commercial sales of guns. It failed in the Senate.
His tone, passionate and aggressive on Syria, turned professorial and passive-aggressive on guns, as McCain explained that while the U.S. Constitution protects the right to bear arms, gun violence is "an emotional issue." Congress needs to grapple with the issue somehow, he said, noticeably uncomfortable with his wishy-washiness.
"I know that's not a good answer," McCain said, "I wrestle with it all the time."
So this is how McCain reacts to those two sets of numbers: Go to war for Syrians. Wrestle for America.
Disclosure: I briefly considered working for McCain in 2007, and respect his service to the nation as well as his willingness to compromise with Democrats. On the other hand, I opposed intervention in Syria, support gun regulations, and object to the policies and tactics of the NRA.
And so as McCain hemmed and hawed on gun violence, I turned to the person sitting next to me, Rep. Joe Kennedy, D-Mass., and whispered, "Where's the emotion he showed on Syria?" Kennedy nodded.
The contrast of emotion may speak as much about the Republican Party as it does about McCain. The GOP is lurching so far to the right that this Arizona conservative is considered a "RINO," a Republican in Name Only, and there is no room for commonsense policies that uphold the Second Amendment while curbing gun violence.
After supporting one war fought on false pretenses in Iraq, McCain is still rattling U.S. sabers over the deaths of 150,000 Syrians in three years. Normally, that would hardly be notable: McCain, after all, is a consistent interventionist. But laid against the shootings of 100,000 Americans annually, McCain's peculiar lack of emotion about gun violence seemed to speak to the sorry state of U.S. politics. And made me sad.
Fournier serves on the Harvard Institute of Politics advisory board.