Ditch the Crowds and Experience D.C.'s Cherry Blossoms From Your Cubicle
With the threat of crowds and parking tickets, you may just want to live-stream the annual spring festival.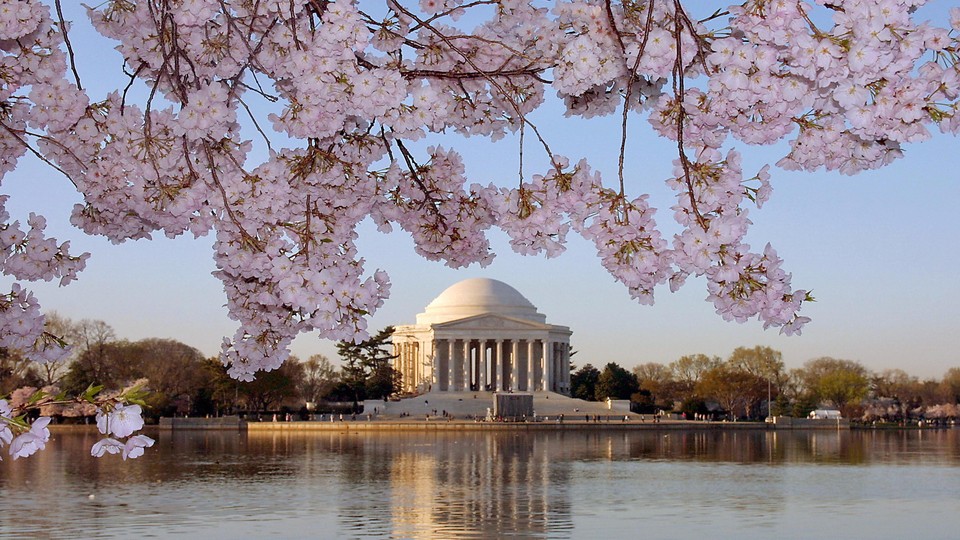 Nothing relieves stress like a stroll among cherry blossoms on a warm spring day. Doesn't this GIF instantly relax you?
But planning a trip to see the blooms around D.C.'s tidal basin is fraught: The cherry blossoms appear for just a week or two each year, drawing in droves of camera-carrying tourists. Not all of us can stomach the crowds. Even if you're in the area, time to see the flowers is already running thin. According to the National Cherry Blossom website, the trees have already reached peak bloom.
And don't even try to drive there, warns the AAA. One and a half million visitors and tourists are expected, and "an estimated of 144,000-plus parking tickets will be issued if last year's rate of 6,000 parking tickets a day holds true," AAA told a local CBS affiliate.
Don't fear. You can visit the cherry blossoms from the comfort of your own cubicle, thanks to a live shot of the tidal basin from EarthCam.com, where the trees are in full bloom. So, fire up the stream, put on some ambient nature sounds, and relax.
And if your boss asks you what you're doing, point him or her to this research that suggest images of nature boosts creativity.