Did the USAID Cuban Twitter Debacle 'Taint All USAID Employees as Spies?'
Sen. Patrick Leahy asked if that was the case at an appropriations hearing Tuesday.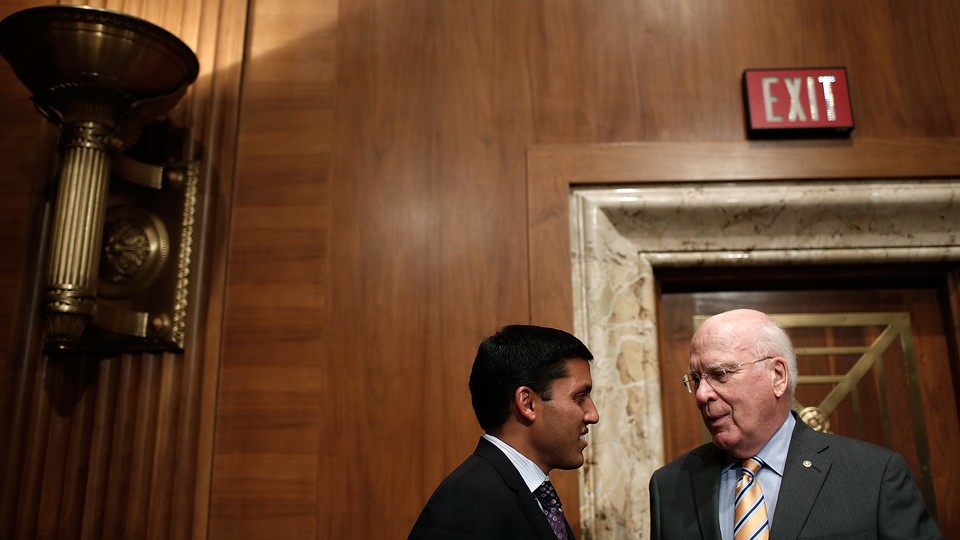 A man is in prison, possibly for the rest of his life. A Twitter-like program has been exposed as a construction of the American government, created with the hope of stirring democratic unrest in Cuba. The United States' international development arm, USAID, is being accused of something like international espionage.
And Sen. Patrick Leahy, D-Vt., isn't happy with any of the above.
"Does it taint all USAID employees as spies?" the Democrat from Vermont asked the administrator of the agency during a Tuesday Senate appropriations hearing.
"We support civil society," responded USAID Administrator Rajiv Shah, in what was essentially a non-answer.
Leahy was chastising USAID for implementing ZunZuneo, a Cuban version of Twitter, which gained tens of thousands of users. The program was created under a broad initiative for "democracy assistance" in Cuba. Though, in Leahy's words, "the legislation doesn't say anything about a cockamamie idea."
Cuba has not taken kindly to earlier such incursions. In 2009, Alan Gross, a 64-year-old U.S. citizen, was sentenced to 15 years for promoting Internet access in the country. He is now on a hunger strike.
And despite Gross's jailing, Leahy underscored, USAID went forward with the ZunZuneo plan, jeopardizing his chances of release.
Shah defended his organization, saying the operation went along with the mission "to improve access to information and Internet freedom in many parts of the world."
Leahy asked if the program was covert.
"These programs are conducted more discreetly precisely because [of a] recognition [that] providing Internet access in an authoritarian environment exposes people to risk," Shah responded, echoing a statement that USAID released Monday (and also echoing the White House). He also said USAID operates discrete programs in other parts of the world, such as providing surgery assistance in Syria.
Leahy also asked if Shah knew whose idea the program was. Shah replied that it was in place before he entered his position.
Other senators, such as Lindsey Graham and Mary Landrieu, were keen to change the topic, highlighting USAID's work in world health and food shortages, and its presence in Ukraine.
But Leahy pressed on.
"Did we we tell the people in Cuba that this was a U.S. government program?" Leahy asked Shah directly.
"No," he said.