Cory Gardner Helps Colorado Set GOP Stage for 2016 and Beyond
Conservative congressman's race against Sen. Mark Udall illustrates how Republicans need to steer clear of extreme-right positions.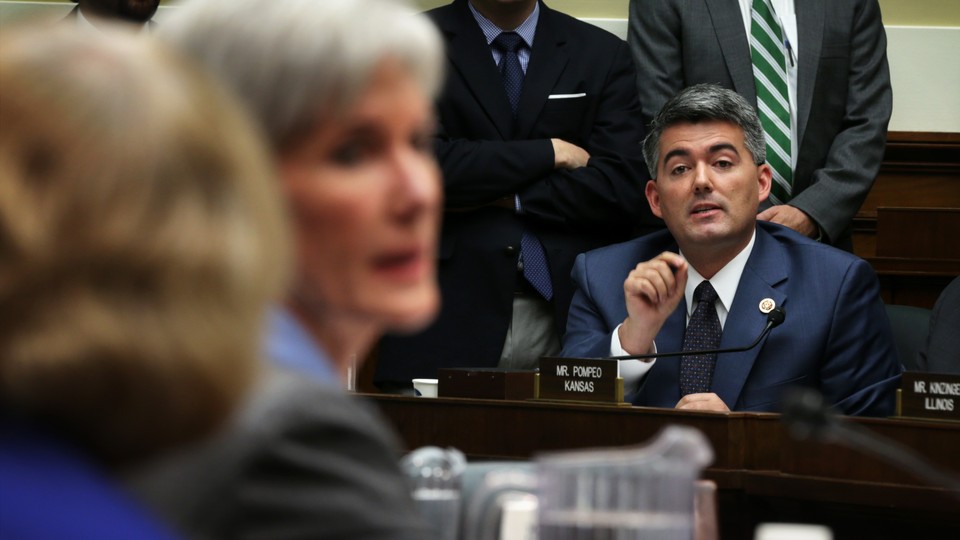 The Republican Party's path to a Senate majority this year lies mostly in a handful of red, largely Southern states. But no Senate race in 2014 is poised to say more about the GOP's future — in 2016 and beyond — than the one in Colorado.
The Centennial State arrived late on the midterm map, becoming a marquee contest only after Rep. Cory Gardner, who last year publicly passed on a campaign, reversed himself and entered the race against Democratic Sen. Mark Udall. And as a pickup opportunity for Republicans, it still ranks below prime targets like South Dakota, West Virginia, Arkansas, and Louisiana.
But claiming victory in a conservative state like Arkansas requires the GOP to perform well with the kind of white, working-class voters who already overwhelmingly lean right. Colorado is different; if Gardner wants to win there, he'll have to assemble a more diverse coalition of supporters — the type of racially diverse, well-educated voters the party's next presidential nominee will need to win the White House in 2016.
It's a challenge few Republican candidates have met of late, either at the presidential level or in Senate races. With the exception of 2010, no GOP Senate candidate had defeated a Democratic candidate in a blue state — either against an incumbent or in an open-seat battle — since Mel Martinez's 2004 victory in Florida. Then came the last midterm races. That year, three Republicans won on traditionally Democratic turf — Pat Toomey in Pennsylvania, Ron Johnson in Wisconsin, and Mark Kirk in Illinois.
Party strategists are confident this midterm year will look a lot like the last one, the kind of wave that would carry a candidate like Gardner to victory. But in 2010 Republicans failed to win against Democratic Sen. Michael Bennet because their nominee — a local district attorney named Ken Buck — held an array of extreme positions on social issues. In a debate, for instance, he compared being gay to alcoholism.
What makes Gardner's candidacy intriguing, and why Colorado is such a good test case for future races, is his apparent determination not to fall into the same trap. Shortly after announcing his candidacy, Gardner renounced his support for "personhood" legislation, which would grant fertilized eggs the same legal protections as people. The congressman said he did so because he came to realize that such a law would also ban some types of contraception.
Democrats deride Gardner's switch as one born not of conviction but political opportunism; regardless, there's little doubt that opposing such a measure is helpful in the state: Colorado voters overwhelmingly rejected a ballot initiative on personhood in 2010.
"Ken Buck had the lead going into October, and he ended up losing because he said some things that made him unacceptable to enough Republican and unaffiliated women in the suburbs that they voted for Senator Bennet," said Dick Wadhams, a GOP strategist in Colorado.
Social issues, especially abortion rights and access to contraception, have been a major part of the Democratic playbook in blue states, and by and large the tactic has been effective. Udall's campaign has made clear in the early going that it will continue to pound Gardner's position on personhood legislation even after his reversal.
"Congressman Gardner's efforts to hide his real agenda from Coloradans is affirmation of what we've been saying all along, that he doesn't share mainstream Colorado values," said Chris Harris, spokesman for the campaign. "Voters will see that he's not who he says he is."
Gardner's campaign, for its part, is focusing on issues like the economy and Obamacare. Lately it's also pushed Udall on whether he backs a possible statewide measure to ban the drilling process known as fracking, a measure that puts the senator between his liberal base and mainstream voters.