Congress Offers Creative Solution to College Rape Epidemic
A dozen House members want to hit universities where it hurts — their U.S. News & World Report rankings.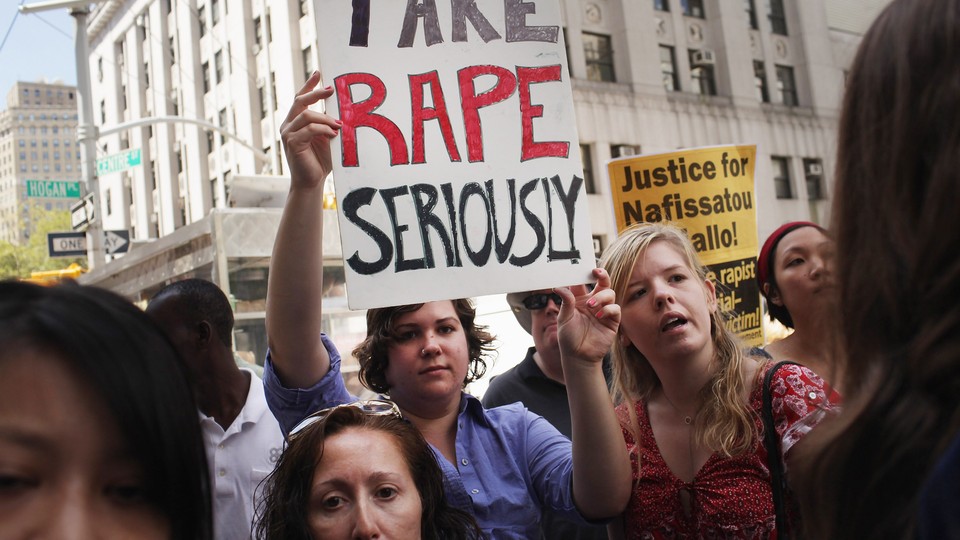 This fall, as high school seniors prepare to apply to college, many will scan the rankings provided by U.S. News & World Report. They'll compare colleges' class sizes, tuition prices, the student-faculty ratio, and — potentially — their sexual-assault statistics. That is, if some members of Congress get their way.
Earlier this month, a dozen House members, including two Republicans, sent a letter to U.S. News & World Report asking the publisher to include sexual-assault and prevention data in its venerated annual college rankings.
Rep. Jackie Speier, D-Calif., who is spearheading the effort, said she became interested in the issue while working to curb sexual assault in the military. "Oftentimes the Pentagon brass has come to me and said, 'Well, our statistics are better than college campuses.' And I thought, well, if that's the case, then we've got an issue in both settings," Speier said in an interview Wednesday.
Those statistics on campus sexual assaults shocked Speier. According to a 2007 federally funded study for the National Institute of Justice, one in five women will be sexually assaulted during their college career. For, say, Princeton University — the top-rated school on U.S. News & World Report's 2014 rankings, where the average class size is 20 or fewer students — that would translate to four young women in every classroom.
But it doesn't stop there. Six percent of men are sexually assaulted in college, and more than 70 percent of LGBT students are sexually harassed during their college years, Speier said. In a recent op-ed, Rep. Pat Meehan, R-Pa., who joined Speier in signing the letter, also noted that an average-sized university with 10,000 students can expect "as many as 350 rapes per year."
"I think they're all staggering numbers. And the issue has not been taken seriously enough," Speier said. "I think when it starts to affect your rankings on the U.S. News and World Report 'bible,' as it's received by both universities and parents evaluating colleges with their kids, then we'll see things change."
U.S. News hasn't commented on the specifics of the letter from Speier and her colleagues, but has said publicly that it would be willing to sit down with the congresswoman to discuss the issue. "We welcome the opportunity to meet with Congresswoman Speier, Congressman Meehan, and their colleagues to discuss campus safety, particularly sexual assault," spokeswoman Lucy Lyons said in a statement.
Speier and her colleagues are asking the rankings publications to include not only the number of sexual assaults reported on college campuses — which could unfairly prejudice prospective students against universities that have a strong record of reporting rapes — but also to rank schools by how well they prevent and respond to those assaults.
Asked whether including these metrics in the rankings could cause colleges and universities to downplay the issue of sexual assault on their campuses, Speier replied: "For all intents and purposes, that's what's happening already. And we're going to require greater transparency and greater accountability."
The U.S. News push is just one prong of a larger congressional effort to reduce sexual assaults on college campuses. Speier is planning to unveil legislation in the next two weeks to combat the issue.
That bill will require universities to conduct annual "climate surveys," asking their students anonymously about sexual assault and related issues, the results of which will later be made public. "You know, oftentimes survivors don't file claims and don't report for a number of reasons that in a survey, they are more likely to choose to speak to reflect their experience," Speier said, noting that the Defense Department has seen great results from similar surveys within the military.
The legislation will also require the Government Accountability Office to assess sexual-assault training for students and administrators, and would make schools post victims' rights under Title IX — rights that are typically buried on college websites, Speier says. The bill will also attempt to put better resources for victims in place on campus.
Speier noted that when she visited the University of California (Berkeley) during the congressional recess, she learned that the school, known for its liberal politics, does not have rape kits at its campus medical facilities. Its 36,000 students would have to travel more than six miles to another city to find the nearest public hospital that provides the forensic tests. And Berkeley is hardly alone on that count. Students at the University of North Texas have been up in arms since it was revealed late last year that their campus lacks rape kits as well.
Although just 12 members of Congress signed on to the letter, Speier believes that congressional support for both her bill and the U.S. News initiative runs much deeper. She did ask colleagues to add their names to the letter just as they were leaving town for the two-week Easter recess.
As parents, Speier expects many of her colleagues to get on board, noting that fathers in particular have approached her in her home district over the past week and a half urging her to continue working to protect their daughters. "This has really a great deal of traction among Democrats and Republicans," Speier said.
Meehan already has a similar measure, with a bipartisan group of five cosponsors, that focuses more heavily on law enforcement.
Over in the Senate, Sen. Kirsten Gillibrand, D-N.Y., with the support of four other Democrats and two Republicans, offered similar proposals in a letter to the White House's Task Force to Protect Students from Sexual Assault, which is set to release its recommendations to curb campus assaults within the next week. Rather than focusing on college ratings, however, Gillibrand's group asked that the Education Department create a searchable database of sexual assault complaints and reviews at various schools.
Speier and her colleagues may have White House support as well. Speier first broached the topic with White House staffers, who encouraged her to send the letter to U.S. News, but, she cautioned, it's not clear if they speak for the administration as a whole.