Cliven Bundy and the Tyranny All Around Us
How would the Nevada standoff be different if the rancher were black? American history has already answered that question.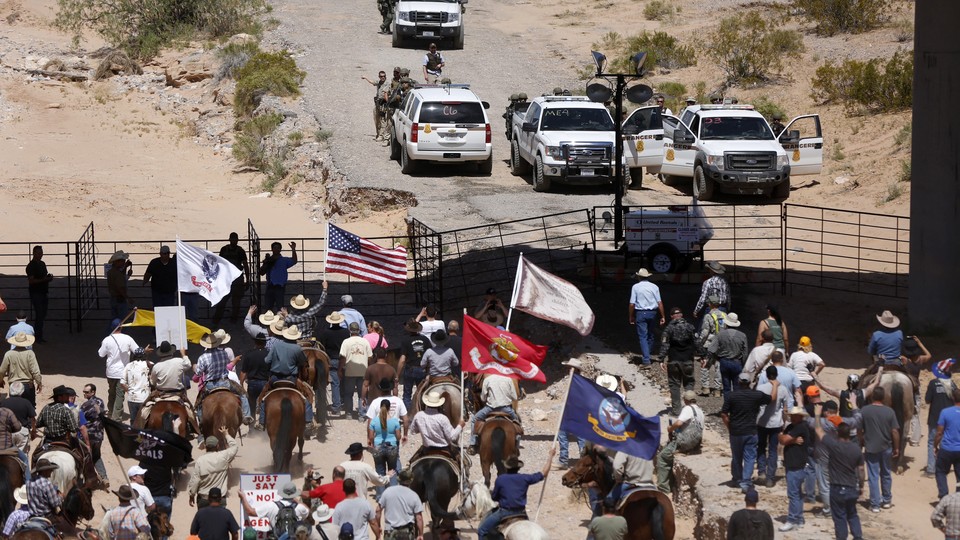 I've been laughing my way through the Cliven Bundy fiasco because, as Jamelle Bouie suggests, there may be no better example of racist privilege than the right to flout the government's authority and then back its agents down at gunpoint. Bouie asks, hypothetically, how we'd respond if Bundy were black.
Inasmuch as this is even a question, American history has already answered it (emphasis added): 
In an 18-month investigation, The Associated Press documented a pattern in which black Americans were cheated out of their land or driven from it through intimidation, violence and even murder.

In some cases, government officials approved the land takings; in others, they took part in them. The earliest occurred before the Civil War; others are being litigated today. Some of the land taken from black families has become a country club in Virginia, oil fields in Mississippi, a major-league baseball spring training facility in Florida ...

The AP—in an investigation that included interviews with more than 1,000 people and the examination of tens of thousands of public records in county courthouses and state and federal archives—documented 107 land takings in 13 Southern and border states.

In those cases alone, 406 black landowners lost more than 24,000 acres of farm and timber land plus 85 smaller properties, including stores and city lots. Today, virtually all of this property, valued at tens of millions of dollars, is owned by whites or by corporations.
That is from the AP's exceptional (and oft-overlooked) 2001 series "Torn From The Land." What generally followed this tearing was not a patriotic defense of the little guy but mob violence and ethnic cleansing. In 1912, Forsyth County, Georgia, expelled 1,000 black people—10 percent of its total population—and appropriated their land. (For more on the subject, I suggest Marco Williams's superb documentary Banished.) The unfortunate fact is that plunder—of land, labor, children, whatever—is a defining characteristic of this country's relationship with black people. American militias have rarely formed to end that sort of plunder. They've generally formed to enable it. 
The thing to do here, as Chris Hayes points out, is not to argue that Bundy should be subject to the kind of violence that black people who find themselves in dispute with the government's agents often are. (There's nothing for liberals to cheer about in a running gunfight over grazing fees.) The thing to do is to recognize the limits of our sympathies and try to extend them. "How about widening the aperture," Hayes asks, "for the tyranny you see all around you?"