Can Sylvia Burwell Avoid the Kathleen Sebelius Trap?
Kathleen Sebelius was exactly what the White House needed in an HHS secretary — until she wasn't.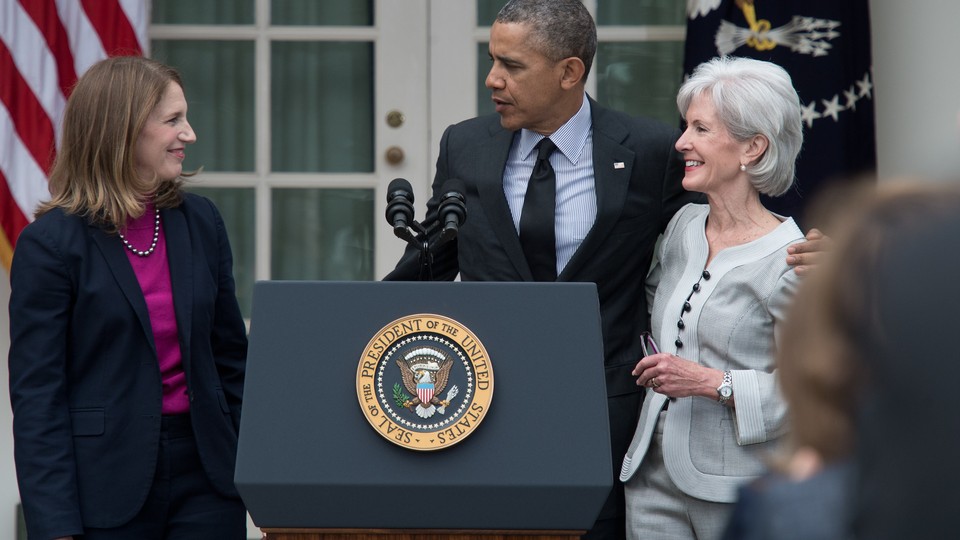 Kathleen Sebelius had the focus and even keel the White House needed in a Health and Human Services secretary, but not necessarily the behind-the-scenes management skills. And that's what HHS needs most from her successor.
Particularly in her public appearances and her work with the states, Sebelius channeled the administration's top priorities: finding a way to stand up a massive new policy framework while trying not to feed the political firestorm that already surrounded the law.
Former administration officials who worked with Sebelius praised her work during the early implementation effort and defended her detachment from the day-to-day political grind with Republicans. But they confirmed what the HealthCare.gov debacle had already suggested: Her biggest weakness was her management of HHS — a massive department to begin with, even without the unprecedented workload of implementing the Affordable Care Act.
Overall, as President Obama said Friday when he announced Sebelius's resignation, things ended up OK. The core of the law is in place, as are popular new consumer protections, and enrollment is set to end up far better than anyone expected in October and November.
"The final score speaks for itself," Obama said.
Sebelius wasn't Obama's first choice to lead HHS, but her no-nonsense personality ended up syncing well with the political demands of the early implementation process. In the time between the law's passage and the beginning of open enrollment, the administration's strategy was largely to keep its head down, focus on the work of implementation, and try to avoid the law's toxic politics as much as possible.
In her public appearances and her testimony on Capitol Hill, Sebelius hardly ever waded into a back-and-forth with the law's critics. She was cooperative enough to keep aggressive investigations at bay but controlled enough to stay out of the kind of testy exchanges that might end up on cable news.
"I think that her job was to ensure that the promise of the ACA actually became reality, and in doing that, she must have known that the messaging and the understanding about the law would follow," one former administration official said. "You can't do the job that she needed to do, which was to stand this up and make it operational, and be worried about the conversation happening around you."
Some Democrats, especially congressional liberals who wanted to fight and win a political argument over the health care law, hated her approach and privately pushed the White House to shake up its messaging, if not its messenger. But Sebelius's unemotional demeanor — while authentic — was what the administration wanted strategically.
"In retrospect, with seven and a half million people able to purchase in a way they never could before, yeah, it was a good strategy," the former official said.
A former governor and insurance commissioner, Sebelius got mostly positive reviews from the state officials who were integral to setting up the law's complex policy framework. And she cajoled Republican governors into the law's Medicaid expansion by helping them secure state-specific waivers.
Officials have been quick to credit her for the fact that 26 states have signed on to the Medicaid expansion.
But the keep-your-head-down-until-it-works strategy, by definition, requires that it work. And in a very high-profile (albeit temporary) way, it didn't. The disastrous rollout of HealthCare.gov will define Sebelius' legacy just as much as the final enrollment statistics.
We still don't have a comprehensive accounting of how the enrollment website was messed up so badly, but a lack of clear direction was clearly the biggest fundamental problem.
HHS made itself the project coordinator, rather than appointing a contractor to pull together all of the site's contractors. End-to-end testing wasn't done on time. Oversight hearings about the site devolved into a circular blame game: Contractors pointed the finger at HHS while HHS pointed the finger at contractors and individual officials all pointed at one another — until Sebelius finally declared herself the one to be held accountable.
The White House says Sebelius made the decision to leave, and was not pushed out. Even so, the choice of her replacement — White House budget director Sylvia Mathews Burwell, is an acknowledgement of what HHS needs right now. They didn't want to offer specifics out of respect for the outgoing secretary, but former administration officials said HealthCare.gov was not an isolated lapse in management.
For the second time, the White House has turned to officials with a background in consulting and management to help right the Obamacare ship. Jeff Zients, another former White House budget director, was brought in to quarterback the immediate repair effort for HealthCare.gov. Now Burwell, who began her career as a consultant before moving on to work for large corporate foundations, is on deck to lead the entire department.
Burwell's nomination will be contentious because it's a health care position — Republicans will surely be under pressure not to help the White House implement Obamacare. And it will be the first big nomination since the Senate invoked the "nuclear option," bumping the threshold for nominees down to 51 votes — a move Republicans are still angry about. So the White House will have to trudge through several more weeks with Obamacare in the headlines, but there's reason to believe Burwell will make it across the finish line.
Her nomination can move quickly because she's already been confirmed as budget director — and by a 96-0 vote. She's said to have good relationships with several Senate Republicans, after helping to hammer out this year's big budget agreement. Burwell also has a reputation for laser focus and decisiveness, and has won praise at the budget office for an inclusive management style.
The White House says to expect a leadership transition in May.