Ben Carson Is Raking in More Money Than Hillary Clinton or Rand Paul for 2016
But the group that wants him to run for president has a spending problem.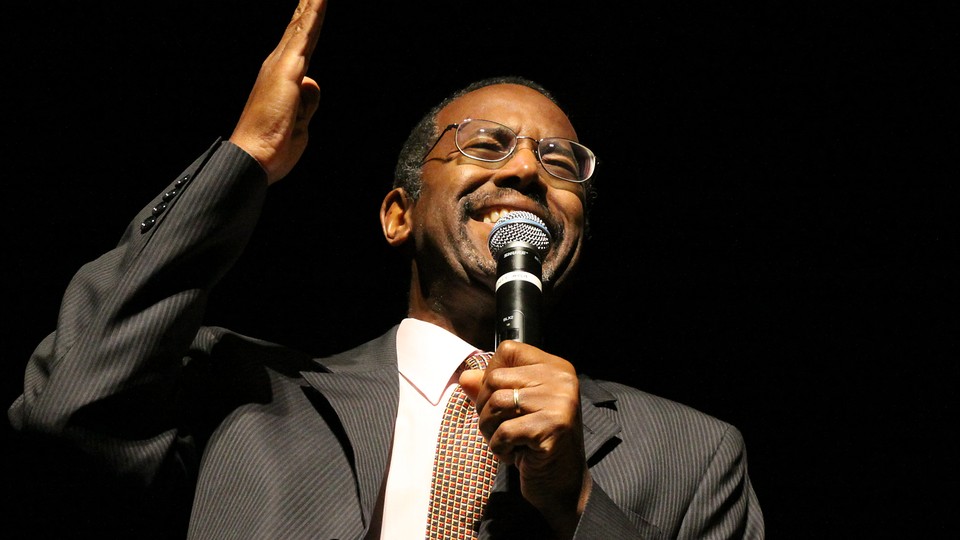 Fox News calls him a "conservative sage." But is Dr. Ben Carson — a retired neurosurgeon who gained Republican fans after speaking freely at last year's National Prayer Breakfast — really the next great hope for 2016?
Judging by his early fundraising numbers, some people certainly think he is. As Reuters reports, one group is pushing hard for a Carson 2016 bid. The National Draft Ben Carson for President Committee has raised $2.4 million over the last three months — more than similar groups supporting potential candidates like Hillary Clinton, Sen. Rand Paul, and Sen. Marco Rubio.
Carson first gained national prominence at the 2013 National Prayer Breakfast, where he compared the U.S. deficit to the "moral decay and fiscal irresponsibility" found in ancient Rome before its collapse, and said political correctness "puts a muzzle on people." (He also spoke at the 1997 National Prayer Breakfast, alongside Bill Clinton.)
Since his prayer-breakfast speech, Carson has gone on to liken elements of the government to Nazi Germany and compare Obamacare unfavorably to the attack on Pearl Harbor and Jim Crow laws. Through his conservative fan base, he's earned publicity in the form of speaking gigs at CPAC, as a Fox News contributor, and as a columnist for the conservative Washington Times.
But like the federal government in Carson's critique, the group backing him seems to have a spending problem, too. From Reuters:
Though the Draft Ben Carson committee has raised $3.9 million since it was set up last year, it has spent money just as steadily. At the end of March, the committee had $228,000 in the bank and carried $515,000 in debt, according to a filing with the Federal Election Commission.
The group trying to draft Carson is led by John Philip Sousa IV — yes, a descendant of that John Philip Sousa — who said he started the group so that, if Carson does decide to run, he'll have the campaign infrastructure already in place.
Though a spokesman for Carson told Reuters that he is not interested in running for president, Carson has said he'd make an exception for divine intervention: "If the Lord grabbed me by the collar and made me do it, I would."