Are Marco Rubio and Paul Ryan Working on an Obamacare Alternative?
They're keeping mum for now.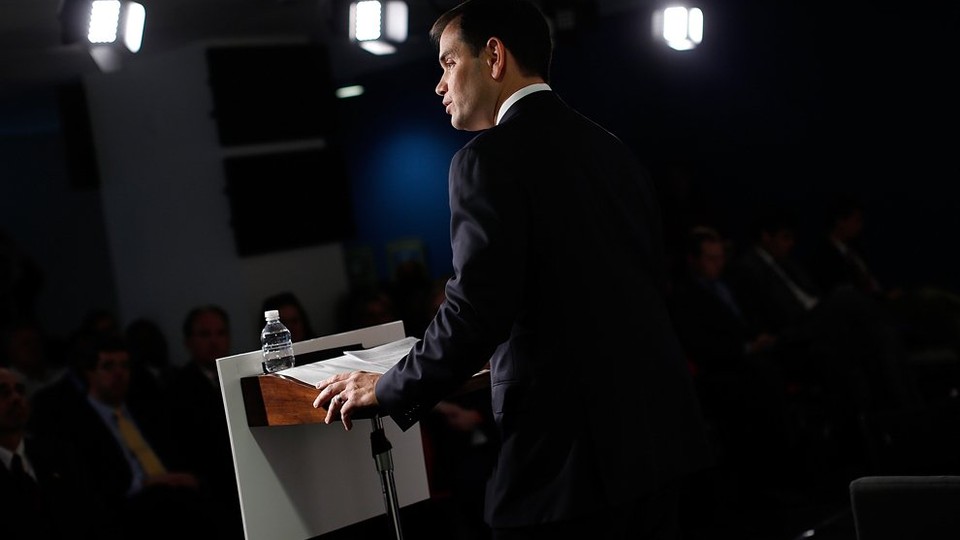 Sen. Marco Rubio and Rep. Paul Ryan may be developing an alternative to the Affordable Care Act, according to the Washington Examiner.
Rubio and Ryan are keeping mum on the supposed plan for now. But in politics, syntax is everything. "I don't have anything to announce today," Rubio told the Examiner.
House Republicans have voted 55 times to repeal Obamacare, but have not yet put forward a comprehensive replacement plan of their own. If Rubio and Ryan — who have both been mulling presidential runs — could put forth such a plan, and if it passed, they would become folk heroes for their party. That said, any sort of replacement is unlikely to happen until 2017 — unless President Obama decides to repeal the signature law of his presidency.
Republicans have bandied about Obamacare alternatives, and they are now taking those ideas to the streets. This month, House Republicans will test out Obamacare alternatives in town-hall meetings after the House recesses on Thursday. Some alternative proposals have included expanding health savings accounts, allowing small businesses to pool together when purchasing health care plans, and giving more government assistance to "high-risk" patients.
But a hard truth for Obamacare opponents is that, the more entrenched the current law becomes, the harder it will be to repeal.
"If you want to say the further and further this gets down the road, the harder and harder it gets to repeal, that's absolutely true," an anonymous GOP health aide told Talking Points Memo on Tuesday. "As far as repeal and replace goes, the problem with replace is that if you really want people to have these new benefits, it looks a hell of a lot like the Affordable Care Act."