Zach Galifianakis Asks Obama: 'What's It Like To Be the Last Black President?'
The president appeared on the comedian's Web series to plug the Affordable Care Act.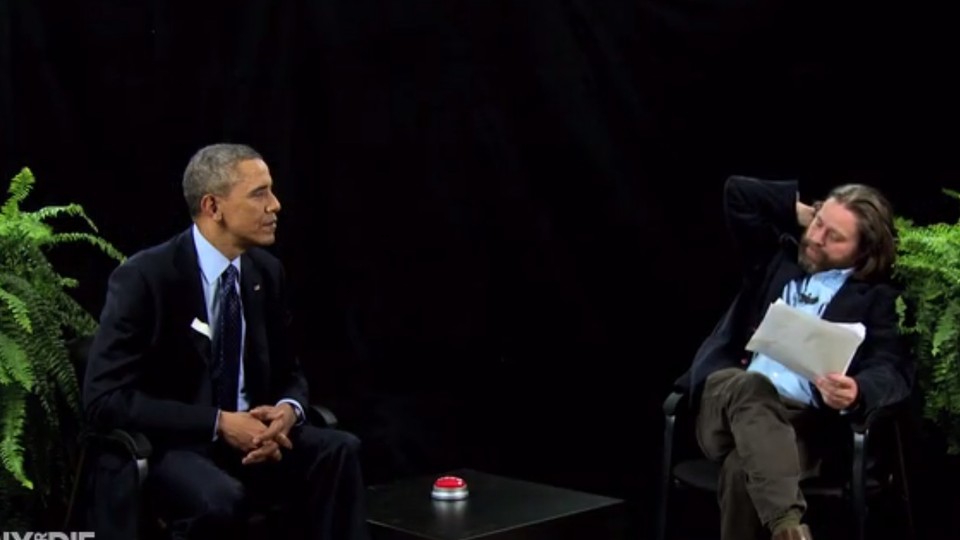 Between Two Ferns with Zach Galifianakis: President Barack Obama from President Barack Obama
"I wouldn't be here with you today if I didn't have something to plug," President Obama told comedian Zach Galifianakis, betwixt ferns.
We believe you on that one, Mr. President.
Obama appeared on Galifianakis's popular Web series "Between Two Ferns," on the website Funny or Die. In the show, Galifianakis plays a bumbling idiot of an interviewer who gets away with asking celebrities the uncomfortable question. Take his interview of Justin Bieber as the defining example of the style. He asked the teen pop star: "You've had three hairstyles. What's next for your career?"
Obama got a similar critical treatment, along with some time to plug the health care exchanges to the show's presumably young audience.
Here are some of the best questions Galifianakis asked the president of the United States, or as his show displayed "Barack Obama (Sp?):Community organizer."
What is it like to be the last black president?
In 2013 you pardoned a turkey; what do you have planned for 2014?
Do you send Ambassador Rodman to North Korea on your behalf?
What should we do about North Ikea?
You said if you had a son you would not let him play football. But what makes you think he would want to play football; what if he was a nerd like you?
Why would you get the guy who created the Zune to create your [health care] website?
The president got some shots in as well, saying how Bradley Cooper was the only reason the Hangover movies (that Galifianakis starred in) were worth watching. (To which Galifianakis replied, "Be short fat and smell like Doritos and try to make it in Hollywood.")
This is the latest in the administration's targeted attempt to sell the health insurance exchanges to young people. And maybe it signals some anxiety over the March 31 deadline to sign up for 2014 (the health of the exchanges depends on young, healthy people signing up). Previously, Joe Biden had appeared on The View to tout the benefits of the health program to mothers.
While some might scoff at how "unpresidential" the setting is — a Web series of all places — Obama has had great success with reaching people through nontraditional means. Take his Reddit AMA during the 2012 campaign. While the interview was devoid of any real insights, it was the top post of the year for the site, with 5.5 million views.
Update: The gambit appears to have worked as intended. According to a tweet from a White House senior communications advisor, the No. 1 referrer to HealthCare.Gov today is the Funny or Die website.
{{ BIZOBJ (video: 4806) }}