Wisconsin May Expel a State Lawmaker for the First Time in Almost 100 Years
Rep. Bill Kramer is accused of groping a political staffer at a fundraiser in Washington.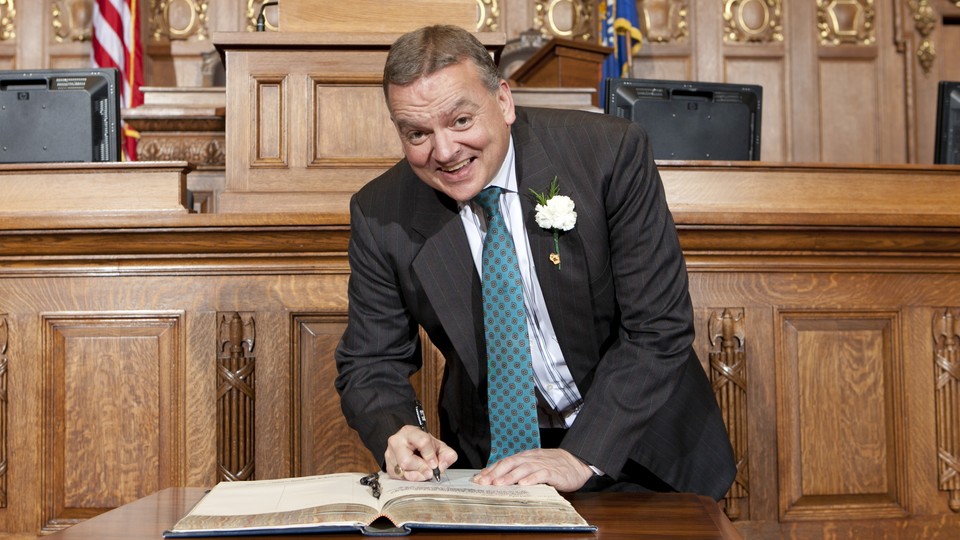 For the first time in almost a century, the Wisconsin state Legislature may vote to expel one of its members. Rep. Bill Kramer, who represents a conservative suburb in the southeastern part of the state, has been accused of groping and sexually harassing two women, nearly three years apart.
Kramer is accused of sexually harassing a female lobbyist and a legislative aide at a fundraiser in Washington last month. He has been charged on two counts of second-degree sexual assault. If convicted on both charges, Kramer could face up to 80 years in prison and $200,000 in fines.
Kramer, who has been in office since 2006, has been a stalwart in the Republican-controlled Legislature since Gov. Scott Walker was elected in 2010. Kramer has served as majority leader in the state Assembly since September. After the charges came to light, he was summarily stripped of his title, but remains a member of the Legislature.
After the accusations surfaced, Kramer checked himself into an unspecified treatment program.
Kramer has already announced he will not seek reelection, but his attorney, James Gatzke, says his client has no intention of leaving office early. "He's not going to," Gatzke told National Journal. "He's decided to take advantage of the [criminal justice] process just like anyone else is able to take advantage of the process."
In order to expel Kramer, two-thirds of the state Assembly would have to vote to kick him out. The last time a Wisconsin state lawmaker was expelled was in 1917, when a socialist state senator refused to retract statements that were perceived as anti-American. The state Assembly leadership is now mulling its options, and deciding whether to take punitive action against Kramer before he is convicted.
Kramer is accused of harassing a female lobbyist and groping a staffer at a fundraiser in February. Specifically, according to the Milwaukee Journal Sentinel:
Witnesses have alleged that Kramer hugged a legislative staffer and touched her breasts at a social event after the D.C. fundraiser. He also allegedly made vulgar remarks about his sexual prowess to a lobbyist on that night of Feb. 26 and again the next day on a flight back to Wisconsin.
When a detective asked Kramer to respond to allegations of touching a woman's breasts, he said the woman "has very nice, doctor-enhanced breasts. I am not a big fan of those. I like the real ones."
After these allegations came out, a separate female political staffer reported another incident involving Kramer. She told police that in 2011 or 2012, Kramer assaulted her after a Republican gathering at a local bar.
In the police report, she said Kramer was "really drunk." They walked back to her car, and after denying his sexual advances, Kramer is said to have shoved her up against her car, forcibly kissed her, and pushed his hands under her shirt to feel her breasts. According to the alleged victim, Kramer later made more unwanted sexual advances, grabbing her groin and explicitly telling her what he wanted to do with her.
The staffer described the incident as a "nightmare," but did not initially report it for fear of public embarrassment. She did, however, threaten to tell her story to the police if Kramer ever sexually harassed her or someone else.