Will This Florida Special Election Foreshadow November?
Republican David Jolly's victory in a swing congressional district indicates that Obamacare could damage Democrats in the midterm elections.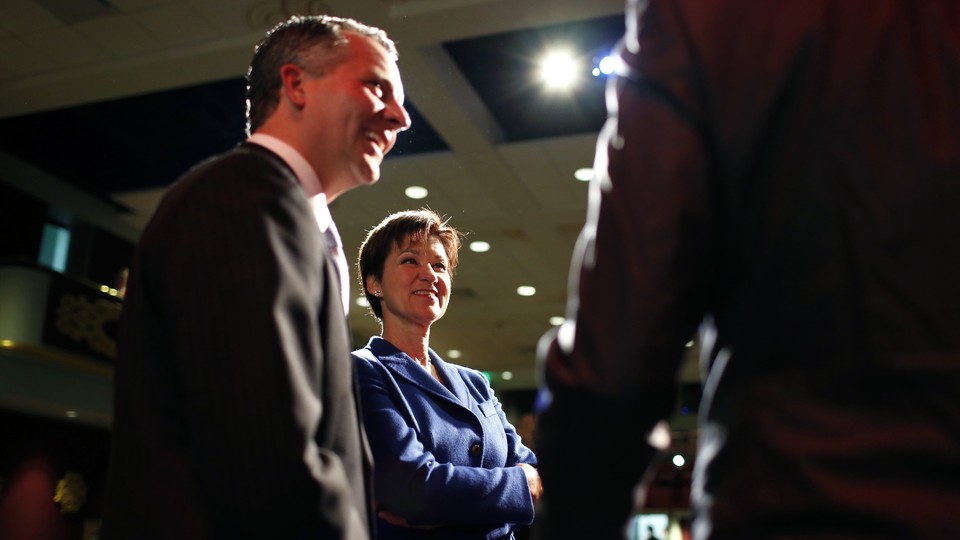 Update, 7:50 p.m.: Republican David Jolly has been declared the winner of the Florida special congressional election, defeating Democrat Alex Sink by two percentage points. Read on for why this could signal trouble for Democrats under fire over healthcare reform this November.
Original Post: In the scattershot, countrywide affair that is a midterm election, political observers are always looking for entrails to read for signs of what November might hold, and each cycle's handful of special congressional elections inevitably get treated as portentous omens, particularly by the winning side. Sometimes this is even true: In 2010, Republicans won a Senate election in Massachusetts in January and a House election in Hawaii in May, two unlikely victories in extremely hostile territory that in retrospect showed how badly America was about to hand it to the Democrats. (The losing side of a special election, just as inevitably, insists there were race-specific factors at work that will have no bearing on elections elsewhere—and often that, too, is the case.)
So it is with today's special congressional election, which will determine the next member of Congress from Florida's 13th District, a little piece of coastline about halfway up the Gulf Coast. A Democratic former statewide elected official, Alex Sink, is running against a Republican former congressional aide and D.C. lobbyist, David Jolly. The election is happening because the congressman who represented this part of Florida for 43 years, Bill Young, died in office last October at the age of 82.
Though Young, a beloved local figure, always won reelection easily—20 times!—this is a swing district that has been trending blue. It last voted for a Republican for president in 2004, and it has a Cook Partisan Voting Index of R+1—the narrowest possible GOP edge. Polling has the race extremely tight, so this one really could go either way.
Today's election has been a nearly pure test-drive of the two parties' strategies as they're shaping up for this year's national House and Senate battles. For Republicans, the strategy is simple and single-minded: Pound on Obamacare, reminding voters how unhappy it has made them and how angry they are with the president. This has been the theme of the torrent of ads unleashed on the district by Republicans and their allies, including the U.S. Chamber of Commerce. This one, for example, calls Obamacare "a disaster for families and seniors," and says that for Sink, "the priority is Obamacare—not us."
Democrats, having abandoned the brief pretext that they, too, would campaign on Obamacare and prove it's actually a great thing for them politically, are instead frantically trying to talk about anything else. Sink has sought to make the campaign about Social Security, about local issues, about Jolly's background as a lobbyist. When she is asked about Obamacare, she says she wants to fix it rather than repealing it. Democrats, too, are dumping money into the contest; between the two campaigns, political parties, and outside groups, more than $8 million has been spent on television ads, a massive amount for a single congressional race.
Republicans worry that Jolly has been a disaster of a candidate, his campaign hampered by poor fundraising and ham-handed strategy. But Democrats aren't particularly high on Sink, either. In 2010, as the party's gubernatorial nominee, she managed to lose to Republican Rick Scott, who has spent the ensuing three years failing ever to record a positive popularity rating.
If Sink manages to lose another close election, Democrats could be looking forward to a 2014 as historically bad for them as 2010 was—and you can expect they'll be scrambling for a new strategy and a new message to ward off that cataclysmic result. If Jolly manages to lose despite the country's bad case of Obama blues, meanwhile, it could be time for Republicans to freak out, and reconsider their own Obamacare-centric November strategy.