Will the New SAT Promote Diversity?
The test currently favors white, affluent students, and it's not clear whether that will change.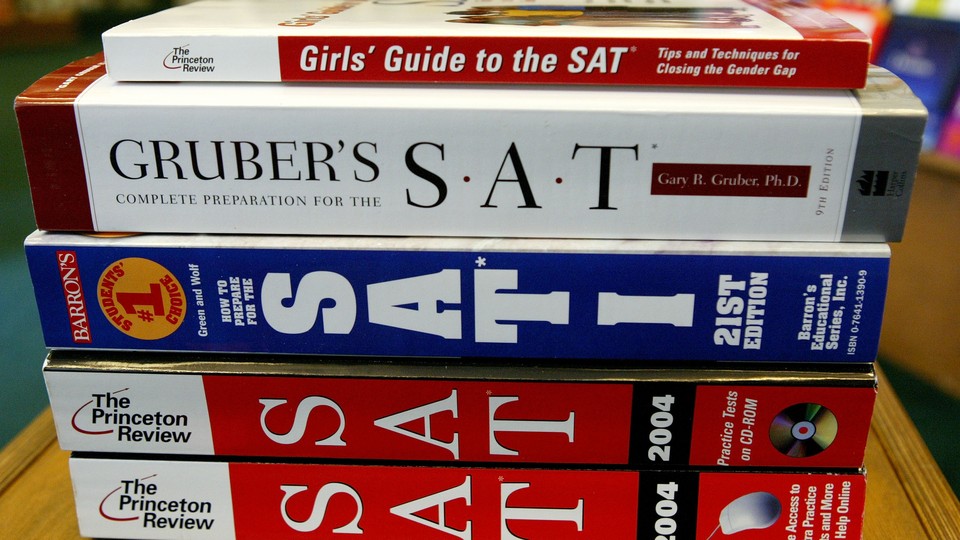 The colleges and universities that have stopped requiring applicants to submit SAT or ACT scores have made the change with students like Richard Veliz in mind. A junior at George Mason University in Virginia, Veliz knows his performance on the admission exams didn't accurately reflect his ability. "I'm just not a good test-taker, so I didn't get good scores on it at all," he says. But at George Mason, Veliz is now earning a 3.37 grade point average, almost identical to the 3.4 he earned at his Washington, D.C. high school.
The College Board, which designs and administers the SAT, recently redesigned the test in an attempt to level the playing field with questions accessible to students from all backgrounds. (The College Board also sponsors National Journal's Next America poll.) But many education experts counter that the real way to make the college admissions process fairer — particularly when it comes to low-income, first-generation, and minority students — is to get rid of these admission tests altogether.
A growing number of colleges and universities ranging from George Mason to Chicago's DePaul University now believe that a student's high school grades are the best predictor of college performance, and they have altered the way they make their admissions determinations to put limited weight, or no weight at all, on the SAT or ACT. "The four-year process of being a student in high school is far more like the four-year process of being a student in college than any other single thing you can think about. It's certainly not like a three-hour test," says Jon Boeckenstedt, associate vice president for enrollment management and marketing at DePaul.
The new SAT, which will debut in 2016, is designed to be a more straightforward test of what students learned in high school. It will involve more passage analysis, useful vocabulary, and a more focused math section. The essay portion will be optional, with a prompt provided to students in advance. Test-takers won't be deducted points for getting an answer wrong. "We are not interested in students just picking their answers but justifying their answers," says College Board President David Coleman.
The nonprofit College Board is also committing to other efforts aimed at helping larger numbers of low-income test-takers get into college. A partnership with free online course provider Khan Academy will make test prep materials widely available at no cost. And the College Board will send college-application-fee waivers to eligible students.
Yet the test will remain essentially the same: a timed assessment that ranks a diverse group of teenagers whose high school experiences and course work vary widely. Critics argue that the current test favors affluent, white, and male test-takers, and that it is particularly difficult for test-takers with learning differences such as dyslexia. Perhaps the most widely cited critical research comes from the 2009 book Crossing the Finish Line, by former Princeton University President William Bowen, Spencer Foundation President Michael McPherson, and Brookings Institution Fellow Matthew Chingos. The three academics found that SAT and ACT scores were both weak predictors of college success.
What test scores do correlate to, remarkably well, is wealth. "Test scores transmit gender and racial and social-class disparities that high school grades simply do not," says Joseph Soares, a sociology professor at Wake Forest University who has written extensively about the tests. The College Board considers a score of 1,550 out of a possible 2,400 indicative of college readiness. In 2013, the average SAT score for test-takers with an annual family income of below $60,000 was below 1,550. White and Asian test-takers, on average, scored higher than a 1,550. African-American and Hispanic test-takers, on average, did not. But average test scores did march steadily upward by income bracket.
The children of wealthier, better-educated parents are exposed to more and more complex words from a young age. They tend to take the SAT and its precursor, the PSAT, multiple times, getting in more practice. Their parents are better able to afford expensive test-prep classes and tutors. Their high schools may be more likely to emphasize essay writing.
Yet wealthy students with great test scores but lousy high school grades don't do as well in college as low-income students with lousy test scores but great high school grades. The dynamic is most apparent at universities that automatically admit students based on grades or class rank.
The University of Texas (Austin), for example, uses an admissions formula that essentially automatically admits all Texas students who are in the top 8 percent of their high-school class. At a 2009 conference that Soares organized, then-Admissions Director Bruce Walker said the school has found that low-income students who rank in the top 10 percent of their high school class typically go on to earn first-year college grades just as good and graduate at the same rate as wealthy students who didn't qualify for automatic admission.
Getting rid of the tests can also increase the diversity of a school's applicant pool and, potentially, its campus population. Pitzer College, a selective liberal arts college in Southern California, made submitting test scores optional a decade ago. "Our diversity has gone up 58 percent. We've also seen a doubling of low-income, first-generation students who apply to the college," says Angel Perez, vice president and dean of admissions and financial aid. Last year, 70 percent of accepted students didn't submit any test scores. Retention rates have risen, and academic quality remains strong, Perez says.
At Pitzer, admissions officers consider each applicant in the context of the opportunities available to him or her. "We look at what was competitive at that high school," Perez says. Students aren't penalized for failing to take Advanced Placement classes if their high school didn't offer them. Assessing every student in this way takes a lot more time and effort than disqualifying students with bad test scores, but Pitzer's faculty and admissions team believe it's worthwhile.
Some institutions may find that, in their case, admissions test scores do predict success, Perez says. But colleges and universities should do the research, and ask themselves the question: "Are we excluding a significant section of the American population by requiring this exam?"
College Board President David Coleman knows that SAT scores alone don't predict college success. The new test will be sent to institutions with a safe use warning: "SAT scores should only be used in combination with other relevant information to make responsible decisions about students."