Why Putin Plays Our Presidents for Fools
I looked into his eyes once, and what I saw scared me half to death.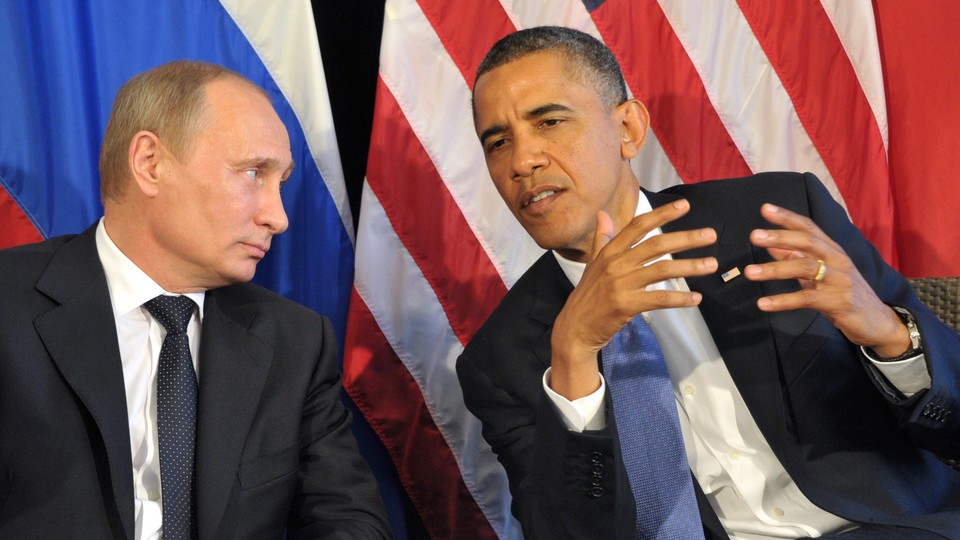 In June 2001, George W. Bush and Vladimir Putin ended their first face-to-face meeting with an outdoor news conference beneath a craggy mountaintop in Slovenia. "Is this a man that Americans can trust?" I asked Bush as Putin glared at me.
"Yes," Bush replied, before allowing Putin to answer a separate question. A few minutes later, the American president elaborated: "I looked the man in the eye. I found him to be very straightforward and trustworthy. We had a very good dialogue. I was able to get a sense of his soul, a man deeply committed to his country and the best interests of his country," Bush said, adding a few sentence later, "I wouldn't have invited him to my ranch if I didn't trust him."
While Bush spoke, Putin fixed his eyes on mine — a look so cold and dark that I wondered whether those eyes were, for some unfortunate Cold Warriors, the last thing they saw.
Disclosure: I don't pretend to read people as well as Bush, nor am I a foreign policy expert. Just three months after the Slovenia summit, Putin cooperated with Bush during the 9/11 attacks, and did so more broadly in the months that followed. Perhaps Bush saw goodness in Putin. And perhaps I spotted something else, because Russia's advances on Georgia in 2008 and on Ukraine today suggest that Putin is an easy guy to misjudge.
In the summer of 2008, Putin and Bush were in Beijing for the Olympics when Russian troops moved into Georgia in response to what the Kremlin called Georgian aggression against South Ossetia. Peter Baker of The New York Times described the U.S. response:
Bush confronted Mr. Putin to no avail, then ordered American ships to the region and provided a military transport to return home Georgian troops on duty in Iraq. He sent humanitarian aid on a military aircraft, assuming that Russia would be loath to attack the capital of Tbilisi with American military personnel present. Mr. Bush also suspended a pending civilian nuclear agreement, and NATO suspended military contacts.
Baker, an expert on the Bush presidency and Russia, reported that the White House considered more aggressive action, such as bombing tunnels to block Russian troops and arming Georgia with antiaircraft missiles. Secretary of State Condoleezza Rice bristled at what she called "chest beating," Baker reported, and Bush's team voted against military action. Russia stopped short of Tbilisi, but it left troops in areas it promised to evacuate under a cease-fire.
"We did a lot, but in the end there was not that much that you could do," said James F. Jeffrey, Bush's deputy national security adviser.
The United States was caught off guard and impotent on Georgia, and again with regard to Ukraine, because of a fundamental misunderstanding of the cynicism and pragmatism that motivates Putin. The revolution in Kiev created concerns among the large Russian population in Crimea, and Putin exploited it to satiate his (and his country's) appetite for new territory and power. Julia Ioffe of the New Republic explains:
We didn't think Putin would do this. Why, exactly? This has often puzzled me about Western analysis of Russia. It is often predicated on wholly Western logic: surely, Russia won't invade [Georgia, Ukraine, whoever's next] because war is costly and the Russian economy isn't doing well and surely Putin doesn't want another hit to an already weak ruble; because Russia doesn't need to conquer Crimea if Crimea is going to secede on its own; Russia will not want to risk the geopolitical isolation, and "what's really in it for Russia?" — stop. Russia, or, more accurately, Putin, sees the world according to his own logic, and the logic goes like this: it is better to be feared than loved, it is better to be overly strong than to risk appearing weak, and Russia was, is, and will be an empire with an eternal appetite for expansion. And it will gather whatever spurious reasons it needs to insulate itself territorially from what it still perceives to be a large and growing NATO threat. Trying to harness Russia with our own logic just makes us miss Putin's next steps.
Rather than walk inside Putin's shoes, Bush sees his soul and President Obama speaks of a world in which "the tide of war is receding." Secretary of State John Kerry dismisses the invasion of Ukraine as "a 19th-century act in a 21st-century world." They're like new guys at a dangerous bar admiring the drapes while their wallets walk out the door.
White House officials insist that Obama is under no illusion about Putin. Toggling through every diplomatic option, this U.S. president is playing for the same kiss-your-sister outcome that Bush managed in 2008. Give a little, avoid a war.
The United States' options are few and fairly weak. But it doesn't help that Obama has undercut his global reputation by vacillating on Syria and, more generally, sending a consistent signal that he is reluctant to use military force to back up his threats. Obama's approach reflects the war weariness of the public he leads and the promises he made in the campaign to succeed Bush. Nonetheless, rarely is a U.S. president rebuked as quickly and fully as when Putin stung Obama on Friday, ignoring a warning that "there will be costs" for military action in Ukraine.
An hour or two after the 2001 news conference, I wrote that Bush's advisers were surprised by the president's "unimpeachable endorsement" of the Russian leader, and "some worried he may regret his words if Putin strays from democratic reforms."
Two successive presidents have failed to realize that Putin, a former KGB officer, does not think like them and does not act in accordance with Western rules and customs, and that a fast-changing post-Cold War world is filled with opportunistic leaders who, like Putin, recognize that a retrenched United States creates a leadership vacuum that they can fill, brutally.
{{ BIZOBJ (video: 4776) }}