Who's Playing Games With Unemployment Insurance?
"They actually don't want to get this done," Republican Sen. Dean Heller says.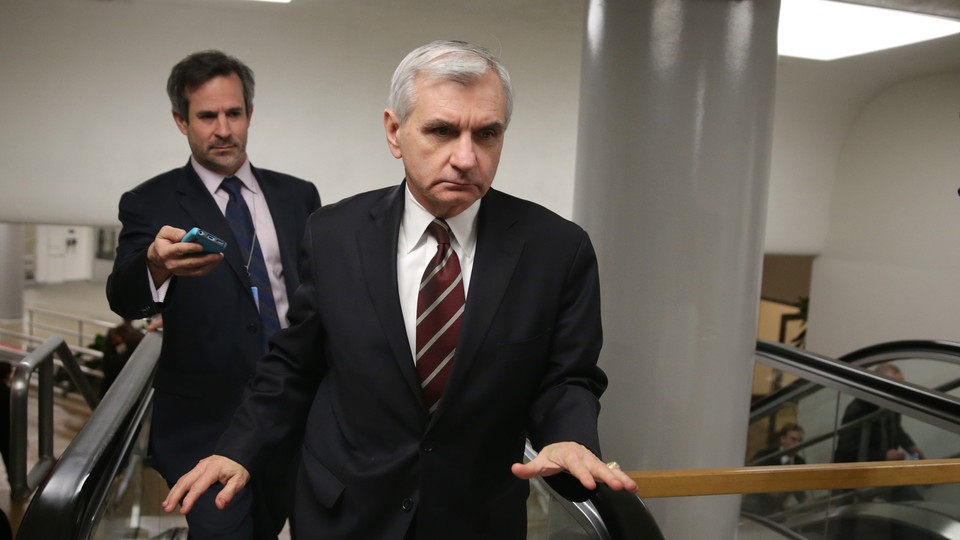 It's been days since a cadre of Senate Republicans released their own legislation to extend unemployment insurance benefits, and they've yet to get the positive reaction they were seeking.
Discussions between Republicans and Sen. Jack Reed of Rhode Island, who is leading the Democratic efforts, are ongoing. But Republicans say Democrats are showing little willingness to take up their bill.
"I think they're going to reject it and that would be a shame," says Republican Sen. Dean Heller of Nevada, who has stood with Democrats since late last year in working to find a way to extend the insurance program for the estimated 2 million Americans who have lost their long-term benefits since Dec. 28.
The GOP bill "represents a great deal of movement on our part," said GOP Sen. Susan Collins of Maine. "It's completely reasonable, and it would provide a five-month paid-for extension with reforms in the program. I regret to say that so far, the Democratic response has not been as positive as I would have hoped and expected. I really don't see any more major concessions coming from the Republican side. We've put our best offer on the table with a few tweaks."
Here is the frustration for Senate Republicans: Most of their legislation is cribbed from previous Democratic bills. They argue that the issue now seems to be not the content of the extension bill but the party identification of those listed at the top of it.
"I think that's the height of hypocrisy, in my opinion, that all this clamoring that they have for the unemployed — most who have lost their jobs with no fault of their own — is now bottled up because they don't like our plan even though it's a plan that they've supported in the past," Heller said Tuesday.
The Republican proposal to pay for the short-term extension includes two offsets that Democrats have accepted before: pension-smoothing, a pay-for championed by Reed just weeks ago; and preventing individuals who collect unemployment insurance from also receiving disability, an amendment pushed by Sen. Rob Portman, R-Ohio, that Democrats had already agreed to include as an amendment to their newest bill.
The third Republican pay-for builds on one included in the Ryan-Murray budget agreement, which passed both chambers easily in December. That offset would extend customs user fees — funds paid for by airline passengers going through customs in the United States to offset the costs of inspection — for an additional year. Under the GOP plan, the fee program would now expire in 2024.
"Every pay-for in there they've supported in the past, they just don't like it today," a visibly frustrated Heller said Tuesday. "They've liked it in the past, but they don't like it today. We have seven sponsors on that, so we're giving them all the votes they need — all the votes they need — and they still reject it because they don't want to get it done. They'd rather have the political talking point. This is proof in the pudding that all they want is the politics of it, they actually don't want to get this done."
Reed spokesman Chip Unruh called foul, arguing that Republicans are for the first time asking for offsets for a five-month unemployment insurance extension, which, because it is retroactive, would actually expire after just two months, giving Congress little time to find a longer-term solution. "If they're frustrated, imagine how the 2 million people who lost their benefits [feel]."¦ The bottom line is we've bent over backwards to find a way to get this done," Unruh said Tuesday.
Another Democratic concern, he said, is that the Republican bill would reform the overall unemployment insurance program. The measure would require federal or state agencies (or both) to determine why beneficiaries have been unable to find employment; would prohibit "millionaires and billionaires" as well as those receiving disability to take in the benefits; and would require recipients to accept any "suitable work" offered to them.
Unruh argued that the bills' reforms would prevent millions from receiving the benefits in the future, but did not elaborate.
At the same time, Democratic outside groups are sending some friendly fire in the way of Republicans involved in the negotiations, which has only heightened their sense that the unemployment talks are more about politics than finding a solution.
The AFL-CIO and AFSCME ran Facebook and online ads against Sen. Mark Kirk, R-Ill., hoping to prod him into signing onto Democratic legislation. Americans United for Change, a group that promotes Democratic causes, recently ran a small television ad against Kirk as well.
"I've always been worried that this was largely a political exercise led by Harry [Reid]," Kirk said, noting the ad and polling that have run against him, even as he's joined other Republicans in negotiating with Democrats to find a solution.
Americans United for Change also sent about two dozen activists to Portman's office to deliver a petition urging him to support the bill. The group commissioned a Public Policy Polling survey on Kirk and Portman in their home states, reminding their constituents that they voted against "against reinstating unemployment benefits to 1.8 million Americans who are out of work."
Portman called the Americans United for Change survey a push poll, noting that it said nothing about his work with Democrats to find a solution. The survey was conducted before the Republican bill was announced to the public.
Paul J. Lavraka, a former president of the American Association for Public Opinion Research, argued that the survey couldn't technically be called a push poll because of its small sample size. "The idea of persuading 500 people is ludicrous," he said, arguing that 500 individuals are unlikely to sway an election.
But Portman is more concerned about the message that the survey is sending to his constituents, even just 525 of them. "I think that was just an unfair question," Portman said Tuesday. "So, of course you're going to get a reaction that's different than what would be an honest way to describe it, which is that I'm for extending [the benefits] short-term as long as it's paid for, as long as we are committed to reforming the program so that it works better for people to get skills. If that had been explained, I would have felt different about it."
Americans United for Change spokeswoman Lauren Weiner disputed Portman's characterization of the survey, defending PPP as "one of the most accurate" polling outfits in the country. "I think that it's interesting that they're actually questioning the poll and not the results ... if they don't feel that a majority of Ohioans or Buckeyes support extending unemployment," Weiner said.
As for why the group has singled out Portman and Kirk among their colleagues — the majority of whom have shown no interest in passing an unemployment insurance extension of any kind — Weiner called them the two "most persuadable" Republicans in the Senate. The group is hopeful, she said, that a little pressure could get them to sign on to the next extension that makes it to the floor.
Unruh agreed, though he said he was unaware of any activities by outside Democratic groups to influence Republicans on the issue. "Senator Reed has tried to work in good faith; I think some of his colleagues are feeling the heat from back home and for good reason. A broad swath of people want to see this done," Unruh said.
But the actions of Americans United for Change, the AFL-CIO, and other groups, coupled with the lukewarm reception Republicans received after announcing their own proposal last week, has many of the seven Republican senators negotiating over the issue concerned that they're locked in a lose-lose situation.
Though Reed has continued to lead bipartisan talks, and both sides say they are hopeful that they'll make progress, the seven Republicans involved say they believe Reid is responsible for the lack of progress so far.
"What that signals to me is they're not really looking for a deal," said Sen. Lisa Murkowski, R-Alaska, who signed on to the Republican bill and has supported previous Democratic fixes in recent months. "And it may just be as simple as, those that we are discussing with are really trying to make something happen but that you've got a majority leader who feels that it's in his best political interest or that of his team to keep this issue alive."
"I mean, if I were sitting out there and one of those that was impacted, my benefits had been cut off and I kind of watched this back-and-forth, back-and-forth, with no real resolve in sight, I'd be pretty frustrated," she added.
Still, Portman and others are hopeful that the ongoing negotiations will result in some kind of compromise legislation. As talks continue, the prospects for a bill that will win a 60-vote majority this week, as Democrats initially hoped, is increasingly unlikely.