Where Martin O'Malley's Liberalism Ends
The Democrat is under pressure on marijuana reform and what he does next will speak loads.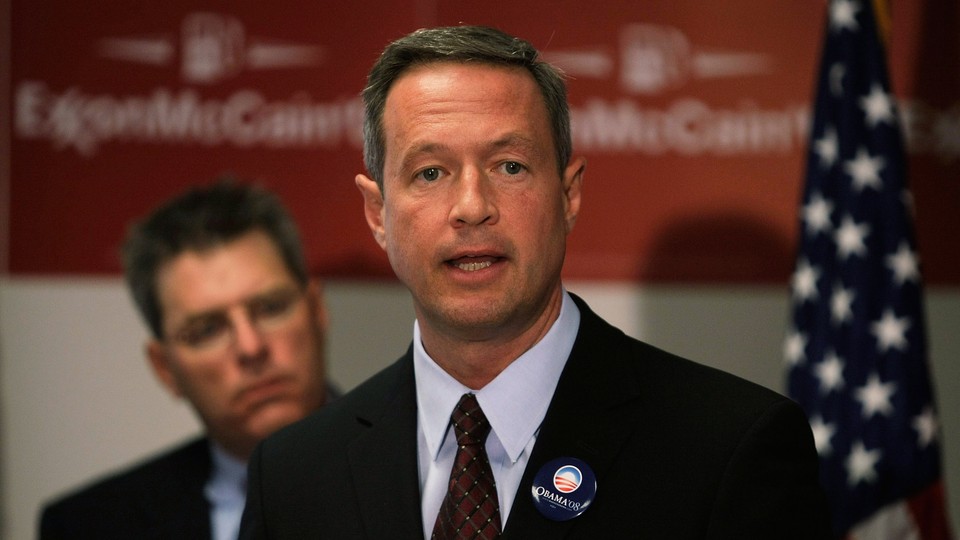 His stance on gay marriage, gun control, and the tax code is patently progressive, but there's one area where Martin O'Malley's liberal label doesn't fit.
The Maryland Senate on Friday voted to decriminalize marijuana, and the bill, if it passes the House of Delegates, will head to the governor's desk for a signature. Its passage could put O'Malley, who built a name for himself as the "tough on crime" mayor of Baltimore in the early 2000s, in a strange position not just vis-a-vis his state, but nationally.
The governor is touring the country and talking up the possibility of a presidential run in 2016, even as he has continued to voice his firm opposition to marijuana reform, an issue that's been gaining traction in Maryland and beyond.
O'Malley's would be running from the left of the Democratic party, but his record on drug reform hasn't been in tune with that. What's more, polling shows there's very limited space for a liberal alternative to Hillary Clinton: Only 10 percent of Democrats say they would want someone more liberal than Clinton, according to a recent CNN/ORC International Poll. Even anti-Obama candidate Brian Schweitzer's drug policies are more in tune with liberal youth.
All three of the Democratic candidates seeking to replace O'Malley as governor are vying to out-marijuana-reform one another. And Democratic primary voters around the country overwhelmingly support not just medical marijuana and decriminalization measures, but outright legalization.
There's some evidence his stance on the issue is evolving. In May of 2011 O'Malley signed a bill allowing seriously ill patients to avoid prosecution when charged with possession of medical marijuana and setting up a commission to study how medical marijuana laws might be implemented in Maryland in the future. In 2012 there was a step away from reform when a spokeswoman said he would veto a bill on medical marijuana. But then in 2013 his administration again signaled it would be willing to back a medical marijuana bill that met certain contingencies, such as the "flexibility" to suspend the program should the federal government intervene with the distribution of what it still considers an illegal drug. (O'Malley had signed a preliminalry medical marijuana bill in 2013 that allows distribution from a handful of "academic medical centers," but none have been willing to participate thusfar).
The bill that passed Friday in Maryland's Senate, which would reduce the fine for carrying an ounce of weed from $500 to $100 and eliminate jail time, is fairly modest in its reforms. Can O'Malley possibly veto this sort of bill and go on to be taken seriously as a national Democratic contender for president?
Back in 2008, Barack Obama found a way around the issue by suggesting that the question of legalization be left to the states. That answer was good enough then, but it was a lifetime ago where drug policy is concerned. A dodge on marijuana reform is unlikely to be acceptable now, when 20 states and the District of Columbia have legalized the drug for medical purposes, two states have opted for full-scale legalization, and polling shows Democratic voters are unequivocally not on O'Malley's side of this issue anymore. "It's definitely something he'll be asked about," Marijuana Majority spokesman Tom Angell said, "particularly by young voters on the 2016 campaign trail, should he throw his hat in the ring."
O'Malley just spoke at the California Democratic Party's state convention, where medical marijuana has long been legal and delegates even made legalizing marijuana part of the party platform. In May, he's slated to be keynote speaker at a Democratic Party awards reception in Massachusetts, where voters passed a decriminalization ballot measure in 2008 by a 2-to-1 margin and overwhelmingly approved a medical marijuana bill in 2012.
The decriminalization bill headed to O'Malley's desk isn't his only problem. On Monday the Maryland House of Delegates passed a medical-marijuana bill 127 to 9.
If O'Malley thinks opposing incremental marijuana reforms is a way to excite young, liberal voters in a presidential contest, he hasn't been reading the tea leaves. Or the polling. What he decides to do if and when that decriminalization bill comes to his desk will say a lot about his national viability.
This post has been updated for clarity.