What It Might Be Like if Anita Hill Testified Today
She'd see a different Senate. But one not fully changed.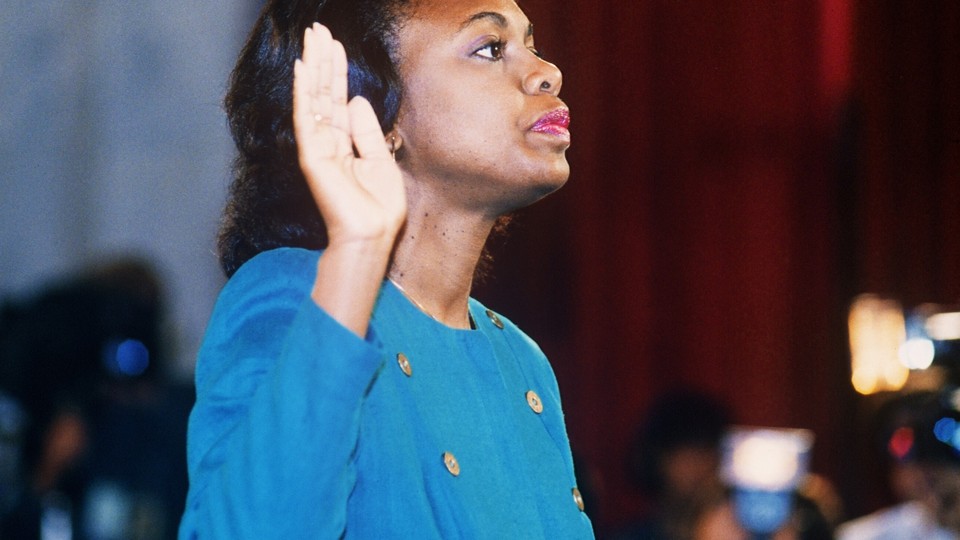 In 1991 Anita Hill made us start thinking about sexual harassment. Now, with the debut of the documentary Anita: Speaking Truth to Power, she's making us think about what's changed 23 years later.
Back then, sexual harassment was still a relatively new concept. It wasn't until 1975 that the term even appeared in The New York Times, and when it did, the paper organized a definition of it in bullet points, to suss out exactly what this foreign idea entailed.
It was the beginning of an entirely different era, particularly with regard to women in Washington. When Hill went before a Senate Judiciary Committee of all-white male senators more than two decades ago, her testimony sparked a backlash that still reverberates. Where were the women senators?
The hearings helped inspire the campaign of Democrat Patty Murray of Washington state who, upon watching Hill testify, told her friends she was running for the Senate in 1992. That year would also see Dianne Feinstein and Barbara Boxer elected to the Senate, making California the first state to be represented in the upper chamber by two women. It was the year that Carol Moseley Braun of Illinois joined the Senate, and the first year that four women were elected to the Senate in a single election year.
After Hill's testimony in Washington, D.C., sexual-harassment claims shot up. (It's easier to speak about sexism when someone's helped define the vocabulary.) "Our phones were ringing off the hook with people willing to come forward who had been suffering in silence," Marcia D. Greenberger, founder and copresident of the National Women's Law Center in Washington, recently told The New York Times. And Congress passed legislation granting sexual-discrimination victims the right to sue for damages.
Journalists hailed it as the "Year of the Woman," but Sen. Barbara Mikulski wasn't buying the sound bite. "Calling 1992 the Year of the Woman makes it sound like the Year of the Caribou or the Year of the Asparagus," the Maryland Democrat said at the time. "We're not a fad, a fancy, or a year."
When 2012 was dubbed Year of the Woman by media outlets such as Mother Jones, The Washington Post, and Salon, beloved lady columnist Ann Friedman similarly dismissed the label, noting that nine out of every 10 states still had a male governor and women's representation had been stagnant since 2007. "We've made some incremental progress since 1992, but to achieve gender parity in Congress and secure women's rights more broadly, every year has to be a Year of the Woman," Friedman wrote at the time. "And not just in the campaign headlines, but on Inauguration Day."
If Anita Hill were to testify before today's Judiciary Committee, she would face three female faces in questioning; they include Sens. Amy Klobuchar and Feinstein, and just one woman of color, Sen. Mazie Hirono. That may not sound like much, but it's three women more than when Hill first went before the committee in 1991.
Should Republicans take back the Senate in 2014, as poll analysts like Nate Silver are now predicting, those numbers could be even worse — which is to say even more uniformly white and male. (There are currently no female or minority members on the GOP side of the Senate Judiciary Committee, the side of the committee that would likely expand given a Republican victory, though it's conceivable the three Democratic women would all stay on the committee and some new freshman women could come on as well.)
But that there has already been progress, however incremental, is undeniable. At the time Hill testified there were just two women serving in the entire Senate: Mikulski and Nancy Kassebaum of Kansas. Today there are 20.
"With the three Democratic women on that panel, I can imagine that the dynamic would be a lot different today," says Marcy Stech, a spokeswoman for EMILY's List, the political action committee that helps elect women who support abortion rights. "But we have more work to do, which is why we at EMILY's List are focused on electing more women in 2014 and we're excited to see the impact that more and more women can make once they get to Washington."
The documentary is now playing at theaters in New York, Los Angeles, and San Francisco.