Western Nations Take First Major Step in Isolating Russia Following Ukraine Invasion
The United States and six of the wealthiest nations distance themselves from Russia ahead of the G-8 conference.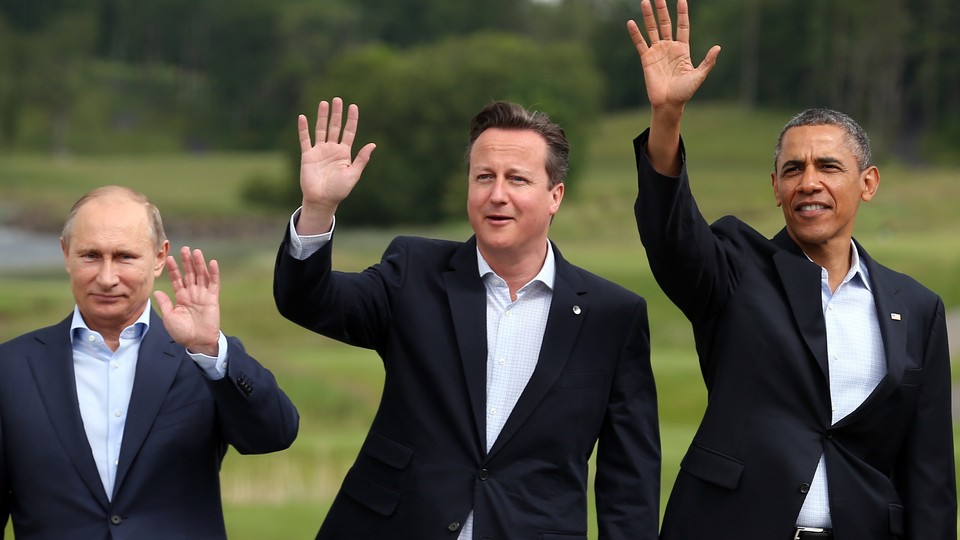 Following recent Russian military movements, the other seven G-8 members on Sunday rebuked the Kremlin, condemning the "clear violation of the sovereignty and territorial integrity of Ukraine."
The seven wealthiest developed nations in the world — the United States, Canada, France, Germany, Italy, Japan, and the United Kingdom — under the banner of the G-7 took the first major international action since the Friday armed invasion of the Crimea region, suspending activities with Russia under the G-8. The group was scheduled to gather for a June conference in Sochi, but will not meet until Russia can join the group for a "meaningful discussion," the statement continued.
The presidents of the European Council and European Commission also joined the seven nations in a strongly worded notice circulated by the White House on Sunday evening.
In the statement, the G-7 argues that Russia not only violated a 1997 agreement it had with Ukraine but also violated the United Nations charter by reacting with military action and not through diplomacy. Russia said its recent movements seek to protect ethnic Russians living in Ukraine.
"We are united in supporting Ukraine's sovereignty and territorial integrity, and its right to choose its own future" the G-7 said in a statement. "We commit ourselves to support Ukraine in its efforts to restore unity, stability, and political and economic health to the country."
The group subsequently promised to work with the International Monetary Fund in helping to secure the financial assistance Ukraine has badly needed for months. The country faced possible bankruptcy before antigovernment protests began several months ago.
This is the strongest diplomatic action the West has taken against Vladimir Putin's government since the crisis in Ukraine began, as this situation further delves into a East-versus-West scenario.
On Sunday morning, as the new pro-West Ukrainian government called up its reserve military forces, Secretary of State John Kerry alluded to a possible separation between the G-7 and Russia. So far, the G-7 has not mentioned possible military action, but it is clear this is the first step in politically isolating Russia. Kerry is also expected to travel to the Ukrainian capital of Kiev on Tuesday to discuss the crisis.
Russia joined the group of seven wealthiest industrialized nations in 1998, creating the G-8. This could be the end of that union.