Time for Truth in Labeling: Obama Is Not Centrist
New Pew Research analysis shows Obama is on the liberal side of the Democratic Party on most key issues.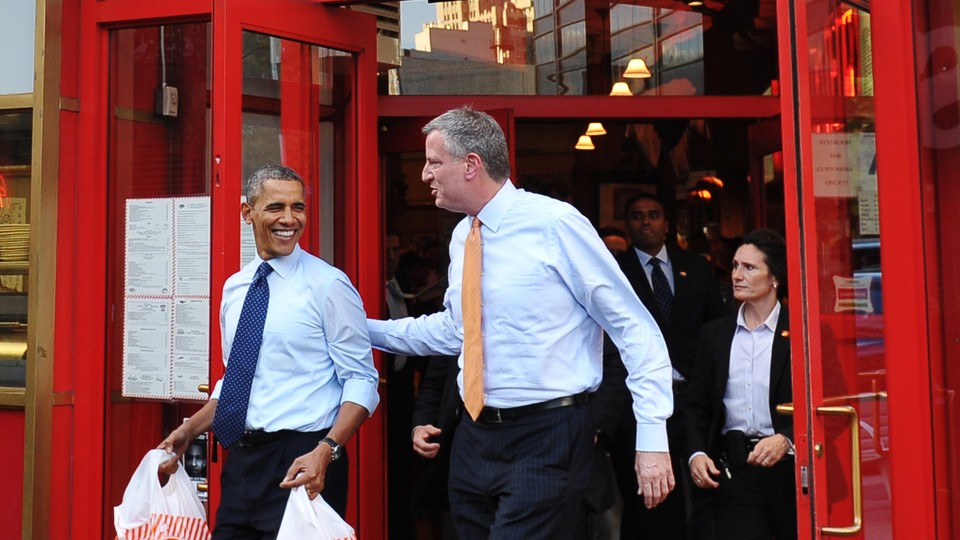 Pew Research Center Founding Director Andrew Kohut wrote an important Washington Post column last month highlighting the Democratic drift leftward during the Obama administration. Backed by decades of Pew data, Kohut concluded that Democrats have grown just as liberal as Republicans have become more conservative in recent years. "They are much more socially liberal than they were even a decade ago, more supportive of an activist government, more in favor of increased regulation of business," Kohut writes.
It's a useful corrective to the notion, fueled by the White House, that the Republican Party alone is responsible for gridlock in Washington. But Kohut downplays one significant factor that has expedited the Democratic polarization: President Obama himself.
In the piece, Kohut instinctively labels the Obama administration as centrist. But on all five major issues that divide the Democratic Party's liberals and moderates — the budget deficit, income inequality, the environment, social issues, and America's role in the world — Obama is on the leftward side.
Liberals give low priority to dealing with the deficit. Obama's recent budget avoids tackling entitlement reform, and he's condemned the GOP's focus on austerity. As The New York Times reports, his $3.9 trillion budget "seeks to energize Democratic voters with populist proposals like a more generous tax credit for the working poor, paid for with higher taxes on the rich." Likewise, liberals are the only political segment in the Pew survey that expresses majority support for paying higher prices to help the environment. Last month, Obama imposed executive orders regulating higher fuel efficiency for trucks, and steered $1 billion in his budget to tackle global warming. The Obama administration's indefinite delays on approving the Keystone XL pipeline is a clear sign that he's on the leftward side of the Democratic divide.
On foreign policy, Pew finds most liberals don't believe in ensuring peace through military strength, and a majority would find it acceptable if another country became "as militarily powerful" as the United States. Obama has cut the Pentagon's budget and has said he wants to focus on nation-building at home instead of abroad. His desire to reduce the American footprint in the Middle East, and seek international consensus on foreign hot spots like Syria and Ukraine, put him squarely in his party's liberal flank.
The debate over tackling income inequality, the leading cause Obama has championed in a second term, is another important divide between liberals and moderates. While both support government action to reduce poverty, liberals are much more optimistic about the ability of government to make a meaningful difference in the income gap. Liberals are also more cynical about achievement than moderates, with most disagreeing with the statement that "people can get ahead if they work hard." It's hard to precisely pin Obama down on this issue, but his rhetoric on income inequality assumes that there's something fundamentally broken with the current system limiting economic mobility.
Even on social issues, several of which have trended in his party's favor recently, Obama's support for a path to citizenship for illegal immigrants, same-sex marriage, and abortion rights put him on the Democratic left.
Kohut's analysis avoids the biggest factor expediting Democratic polarization: the president's health care law. Obama entered office with a near-filibuster-proof Democratic supermajority in the Senate and his party holding 59 percent of seats in the House. Despite widespread opposition, he spent immense political capital to pass health care reform, which depleted his party's moderate congressional wing. The Democrats who retired or lost reelection in the 2010 cycle disproportionately hailed from the party's middle. In just four years, the number of moderate Blue Dogs shrank from 54 to 19 members — with three more retiring this year, and at least five others facing tough reelection campaigns.
Meanwhile, in an election year where control of the Senate is hanging in the balance, the White House is ignoring ways to mitigate damage for his party. Approving the Keystone XL pipeline would help many of his party's most vulnerable senators, but the administration has indefinitely delayed a final decision. The White House's controversial nominee to head the Justice Department's Civil Rights division, Debo Adegbile, was rejected by seven Democratic defectors, including two red-state senators on the ballot in 2014. Obama's 2014 campaign strategy to energize the base could help turn out African-American voters in a couple of Senate battlegrounds (North Carolina, Louisiana), but it's a sign he's already given up on persuading white moderates in Republican-friendly states.
Indeed, in understanding the challenges vulnerable Democrats face in 2014, it's worth recalling how differently Obama has approached his second term compared with Bill Clinton. Clinton's big second-term success was signing a balanced-budget agreement, working with conservative House Republican Speaker Newt Gingrich. Despite the Monica Lewinsky scandal — and because of GOP overreach — Clinton's approval rating in the pre-midterm Gallup Poll stood at 66 percent. In 1998, Democrats picked up seats in conservative North Carolina (John Edwards) and Indiana (Evan Bayh), while holding seats in Arkansas and South Carolina. It's no surprise that, 16 years later, Clinton will be campaigning for more Senate Democrats than Obama will.
Obama has been effective in portraying himself as a moderate consensus-builder while governing in a liberal direction. He won reelection by mobilizing a growing progressive base, and portraying Mitt Romney, one of the few remaining Republican moderates, as the extremist in the race. But his political resume also includes losing the House, with Democratic control of the Senate at risk in 2014. To understand how Obama squandered the huge Democratic congressional majorities he inherited, it's important to have some truth in labeling.

CORRECTION: An earlier version of the column misreported the size of Obama's 2015 budget. It is $3.9 trillion.
{{ BIZOBJ (video: 4806) }}