This Congressional District Ranks Dead Last for Well-Being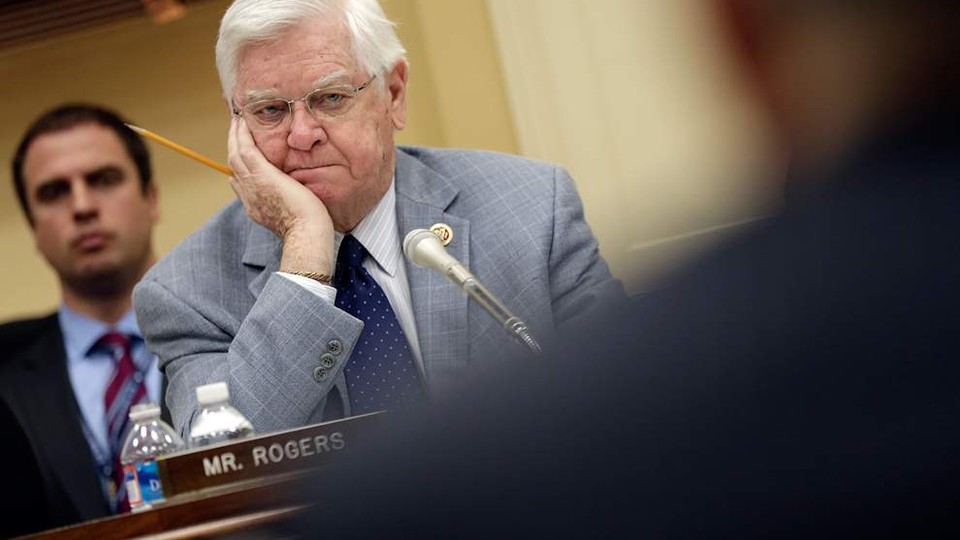 Chin up, Kentuckians.
A new report on the "state of American well-being" found which congressional districts are feeling good and which are suffering. Kentucky's 5th Congressional District appears to be suffering most. The district, represented by Republican Rep. Harold Rogers since 1981, came in last out of the 434 districts that were evaluated in the survey. (The data for districts were collected from January 2012 through December 2013.)
The survey, conducted by Gallup and Healthways, uses a "Well-Being Index" that takes six factors into account: life evaluation, emotional health, work environment, physical health, healthy behaviors, and basic access to health care. A steady decrease in health care access, along with rising obesity rates and a declining work environment, all contributed to a lower national well-being score.
On the other end of the spectrum, the survey gives some credence to the stereotype that California is a state run amok with crunchy residents telling each other, "Namaste." California's 14th District, which encompasses an affluent part of the Bay Area south of San Francisco, ranked No. 1 in terms of having the highest rate of well-being. Rep. Jackie Speier, who was elected to Congress in 2008, represents the 14th District. Sixteen of California's 53 congressional districts made the top tier of results, and California jurisdictions made up half of the top 10 list.
While the survey didn't measure income, it's worth noting that respondents in more-affluent areas tended to report better well-being than lower-income areas (a separate study from 2010 found that people's happiness can be correlated with their incomes — up to a point). For example, in 2011, the median income in Speier's district was $77,880. In Rogers's district, it was $29,675.
Other high-ranking districts include affluent areas such as Denver, Honolulu, the District of Columbia, and Northern Virginia. Gallup found that residents in the top 10 districts experienced "high well-being, making their lives healthier and more satisfying," the report said. "These high well-being locations tend to exhibit many shared characteristics, including lower chronic disease rates, lower incidence of obesity, more frequent exercise, less smoking, and a more positive outlook on their communities."
Meanwhile, several low-income urban areas were stuck in the bottom 10 of congressional districts: Michigan's 13th District, which includes much of Detroit; New York's 15th District, which comprises the Bronx; Texas's 18th District, which encompasses Houston's inner city; and Florida's 24th District, which includes northern Miami.
Democratic and Republican House members split the bottom 10 of congressional districts. Three of the top 10 best-feeling districts are represented by Republicans; seven by Democrats.
Kentucky's 5th District may be the most miserable in the country by this test, but Kentucky isn't the worst-feeling state overall. As National Journal's Matt Berman wrote last month, that title goes to West Virginia, which came in dead last for well-being. (As he wrote, the state is "virtually without peers in relative misery.") Meanwhile, North Dakota rocketed up the list from 19th place to claim the No. 1 spot from Hawaii — likely thanks to the state's booming oil industry.
Spokesmen from Speier's and Rogers's offices did not originally return requests for comment.
UPDATE, 5:40 p.m.: Rogers gave this comment over email:
While this study garnered the opinions of a handful of people, it certainly doesn't examine the great strides that we've made over the last three decades in education, healthcare and job creation. Kentucky director of research and statistics, Ron Crouch indicates the number of people with a college degree in our region is dramatically improving, along with economic opportunity.
In light of losing thousands of coal mining jobs in our rural region due to the 'War on Coal,' the people of southern and eastern Kentucky have united in a grassroots effort since December 2013 called SOAR: 'Shaping Our Appalachian Region.' Together, Governor Steve Beshear and I have led this bipartisan initiative to rally thousands of leaders to invest their talents and energy into improving our beloved hometowns. While no one realizes our challenges like the families who work and live here, we know that great opportunities are on the horizon.