There's a New Plan to Extend Unemployment Insurance. But It's DOA.
Senate Democrats are pushing a plan that House Republicans rejected months ago.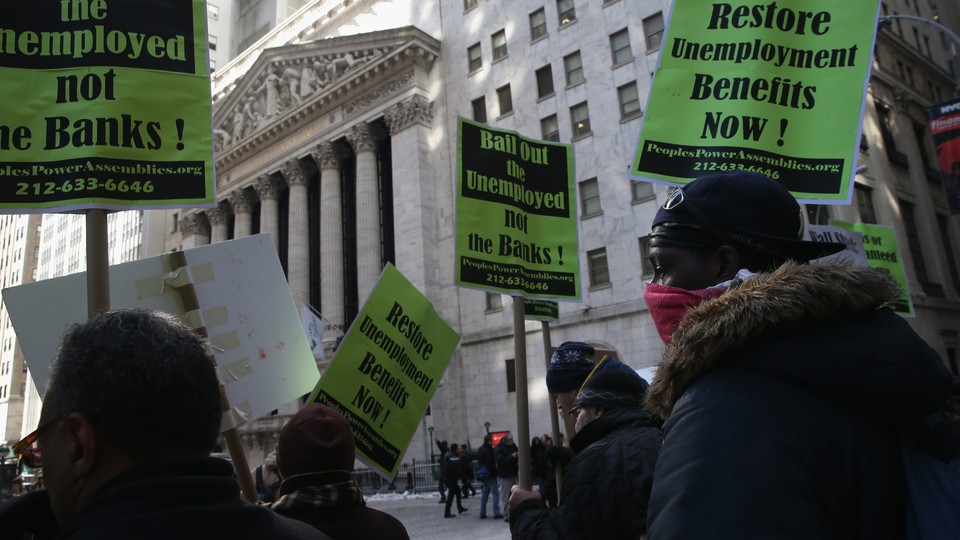 Democrats are pushing yet another proposal to restore unemployment-insurance benefits with an offset that may look familiar to House Republicans. The plan is actually modeled on one they rejected in December, and it looks as though it will face severe opposition in the House and will likely fail in the Senate as well.
Sen. Jack Reed, D-R.I., who has been a fierce advocate for the extension, proposed a bill late Tuesday that would provide six months of unemployment-insurance benefits (including three months of back pay for the checks missed after the benefits expired in December). It would be paid for out of savings from the farm bill passed by Congress in February.
Democrats have unsuccessfully tried this tactic before. In mid-December, as the budget agreement headed to the floor, Reps. Sander Levin of Michigan and Chris Van Hollen of Maryland pushed for the Rules Committee to allow a vote on a three-month unemployment-insurance extension that would be paid for out of savings from the yet-to-be official farm bill. The savings, however, had already been agreed to.
House Republicans rejected the package, preferring to keep the farm-bill savings to further reduce the deficit, and blocked the bill from making it to the floor.
Still, Senate Democrats plan to bring up the package in the next week or two. Senate Majority Leader Harry Reid said Wednesday that he could not give a more specific date for the vote because of delays caused by the recent snowstorm.
That plan has House Republicans accusing Democrats of playing political games on the issue, rather than working to find a bicameral solution. "Calling a play that failed the last time isn't a plan for success — it's another sign that Senate Democrats want a political issue more than they want a bill signed into law," a House Republican aide said Wednesday.
Reid, however, remains focused on the Senate, hoping that a strong bipartisan vote in the upper chamber will force the House to take up an extension. Reid said Wednesday he is working hard to push more of his Republican colleagues to sign onto the new Reed bill. "I have to pull out all the stops to try to pick up another Republican vote," Reid said. "It's not the Democrats I have to worry about it. It's the Republicans."
But the newest proposal may actually lose even more Republican votes than the last package Reid and his allies brought to the Senate floor, which came up just one Republican short in a procedural vote. Sens. Susan Collins of Maine and Lisa Murkowski of Alaska, who joined Democrats on an extension vote last month, indicated Wednesday that they are unlikely to back the new bill.
"What I think is going to be important — you've got to have a credible proposal with a credible pay-for. I've asked my folks to take a look at it, but I'm not feeling really warm about it right now," Murkowski said.
Murkowski and others fear that the farm-bill savings may never materialize. The Congressional Budget Office noted in its 10-year analysis of the farm bill that the majority of its savings would come in the last five years. But farm bills are only five-year deals, and by 2019 Congress will be in the process of passing new legislation, which may not include the same savings. As a result, Murkowski, Collins, and other Republicans are looking for an alternative solution.
But the fact that Murkowski, Collins, and others may be balking at the Reed bill's offset is news to Democrats. "That's not what they're telling us in private," complained a senior Democratic aide.
Both Murkowski and Collins pointed to a new bill being promoted by Sen. Rob Portman, R-Ohio, as a better solution to the issue. "I think that Senator Portman has come up with a far more legitimate pay-for. And I don't want to preempt his announcement, but it's one that I would support," Collins said.
Portman said that he will release that bill later this week, but declined to outline what type of pay-for he and his colleagues are currently considering.
That's frustrating for Senate Democrats, who say Portman is not negotiating in good faith. Leadership already offered to give Portman an amendment on the Reed bill in order to bring the Ohio Republican and some of his other colleagues into the fold. That amendment, which Portman introduced in January, would prevent individuals from collecting unemployment-insurance benefits while also drawing from the Social Security disability fund, an idea that was also included in President Obama's 2015 budget.
But attaching that amendment to Reed's legislation appears to be insufficient for Portman, who is planning to release a separate bill entirely. Portman continues to move the yardstick, the senior Democratic aide said.
Democrats on the House Ways and Means Committee estimated Wednesday that 2 million unemployed Americans are now living without the benefits, which expired  Dec. 28.