The Secret Lives of Inner-City Black Males
Paul Ryan's explanation for urban poverty isn't much different from Barack Obama's. Why did it make liberals so angry?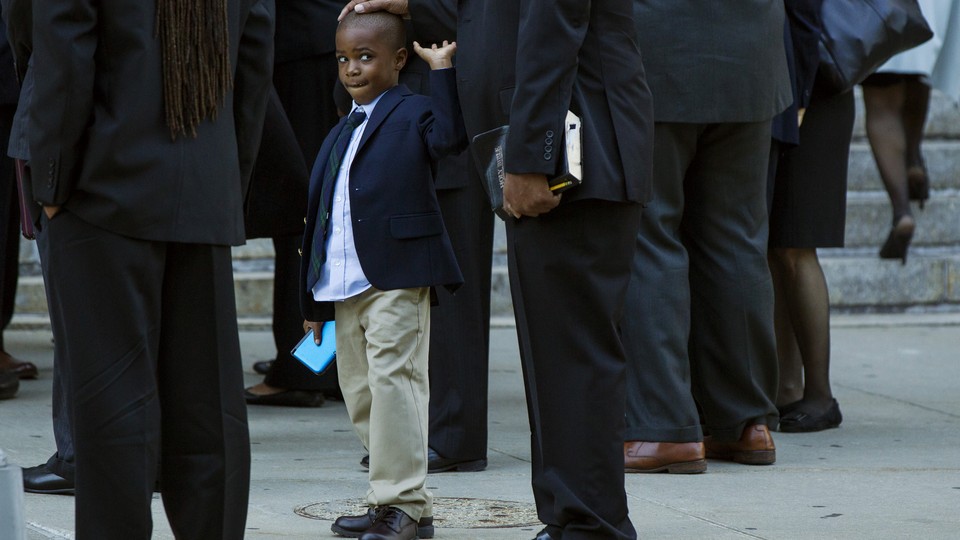 On Sunday, I took my son to see two movies at a French film festival that was in town. The local train was out. We walked over to Amsterdam to flag down a cab. The cab rolled right past us and picked up two young-ish white women. It's sort of amazing how often that happens. It's sort of amazing how often you think you are going to be permitted to act as Americans do and instead receive the reminder—"Oh that's right, we are just some niggers. I almost forgot."
Getting angry at the individual cabbie is like getting angry at the wind or raging against the rain. In America, the notion that black people are lacking in virtue is ambient. We see this in our vocabulary of politics and racism, which has no room for the decline in the out-of-wedlock birthrate and invokes Chicago with no regard for Chicago at all, but to deflect all eyes from the body of Trayvon Martin.
But I was angry, and very much wanted to approach the cabbie, idling there at a red light, in ill disposition. I was also with my son. And more, I am a six-foot-four black dude who tries to avoid the police. I think, 15 years ago, with nothing to lose, I would have made a different decision, if only because the culture of my young years made a virtue of meeting disrespect with aggression. This culture was not wrong—the price of ignoring disrespect, in the old town, was more disrespect. The culture was a collection of the best practices for making our socially engineered inner cities habitable. I now live in a different environment. I now have different practices.
Last week, Paul Ryan went on the radio to address the lack of virtue prevalent among men who grew up like me, my father, my brothers, my best friends, and a large number of my people:
We have got this tailspin of culture, in our inner cities in particular, of men not working and just generations of men not even thinking about working or learning the value and the culture of work, and so there is a real culture problem here that has to be dealt with.
A number of liberals reacted harshly to Ryan. I'm not sure why. What Ryan said here is not very far from what Bill Cosby, Michael Nutter, Bill Clinton, and Barack Obama said before him. The idea that poor people living in the inner city, and particularly black men, are "not holding up their end of the deal" as Cosby put it, is not terribly original or even, these days, right wing. From the president on down there is an accepted belief in America—black and white—that African American people, and African American men in particular, are lacking in the virtues in family, hard work, and citizenship:
If Cousin Pookie would vote, if Uncle Jethro would get off the couch and stop watching SportsCenter and go register some folks and go to the polls, we might have a different kind of politics.
Cousin Pookie and Uncle Jethro voted at higher rates than any other ethnic group in the country. They voted for Barack Obama. Our politics have not changed. Neither has Barack Obama's rhetoric. Facts can only get in the way of a good story. It was sort of stunning to see the president give a speech on the fate of young black boys and not mention the word racism once. It was sort of stunning to see the president salute the father of Trayvon Martin and the father of Jordan Davis and then claim, "Nothing keeps a young man out of trouble like a father who takes an active role in his son's life."
From what I can tell, the major substantive difference between Ryan and Obama is that Obama's actual policy agenda regarding black America is serious, and Ryan's isn't. But Ryan's point—that the a pathological culture has taken root among an alarming portion of black people—is basically accepted by many progressives today. And it's been accepted for a long time.
Peddlers of black pathology tend to date the decline of African American virtue to the 1960s. But pathology arguments are much older. Between 1900 and 1930, blacks were three times as likely as whites to be killed. Their killers tended to be black—black were 80 percent of Mississippi's murderers and 60 percent of its victims. According to historian David Oshinsky, the actual murder rate among African Americans was likely higher. "We had the usual number of [Negro] killings during the week just closed," the Jackson Clarion-Ledger reported in 1904. "Aside from the dozen or so reported in the press, several homicides occurred which the county correspondents did not deem sufficient for the dispatches."
Oshinsky reports that "many of the murders involved liquor, gambling and personal disputes." Did the ghastly amount of violence afflicting black Mississippians spring from poor blacks "not holding up their end of the bargain?" Or was it the the fact that black Mississippians were living in a kleptocracy that had no regard for their lives? As Khalil Muhammad shows in his book The Condemnation of Blackness, progressives and conservatives alike often argued for the former.
Certainly there are cultural differences as you scale the income ladder. Living in abundance, not fearing for your children's safety, and having decent food around will have its effect. But is the culture of West Baltimore actually less virtuous than the culture of Wall Street? I've seen no such evidence. Yet that is the implicit message accepted by Paul Ryan, and the message is bipartisan.
That is because it is a message that makes all our uncomfortable truths tolerable. Only if black people are somehow undeserving can a just society tolerate a yawning wealth gap, a two-tiered job market, and persistent housing discrimination.
I think of that cab driver passing me by on Amsterdam. We are not on the block anymore. We are in America, where our absence of virtue is presumed, and we must eat disrespect in sight of our sons. And who can be mad in America? Racism is just the wind, here. Racism is but the rain.