The Real Rand Paul-Ted Cruz Battle Is Only Just Beginning
While their faux rivalry soaks up media attention, the senators are moving closer to an inevitable clash.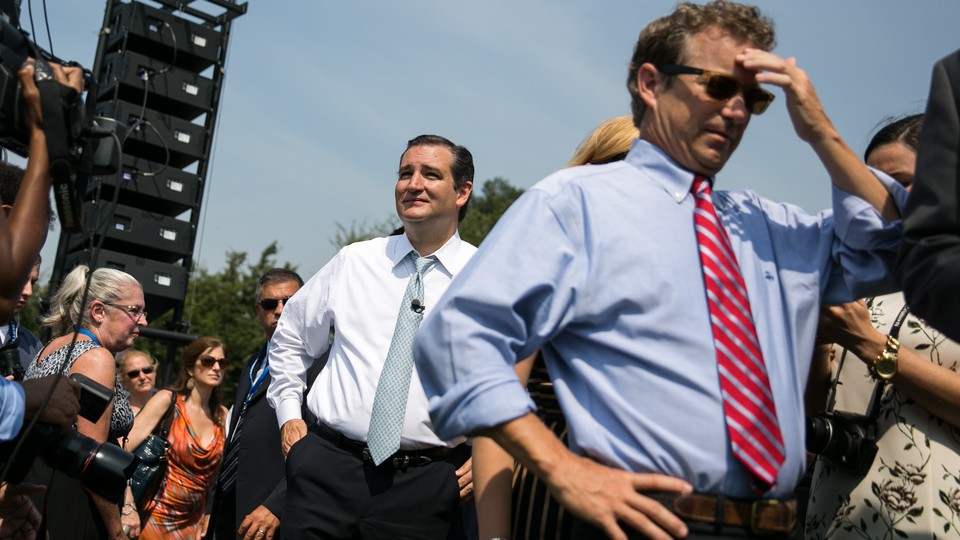 Run, Ted, run.
That's the message a new super PAC campaign, announced Wednesday, is sending to the junior senator from Texas. Sen. Ted Cruz's former regional director, Raz Shafer, announced his departure from Cruz's office to run the organization, Draft Ted Cruz for President, in the conservative blog RedState.
"When Republicans run for the White House as conservatives, we win. When they run as moderates, we lose," Shafer wrote. "When Republicans were ready to cave on gun control in early 2013, Ted Cruz was one of the few who fought to stop it. When Republicans were ready to roll over on Obamacare, Ted Cruz refused. And when Republicans tried to deceive their constituents on the debt limit, Ted Cruz refused to go along and fought for us."
While his former staff was encouraging him to run for the White House, Cruz was (where else?) in Iowa. He's visited the state four times in the last eight months — more than any other rumored Republican presidential contender, with one exception — Rand Paul.
The media narrative over the past couple weeks has focused on the differences between Cruz and Paul, who are both making their presidential ambitions more and more clear. (A smart piece written by Jason Zengerle in The New Republic recently shows how Paul and Cruz have actually switched personalities since arriving in Washington.)
And they've had some drama, at least by D.C. standards. It started when Cruz compared his foreign policy agenda to that of Ronald Reagan, and said his philosophy falls somewhere between Sen. John McCain and Paul. The next day, Paul wrote a column for Breitbart implying that hawkish Republicans like Cruz misrepresent Reagan's true vision.
On Dana Loesch's radio show Wednesday, Cruz dispelled the drama between him and Paul. "I love Rand Paul," he told Loesch. "He is a good friend, he is a tremendous voice for liberty, and I'm proud to stand with Rand."
During his stop in Iowa, Cruz also hit the Obama administration for having "badly bungled" the situation in Ukraine, and called school choice "the civil-rights issue of the 21st century."
While Cruz spoke to Christian conservatives in Iowa, Paul visited the Bay Area to speak at the University of California (Berkeley) — not exactly a bastion of conservatism — about the U.S. "dystopian nightmare." And Paul's presidential ambitions are no secret, either. The Kentucky Senate recently passed a bill ensuring Paul could concurrently run for Senate and president in 2016.
Paul has said the Republican Party should "agree to disagree" on social issues in order to welcome more voters into the fold.
"The Republican Party is not going to give up on having quite a few people who do believe in traditional marriage," Paul told the website Vocativ. "But the Republican Party also has to find a place for young people and others who don't want to be festooned by those issues."
Cruz begs to differ.
"I think we've seen that in order for the Republican Party to succeed, we need to be a big tent. We need to embrace American values," he told the Des Moines Register. "There are some who say the Republican Party should no longer stand for life. I don't agree with them. There are some who say the Republican party should no longer stand for traditional marriage. I don't agree with them either. I think we should continue to defend our shared values."
But when asked if that meant that he disagreed with Paul, Cruz demurred. While political news outlets like to hype a "political rivalry" as much as possible, the real fireworks between Cruz and Paul are years in the making — we'll have to wait for the 2016 Republican primary debates for those.
In the meantime, the Draft Ted Cruz campaign hopes to gather 1 million signatures encouraging Cruz to run. As of this writing, the website had gathered a little more than 400 signatures.
But Cruz has shown he doesn't exactly need extra convincing.