The Overblown Fight Between Rand Paul and Ted Cruz
Cruz's tiff with Paul over Ukraine lacks substance and a winning strategy.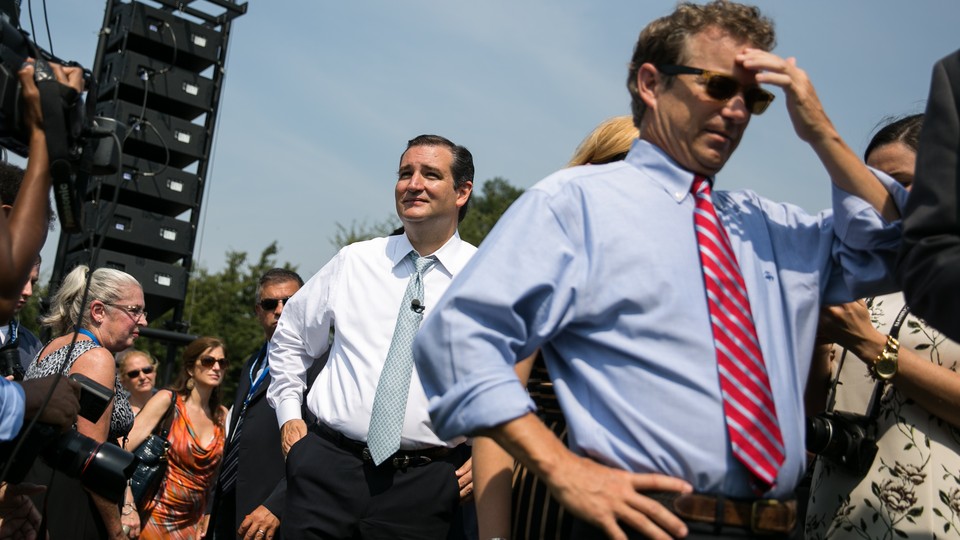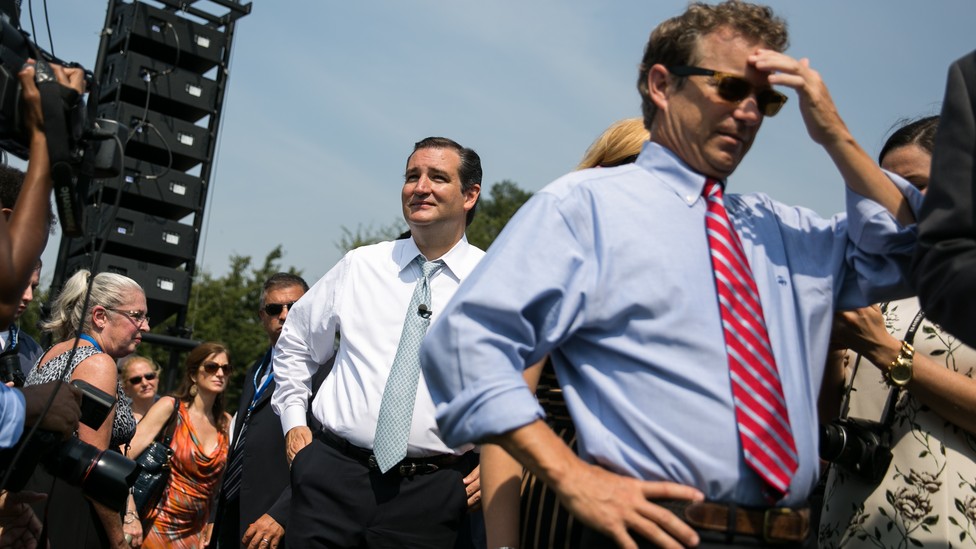 There's a big fight brewing between two of the leading voices of the Republican Party. Rand Paul and Ted Cruz may be "good friends," but their differences in foreign policy offer a stark contrast between the two senators flirting with campaigns to become the next commander in chief.
In terms of exciting political narratives, this one is pretty good, and it was one of the big headlines that came out of CPAC and this Sunday's talk shows. But it's not entirely accurate, and very much overblown.
This latest "fight" between the two potential presidential candidates is more one-sided — an attempt by Cruz to find some difference in policy to gain favor among a base that might be slipping from his fingers. It's more of a difference in tone, not policy.
Cruz on Sunday tried to separate himself from his potential rival Paul, telling This Week, "I don't agree with him on foreign policy."
The Texas Republican continued: "I think U.S. leadership is critical in the world, and I agree with him that we should be very reluctant to deploy military force abroad, but I think there is a vital role, just as Ronald Reagan did."
ABC's Jonathan Karl, who interviewed Cruz, ate it up. "Cruz's approach stands in stark contrast with fellow tea partier Rand Paul," the reporter said.
So, if Cruz's approach mirrors Reagan's, where does that leave Paul?
"I'm a great believer in Ronald Reagan. I'm a great believer in a strong national defense," Paul told Fox News Sunday.
Paul took this idea further, penning an op-ed Monday describing Reagan's foreign policy as based on both "peace through strength" and diplomacy.
Fine, they both want to have the same foreign policy as Reagan. But what about specific issues, such as Ukraine?
Cruz told ABC on Sunday that the appropriate path in the region would be for the U.S. to implement sanctions against Russia, saying that military intervention was not needed.
And Paul? Well, he thinks there should be sanctions and visa bans too.
But look at how this started. Just a few days before Russia sent troops into the Crimea region of Ukraine — when the only action Vladimir Putin had taken was through backchannels — Paul told The Washington Post, "Some on our side are so stuck in the Cold War era that they want to tweak Russia all the time and I don't think that is a good idea."
Three days later, the situation drastically changed, and so did Paul's tone. But this is still the quote that many on the right have used to attack Paul's foreign policy, despite his comments since.
So, this isn't much of a difference in policy in Ukraine. It's not really even a difference in aggressive tone against Putin. What, then, is the problem here? It's politics.
Paul came out as the big victor at the CPAC straw poll on Saturday, earning 31 percent support. Cruz was in second, but with only 11 percent support — a disconcerting distance from the winner.
Cruz, who sees his Republican colleague from Kentucky maintaining his popularity with the conservative base, is trying to use foreign policy as a way to gain favor. But that's not necessarily the best idea. He should have asked Marco Rubio.
One of the bigger flops at CPAC was the Florida Republican, once seen as a young conservative darling who could win with wide appeal. Today, though, he's but a blip on the radar after isolating many conservatives with his work on immigration reform. Attempting to win support back, he went on the offensive with foreign policy.
In his speech on Friday, he tried to regain his conservative bona fides by contrasting himself with Paul by making a strong case for American interventionism overseas.
And how did it pan out for him? He finished in a very distant seventh place at CPAC, with only 6 percent support. For someone who got second place last year, that's quite the disappointing finish. His speech did not work with that audience (the message could resonate with voters outside of CPAC, like his action on immigration).
Now Cruz is attempting a similar strategy. But if Cruz wants to stand apart from the front-runner, he needs to find another issue. He won't win with this one.
{{ BIZOBJ (video: 4800) }}