The National Women's History Museum Is Swamped in Controversy, Without Even Existing
Historians claim museum staff fired them before they could resign, just as congressional approval looks likely.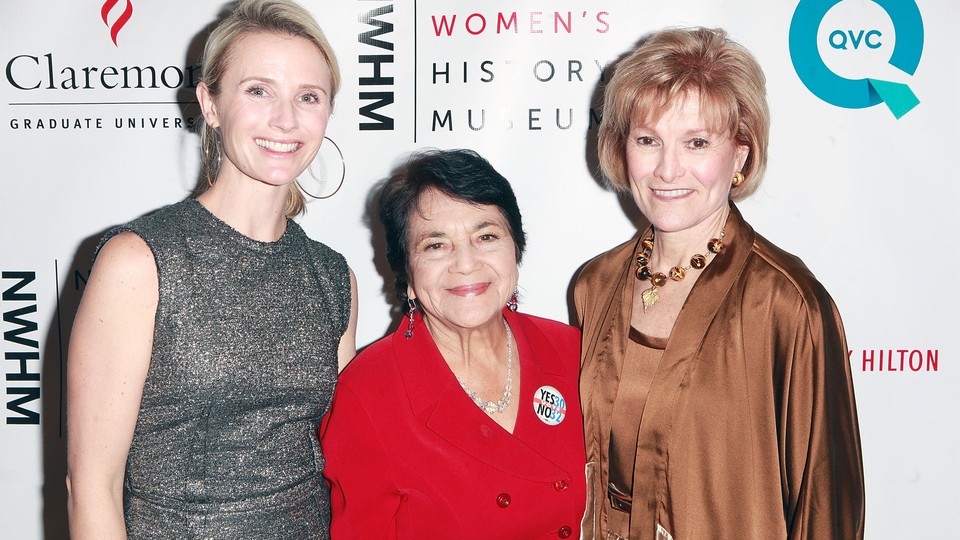 After more than 17 long years of work, advocates may at long last establish a National Women's History Museum on the National Mall — or at least get a little closer.
But celebration over the news that House Majority Leader Eric Cantor will bring legislation to the floor this year establishing a commission for the museum is being overshadowed. There's a fierce battle dividing the museum and its historians, an incident that women's history activist Denise Baer is referring to as the "Friday night massacre of women's history," a reference to the Nixon administration's "Saturday Night Massacre."
"Women's History Museum Fires Historians," reads an email sent to reporters this week by Sonya Michel, a professor at the University of Maryland (College Park) and one of the historians recently let go by the forthcoming museum.
In one sense, that is true (depending on your definition of "fires"). The museum organization's president and CEO, Joan Wages, dissolved the 18-member Advisory Council in a March 14 letter. But the real story behind the dismissals of the women's historians, all of whom are female, is much more complicated.
It starts with Wages, a former lobbyist who got involved with the women's museum organization in the late 1990s. After several failed pushes for legislation on the Hill that would allow the museum to begin building on the National Mall (they have their eyes on a spot off of 12th Street, near the Freer Gallery of Art, among other possibilities), Wages and her organization began to rethink their legislative strategy in 2010.
Following in the paths of the relatively new National Museum of the American Indian (opened in 2004), the National Museum of African American History and Culture (set to open next year), and the National Museum of the American Latino, which is also in its planning stages, Wages took a big step back. Those organizations went through the process of creating a congressional commission to secure a site and funding for the projects long before they created a council of scholars to decide what exhibits would actually appear within the museums walls.
With the help of Reps. Carolyn Maloney, D-N.Y., Marsha Blackburn, R-Tenn., and other members of Congress, Wages and her organization are now pushing legislation to establish a commission of their own. The bill, which is similar to legislation being considered in the Senate, would allow Congress to appoint eight historians and museum experts to create a report on how much the museum will cost, where it will be located, and whether it should join the Smithsonian.
It's a small step — the report won't be due until 18 months after the bill passes — but it's how the process works, Wages says.
"The point of the formation of the council was to work on the permanent exhibits, the exhibits that would be in the permanent site, so not having the permanent site and not having the expectation that we're going to get the permanent site in the next few years anyway, we're not working on that any longer."¦ Once we can point to a site and say, this is going to be it, then resources are much more readily available than they are now," she said.
Michel, one of the historians, isn't buying it. "We believe that the real reason for the dissolution was our steady criticism of the museum's practices and content, and the fact that many of us were planning to resign publicly because of concerns about its most recent exhibit," Michel said in the release she emailed to reporters this week.
The exhibit, "Pathways to Equality," focuses on the founders of the women's rights movement, including Elizabeth Cady Stanton, Susan B. Anthony, Harriett Beecher Stowe, and others. All are white women, Michel notes.
"We felt that they were using our names, our prestige," Michel added in a phone interview. Michel and some of her colleagues believe that Wages was tipped off to their impending resignation and fired them before they could get a chance to step down, thereby publicly humiliating the museum's staff.
"This we actually found pretty shocking. Because they never voiced any criticism to us whatsoever."¦ We had no idea that they were planning to resign. This is all quite a surprise to us," Wages said.
Michel says that she and several of her colleagues penned two letters to Wages complaining about the quality of the museum's online exhibits and newsletters, which went unanswered.
The "Pathways to Equality" online exhibit, Michel said in a phone interview, was "amateurish," contained numerous factual errors, and "white-wash[ed]" women's history; she called the museum staff's view of women's history "sophomoric, to say the least." The exhibit was launched without any vetting by the advisory committee.
The errors Michel pointed to have since been altered, according to a museum spokeswoman, though she disputed the professor's characterization. "We do not agree with Sonya's assertion that the original copy was factually incorrect. For example, while the term 'abolitionist,' may not have existed when Harriet Beecher Stowe was born, the dictionary today defines an abolitionist as a person who advocated or supported the abolition of slaver — which Harriet's family did," spokeswoman Susan Murphy said in an email.
The exhibit was not vetted by the council, Wages said, because she and other members of the museum's staff signed a nondisclosure agreement with Google, which sponsored the exhibit. What's more, Wages says she would not have consulted with the advisory council even in the absence of a nondisclosure.
"A scholars advisory council is brought together to provide guidance, they are not paid staff, they are not the ones who are responsible for the work product that goes up on behalf of a museum. I mean, it's your staff that's responsible for that, and our program director is not only a historian by profession, but she's our curator," Wages said. "It was not for someone to sign off on."
Michel questions Program Director Elizabeth Maurer's credentials. Maurer previously worked as the director of operations at the Museum of Crime and Punishment, but has no history of working in women's studies. She received her Masters' in Museum Education from George Washington University, according to her LinkedIn page. "I think she told me she had taken one or two courses in women's history," Michel said.
Maurer studied "women's history, World War II home front, and women's World War II military service" at William & Mary College in 1992, according to her LinkedIn page.
Michel worries that without credentialed women's historians involved, the museum plan will be easy to dismiss. Unlike other projects, a women's museum, in particular, needs to identify a very specific purpose to gain support in Congress, she argues. "I think that, you know, the Holocaust Museum, most people have a pretty good idea [of what that will entail] ... the African-American history museum, most people have a pretty good idea. I think women's history is a little more elusive, and I think you really need to articulate a vision before you get people on board," she said.
Michel may have a point, given what Rush Limbaugh said about the possibility of women's history museum this week, suggesting that women already have museums all across the country: shopping malls.
Regardless, Wages and her colleagues have high hopes for approval this Congress. The House Natural Resources Committee will consider the bill on Tuesday, with Cantor vowing to bring it to the floor later this year. Given a midterm-election year in which both parties are working to reach out to female voters, the museum project could find strong support in both chambers. The museum would continue to be privately funded.
Wages is optimistic about passage in the Senate as well, where the bill is currently being considered by the Energy Committee, which will soon be taken over by Sen. Mary Landrieu, D-La., with Sen. Lisa Murkowski, R-Alaska as ranking member. Both senators are strong supporters of the museum effort.
---
Christopher Snow Hopkins contributed to this article