The Club for Growth Grows Up
The fiscally conservative group that pioneered the practice of challenging moderates in primaries is now working with the establishment — warily.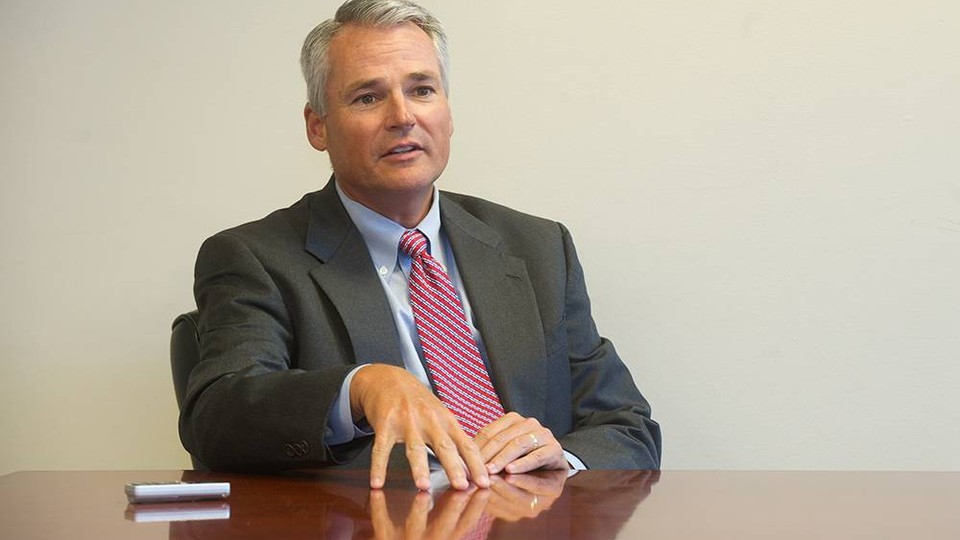 Before the tea party even existed, there was the Club for Growth. The fiscally conservative group made a name for itself in the last decade by challenging moderate incumbents in primaries, a strategy that's been imitated by others in recent years. Last year, it backed state Treasurer Richard Mourdock's primary challenge to Sen. Richard Lugar and complained about longtime Sen. Orrin Hatch's record. To kick off 2013, the group named 10 squishy House Republicans it hoped to challenge in primaries.
But since then, the group has dialed back its pugnaciousness and played ball with party leaders. Compared with its upstart rivals, the Club's tactics this cycle have been downright establishment-friendly. While activists waged war against Senate Minority Leader Mitch McConnell, the Club declined to back his opponent. In a press release, it even praised the six-term incumbent's voting record and defense of First Amendment rights.
This month, the group unexpectedly endorsed Alaska Senate candidate Dan Sullivan, who rates as the favored choice of Republicans in Washington. In supporting him, the Club passed over the man it endorsed in 2010, Joe Miller, who is once again seeking the party's nomination. It backed only three challengers to sitting Republican lawmakers so far this cycle, fewer than its conservative competitors. And it has poured money into Arkansas, in support of the National Republican Senatorial Committee's leading Senate recruit this cycle, Rep. Tom Cotton.
It's enough that even some of the group's once-ardent critics have come around to embracing it — even if the Club's leader can barely believe what he's hearing.
"People call me once in a while and say, the establishment folks, even the McConnell folks, they say, 'You guys are kind of the model,' " said Chris Chocola, the Club's president, in an interview at the group's sixth-floor office in downtown Washington. "So, get that in writing. I'd love to get that in writing."
In truth, Chocola, a 52-year-old former congressman from Indiana, argues his group hasn't changed at all since it began getting deeply involved in campaigns in the early 2000s. The Club has always carefully vetted and evaluated prospective endorsees closely, and held high standards for finding Republicans with a deep appreciation of the perils of over-taxation and regulation. But even if the Club for Growth hasn't changed, the world around it has.
By involving itself in less-scrutinized open House primaries, it has played a seminal role in moving the House Republican caucus to the right over the years. But there's a cost to the success: Although it remains the preeminent conservative outside group, it has inspired the proliferation of other insurgent organizations just like it. And many of them — like the Senate Conservatives Fund and Heritage Action Fund — have taken an even more antagonistic relationship toward the Republican powers-that-be.
The result is the Club now sits in the political center of the GOP in a way perhaps no other conservative group does — able to maintain credibility with both establishment and activist forces in the party. The question is, with those two sides always at each other's throats, can it stay there for long?
"In comparison to groups like Senate Conservatives Fund and the Madison Project, the Club has been the slightly more the grown-up in the room this cycle in terms of how they approach races," said Brian Walsh, a former NRSC spokesman who has been critical of the organization.
Chocola offers an alternate and more-flattering explanation: His group's track record has simply won over many skeptics. He points to the election of Marco Rubio, Mike Lee, and Pat Toomey — himself the Club's former president — as proof the group picks not only conservative candidates but candidates who win general elections. He's quick to point out the men and women who never received his imprimatur, like Christine O'Donnell or Todd Akin, who not only lost but embarrassed the GOP before defeat.
"When people start saying we're irrational, I say, 'OK, so you'd rather have Arlen Specter than Pat Toomey. You'd rather have Charlie Crist than Marco Rubio?' " he said. "So we have examples of — really?"
To be sure, the Club still elicits eye-rolls from GOP political professionals who regard it as a group with a big bark but limited bite. Others, citing the group's opposition to veteran Sen. Thad Cochran of Mississippi or Rep. Mike Simpson's primary foes in Idaho, swear the group is as destructive to the GOP as it's ever been. And in an hour-long interview, Chocola regularly mocked and lampooned the party committees and seasoned operatives he thinks have no idea how to build a sustainable congressional majority. Indeed, the Club made a point of announcing it would be using Jamestown Associates to produce its ads this cycle. The group was blacklisted by McConnell and the party committees for aiding McConnell's Republican primary rival, Matt Bevin.
"I don't think McConnell or his folks have any admiration for us at all," Chocola said. "We're just not in that race. It's pretty black and white. If we were in the race, we would be just like [other activists]. We're not in the race? We're the rational smart people."
That characterization is hotly disputed by many party strategists, who point to 2010 as the year when the fallout intensified. That year, the Club backed Sharron Angle, who squandered a golden opportunity to defeat Senate Majority Leader Harry Reid. Republican officials, familiar with her background in the Nevada Legislature, had feared that she would be one of the few candidates unable to win the seat. Two years later, the Club's endorsement of Mourdock against Lugar and outspoken opposition to former Wisconsin Gov. Tommy Thompson in the Wisconsin Senate race created fresh wounds with Republicans.
"When you're spending millions of dollars against folks who are far more aligned with you than many Democrats are, it's very frustrating," Walsh said.
Chocola dismisses those concerns. He said Mourdock's debate gaffe over abortion was entirely unpredictable for a candidate with no history of controversy. He added that he's glad many of the people who complain about the Club suggest how powerful they think the organization is.
"I'm not saying we're smarter or anything, but we're consistent. We're just doing the same thing, and learn the lessons of that. And so, should they be in the primaries or not in primaries? They don't know. And we don't care," he said.
In fact, Chocola's nonchalance contributed to the unlikely alliance with the NRSC in Arkansas and Alaska. He said the Club is simply looking for well-regarded conservatives who can win elections. And because of the group's work moving the party rightward, the committee has concluded that candidates who espouse the Club's brand of conservatism are capable of winning pivotal statewide races.
"The fact that 11 people on the corner of 20th and L can outmaneuver, out-influence, outdo the entire establishment and all their allies "¦ that's pretty impressive, isn't it?" Chocola said.