The Battle to Succeed John Boehner
The speaker of the House hasn't made any indication he's retiring, but that hasn't prevented feuds among his would-be replacements.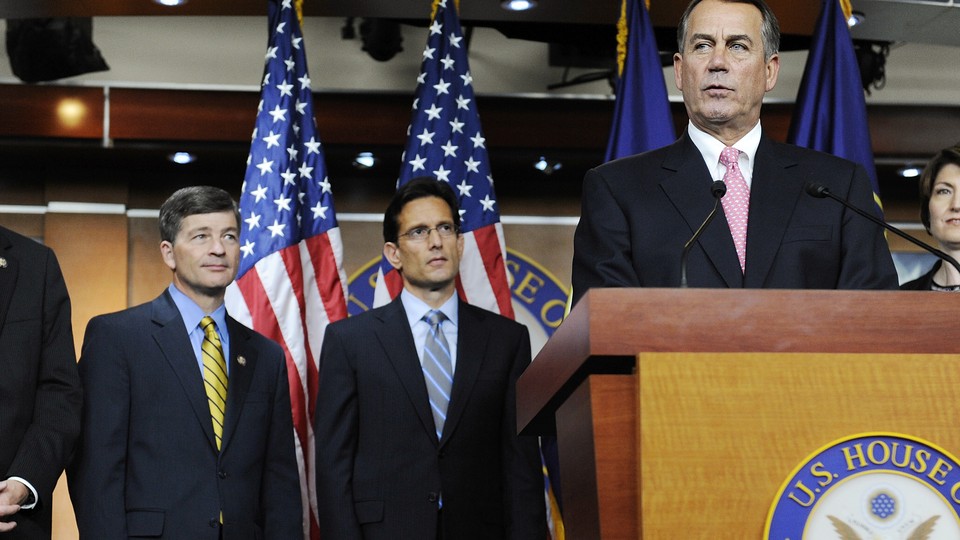 The political turbulence in recent days between Representative Jeb Hensarling and Majority Leader Eric Cantor over a flood-insurance bill may offer a window on early jockeying for top positions in the House GOP when Speaker John Boehner departs.
Boehner has expressed no intention of leaving anytime soon, but he will step aside someday. Cantor and Hensarling are both talked about as potential successors, and disagreements between them can raise political questions.
Cantor, the No. 2 House Republican, is widely seen as the odds-on favorite to replace Boehner, with broad support across the conference.
"That means Cantor and his staff—they look around and wonder about challengers," a senior House lawmaker said Wednesday. "They see three or four guys, and Hensarling's right there at the top."
On the flood bill, some in the House Republican Conference said they were disappointed that Cantor bypassed the normal committee process to push through a deal with Democrats. Hensarling, a Texan who chairs the Financial Services Committee, would normally control the makings of such a bill. Yet in the end, Hensarling and 85 other Republicans—including 11 other House committee chairs—voted against the measure Cantor worked out.
"Obviously, he tried to not have that happen," Ways and Means Committee Chairman Dave Camp said of Hensarling, adding, "If it were a Ways and Means issue, I wouldn't be happy."
Neither Cantor nor Hensarling responded to requests to discuss their working relationship and the future of conference leadership. And others simply don't see any importance in the disagreement over the flood-insurance bill. "That's ridiculous," one senior leadership aide said Wednesday. "It is obviously ridiculous."
Hensarling has experience in House GOP leadership, but he chose to leave the No. 4-ranked conference chairmanship to chair Financial Services in 2013. While much speculation has centered on Hensarling as a potential rival to Cantor for speaker, some lawmakers and senior aides say he is more likely to fill another leadership post.
Many say a conservative who could get more tea-party buy-in will have to be brought into the current power structure—meaning the top three posts in the conference—once Boehner leaves. Hensarling, as well as Representatives Tom Price and Steve Scalise, are those mentioned most often.
What is known for sure is that other issues coming before Hensarling's committee could divide the two men, and parts of the conference. One will be whether to recharter the Export-Import Bank. The bank supports loans to overseas companies to help them buy U.S. exports. Hensarling voted against reauthorization in 2012, while Cantor was instrumental in fashioning a package that got that earlier reauthorization through.
Some Republicans say that is the difference between Hensarling and Cantor: the question of principles versus pragmatism.
Hensarling, a former Republican Study Committee chair, is viewed as being committed to his hawkish fiscal principles and someone who will not compromise his stature as a conservative. It was Hensarling who got rave reviews from groups like the Club for Growth on the flood-insurance bill. "House Republican leadership wants to stick taxpayers with a bill for higher subsidies to beachfront properties, but Congressman Hensarling took a principled stand," said former Representative Chris Chocola, the group's president, in a statement.
But there are other views. One senior House leadership aide said that while Hensarling will stick to positions as a matter of principle, the point of being a committee chairman—and a member of Republican leadership—is to get legislation passed that can address problems.
In the case of the flood-insurance bill, many House Republicans were under pressure from constituents in flood-prone areas who were experiencing skyrocketing premiums, the unintended consequence of reforms to a federal insurance program. Whip counts showed that some Republicans, in the absence of a House Republican bill, were ready to vote for a Senate measure that most Republicans saw as inferior.
Given the standstill in Hensarling's committee, Cantor stepped in, chaired a handful of meetings that Hensarling and other committee members participated in, and arrived at a deal with Democrats. "I think Eric was being practical," said Representative Tom Cole, an Oklahoma Republican.
"I think that both are very principled guys," Cole said. "But obviously the majority leader is trying to move product and keep his troops together. And Jeb, I think, has always been the fiscal hawk first."