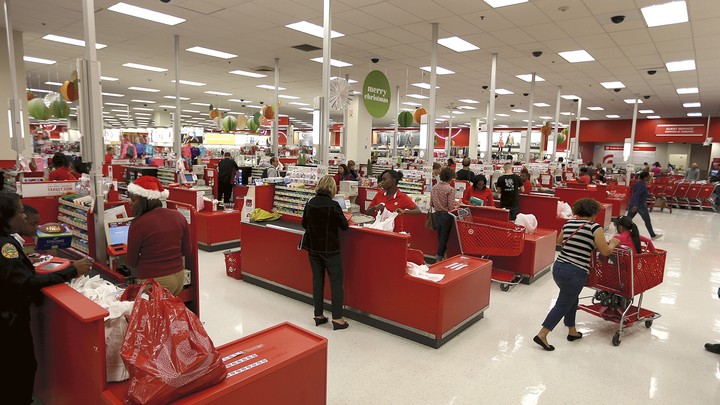 Target could face federal charges for failing to protect its customers' data from hackers.
The retailer has been in contact with the Federal Trade Commission, Molly Snyder, a Target spokeswoman, told National Journal.
It's unclear whether the FTC has issued any subpoenas or other formal demands for information. The FTC declined to comment on whether it has launched a formal investigation.
But former commission officials said the agency is almost certainly taking a hard look at the incident, which resulted in 40 million credit-card numbers falling into the hands of hackers.
"When you see a data breach of this size with clear harm to consumers, it's clearly something that the FTC would be interested in looking at," said Jon Leibowitz, a former FTC chairman who is now a partner at Davis Polk and Wardwell.
David Vladeck, a professor at Georgetown Law Center and a former head of the FTC's Consumer Protection Bureau, said it "wouldn't be surprising" if the FTC is investigating the case.
"This would be right in the FTC's wheelhouse," he said. "It demonstrates why the FTC needs to be the cop on the beat here."
Sen. Richard Blumenthal, a Connecticut Democrat, urged the FTC to investigate the Target hack soon after it became public in December.
"If Target failed to adequately and appropriately protect its customers' data, then the breach we saw this week was not just a breach of security; it was a breach of trust," he wrote in a letter to the agency.
The former FTC officials noted that just because hackers managed to breach a company's system doesn't mean the company had inadequate security practices. Hackers are sometimes able to penetrate even the most secure systems.
But recent reports have shown that Target made a series of missteps leading up to the hack. The company gave a refrigeration, heating, and air-conditioning subcontractor credentials to its system. The hackers stole those credentials from the vendor, and then they placed a virus in Target's registers that allowed them to obtain payment information for every credit and debit card that was swiped.
On Nov. 30, a data-security firm hired by Target alerted the company about a possible breach of its system, but the company failed to act, according to Bloomberg Businessweek.
The FTC polices data security under its legal authority over "unfair" business practices. Companies have a responsibility to take "reasonable and appropriate" steps to protect the data they collect from consumers, according to FTC lawyers.
The FTC has settled dozens of data-security cases in recent years with companies including Twitter, Rite Aid, and CVS. But Wyndham, a global hotel chain, is fighting charges that the FTC brought in 2012. The company claims that the FTC's legal power to go after companies for "unfair" practices does not include inadequate data security.
A federal court in New Jersey is expected to rule on the case soon. If the court sides with Wyndham, it could strip the FTC of power to oversee data security.
But both Leibowitz and Vladeck said they expect the agency to beat back the challenge from Wyndham. If the FTC loses, Congress could step in to restore the FTC's power.
Congress is already considering legislation that would expand the FTC's authority to allow it to fine companies for inadequate data security. Currently, the agency can force a company to change its practices but cannot punish companies.
The former FTC officials as well as Edith Ramirez, the current chairwoman of the FTC, argue that Congress should give the agency fining authority for data security.
"We as a society experience too many data breaches, and I think there's an under-deterrence in this field," Vladeck said. "I think companies need to get the message."
We want to hear what you think about this article. Submit a letter to the editor or write to letters@theatlantic.com.