Senators Head to Ukraine Empty-Handed
An aid package is expected to pass, but Sen. John McCain says, "I haven't been embarrassed this way about members of my own party."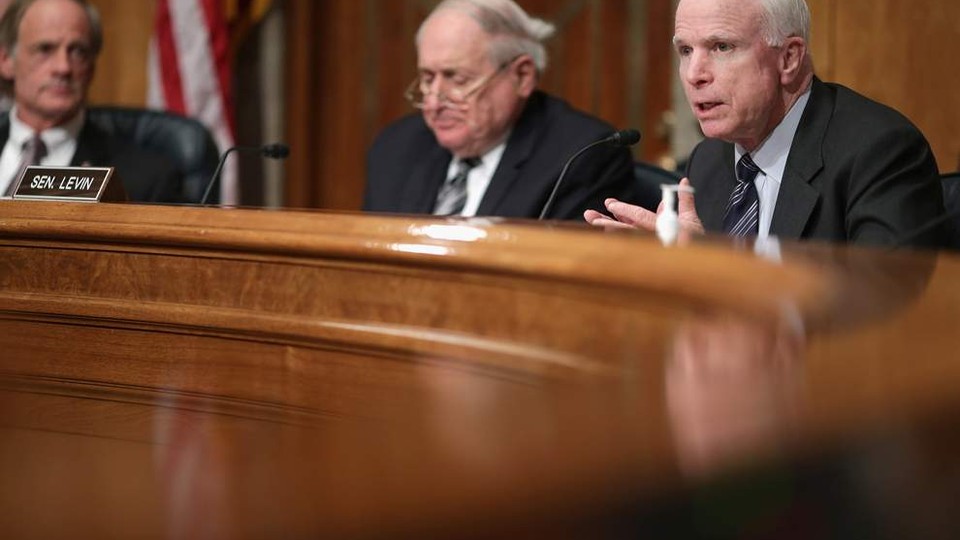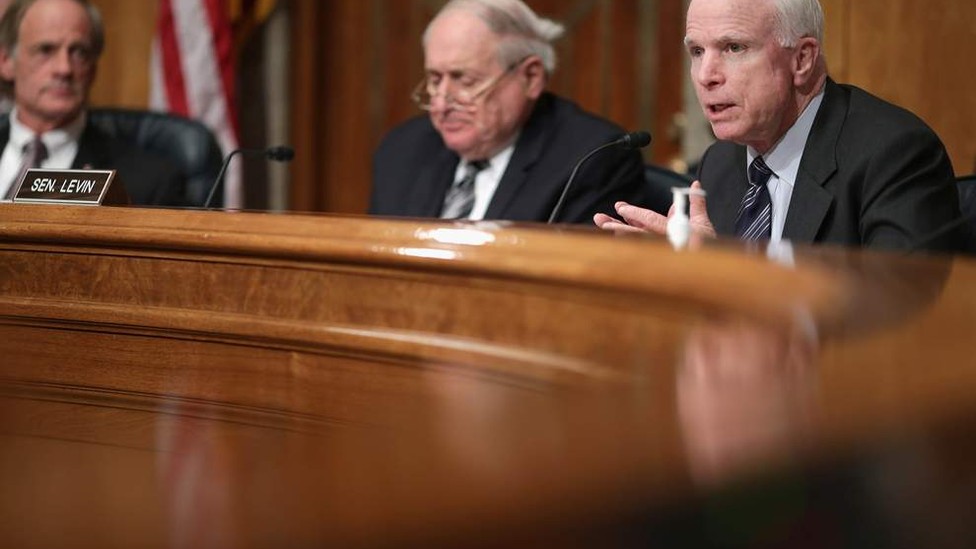 Eight senators flew to Ukraine on Thursday to communicate the United States' support of the country, as Russian forces continued to occupy Crimea. Senators had hope to bring with them news of a recently passed aid package for the country, a hope that was scuttled this week.
Amid partisan bickering over whether to expand the International Monetary Fund's lending capacity, the Senate has decided to take up the aid legislation after its current recess. The Senate will return on March 24, when the package passed by the Senate Foreign Relations Committee is expected to pass. In other words, Ukraine will have to wait at least a week and half before it receives aid from the United States.
"It would be nice to go there with a deliverable, but I think they can say strongly that help is on the way," Sen. Lindsey Graham, R-S.C., who is not participating in the trip, said Thursday.
Sen. John McCain, R-Ariz., who is leading the delegation to Ukraine said he isn't worried about showing up empty-handed. "They know me, they asked me to come, they didn't tell me to come if it passed or if it doesn't pass. They asked me to come because they want us to express our support for them," he said. "I'm going to tell them that it'll pass in 11 days when we get back."
Sen. Chris Murphy, D-Conn., who is making his second trip to the country with McCain since December, noted that the overwhelming passage of the aid package through the Senate Foreign Relations Committee on Wednesday would help in getting that message across. But he argued on the Senate floor Thursday that having an aid package in hand during their trip would have sent a "stronger message."
"I think we sent a strong message yesterday in the Senate that we're going to be ultimately passing an aid bill with sanctions attached to it. I think the House bill is important, but it's not strong enough to send the message to Russia that is necessary," Murphy said.
Unlike the House-passed measure, the Senate aid package would levy sanctions against Russia and increase the IMF's spending authority.
The latter provision, which has been promoted heavily by the White House, has caused some uproar among Republicans who worry about how the IMF will spend those funds. Secretary of State John Kerry said Thursday that while he strongly prefers including the IMF reform in the legislation, getting the aid to Ukraine "immediately" takes a priority.
Murphy agreed. "I think it would be a tragedy to drop IMF from the bill, but ... there is almost unanimity in the Senate that we should pass an aid and sanctions bill in short order," he said.
But Republicans argue that the IMF funding isn't even necessary for Ukrainians right now. Sen. Bob Corker of Tennessee, who is the ranking member on the Foreign Relations Committee and supports the IMF funding, said Ukrainian Prime Minister Arseniy Yatsenyuk told his committee that he still has to "work out a deal with the IMF before our loan guarantee is even useful."
The infighting has been particularly vexing for McCain, who took to the Senate floor Thursday, after senators had wrapped up their votes for the week, with an impassioned screed against his colleagues who are planning to vote against the aid package over the IMF provision.
"You can call yourselves Republicans," McCain continued. "That's fine, because that's your voter registration. Don't call yourself Reagan Republicans. Ronald Reagan would never — would never — let this kind of aggression go unresponded to by the American people."
McCain was later joined on the floor for a lengthy, heated exchange among several of his GOP colleagues, including Sens. Jeff Sessions of Alabama and Ted Cruz of Texas, who oppose the package because of the IMF inclusion, as well as by Murphy and Corker.
McCain also took Republican Sen. John Barrasso of Wyoming and others to task for arguing in favor of bringing up the House-passed legislation, which lacks sanctions against Russia.
Although McCain repeatedly noted that the package will pass in two weeks, the objections of his colleagues over a bill that would improve the "lives of thousands of people" in Ukraine clearly struck a nerve. The Arizonan even compared the Republican positioning on the issue to the "fool's errand" of shutting down the government last October.
"I've been embarrassed before on the floor of the Senate."¦ But I haven't been embarrassed this way about members of my party," McCain said.
The senators are officially scheduled to visit Kiev during their trip, but other stops have not been announced publicly. Asked if they would visit Crimea, Murphy said, "I don't think it would be smart to have a bunch of U.S. senators in a war zone right now."
{{ BIZOBJ (video: 4814) }}