Russian State-Run Media Tour: the U.S. Is Meddling, Ukraine Is Corrupt, and Russia Is Right
A survey of Russia's state-run and state-funded papers reveals three story lines about the crisis in the Ukraine.
This article is from the archive of our partner
.
A survey of Russia's state-run and state-funded papers reveals three story lines about the crisis in the Ukraine: the U.S. is meddling, which will only make things worse; the Ukraine's pro-West government is corrupt and dangerous; and Russia is doing the right thing.
The U.S. is meddling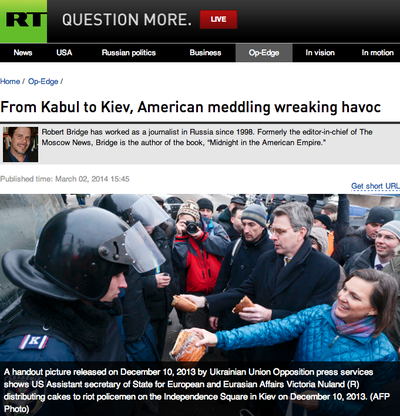 The Euromaidan ranks are filled with foreign mercenaries, according to a young Russian man named Vladislav. After being detained by Russia's Federal Security Service, he told Rossia-24 that he went to Ukraine to participate in looting, and while he was there he came across several foreigners. From The Moscow Times:
His reported experience in the Ukrainian capital, where he said there are many American, Polish and German mercenaries who are often drunk or on drugs, supports a long-running stream of state television broadcasts and Foreign Ministry statements that have attributed the political turmoil in Ukraine to foreign backers.
There is also a narrative in the Russian media that pro-gay rights groups are behind the events in the Ukraine, specifically "members of Other Russia, an unregistered opposition political party, election monitoring organization Golos, as well as various LGBT groups."
Even The Moscow News, which is independent, called U.S. actions in Kiev meddling. While "foreign zillionaires like McCain," as in Sen. John McCain, can throw in their two cents about Euromaidan and leave, the people are left to deal with the consequences, Natalia Antonova writes. The real question is whether this gamble will be worth it to Russia, a debate Antonova thought was perfectly summed up in "Dark Horse," Katy Perry's new single:
Perry has never struck me as a lyrical genius (in that sense, I'm more of a Lady Gaga fan), but listening to the words "Are you ready for, ready for / A perfect storm, a perfect storm / 'Cause once you're mine, once you're mine / There's no going back," I was suddenly struck by the fact that on a very basic level, some relationships, including political ones, have very little room for maneuvering.
Ukraine's "illegitimate" government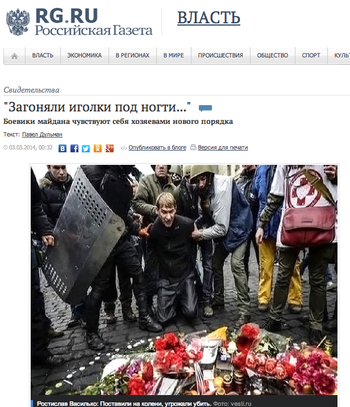 Former Ukraine President Viktor Yanukovych has condemned the transitional government led by Oleksandr Turchynov as illegitimate, but RT argues that it also goes against the spirit of the Maidan protests. "The self-proclaimed government in Kiev has appointed two of Ukraine's richest men to govern large industrial regions in the defiant east. One of the reasons for the Maidan protest was the influence the rich have on politics in the country." But this isn't just a Russian sentiment — RT found three commenters on the Ukraine's pro-west Ukrainskaya Pravda that shared the sentiment.
RT also pointed out that a Ukraine bill wants increase punishments on people who hold dual citizenship and vote or hold public office. Currently holding dual citizenship with, say, Russia, is illegal, but subject to a fine. The bill, submitted last month, would raise the punishment to prison time. "Voting would bring a prison term of three to five years, while those who took a public office giving them access to a state secret may go to jail for up to 10 years," according to RT. The outrage here is that Ukraine is trying to keep pro-Russian citizens silent. But RT failed to mention that, late last month, Ukrainskaya Pravda reported that Russia was preparing to start "issuing Russian passports for Crimean residents under a simplified procedure." 
Russia is right
Russia has emphasized that its presence in Crimea is about protecting human rights. "I reiterate, we are talking about protecting our citizens and compatriots, about protecting the most fundamental human right – the right to live and nothing more," said Russia's foreign minister, according to the Ria Novosti news service. And in a show of good faith, Russia is prepared to hire the Ukrainian riot police officers who fled their home country.
This article is from the archive of our partner The Wire.