Republicans Offer Their Own Unemployment-Insurance Plan
The five-month extension could endanger a separate Democratic bill.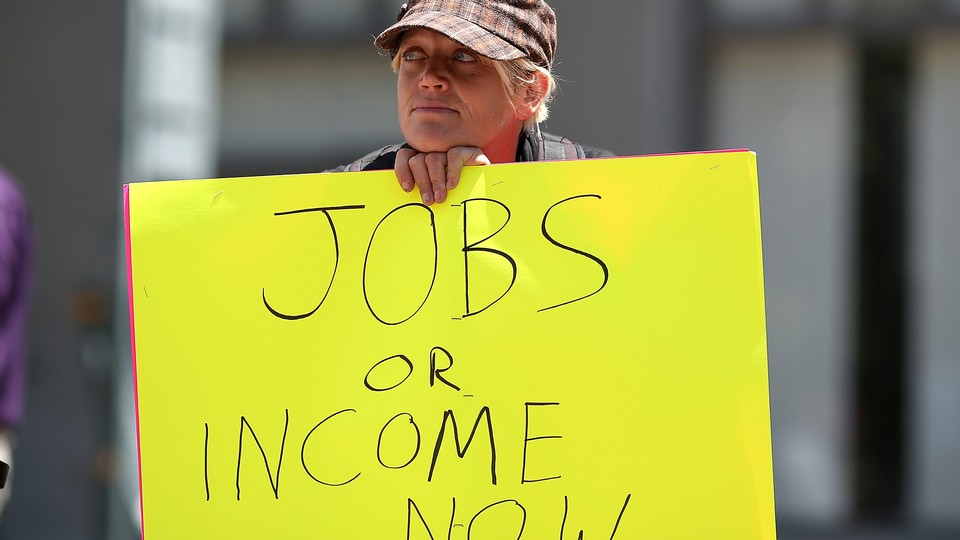 Senate Republicans released their own legislation to extend unemployment-insurance benefits Thursday evening, undercutting a separate effort offered by Sen. Jack Reed that has the support of Democratic leadership.
The Republican plan would extend the benefits, which kick in after an individual has been unemployed for at least 26 weeks, for five months including retroactive benefits. If passed immediately by both chambers, the new benefits would expire again for all beneficiaries in late May while Congress works to find a longer-term solution. In other words, those who hit the 26-week quota before the extension is made law would get far less than five months of benefits.
Significantly, the proposal would require beneficiaries to accept any offer of "suitable work" or any position recommended to them by a state employment agency.
The new proposal is cosponsored by the very Republican senators that Democrats have been lobbying to support their own bill, potentially putting Reed's six-month extension on ice. They are Sens. Dean Heller of Nevada, Susan Collins of Maine, Rob Portman of Ohio, Dan Coats of Illinois, Lisa Murkowski of Alaska, Kelly Ayotte of New Hampshire, and Mark Kirk of Illinois. Heller, in particular, has been working with Reed and other Senate Democrats for months to reinstate the benefits.
A Senate Democratic aide with knowledge of the talks expressed frustration Wednesday that Portman was not negotiating "in good faith" and had begun pulling Republican supporters away from the Democratic solution toward a proposal of his own.
"Since the beginning of the debate, I've stood ready to work in a bipartisan manner for a solution for the long-term unemployed," Portman said in a statement accompanying the text of the bill. "I'm hopeful my colleagues on both sides will get behind this proposal so we can start working on real, permanent solutions for the American people."
Murkowski, who has voted in favor of previous attempts to restore the benefits, took an even harder line. She has been strongly critical of Reed's new plan, which would pay for the extension using savings from the farm bill, which Republicans believe will never materialize.
"If the Senate does not and will not allow this bill to come up for a vote — instead pushing a party-line measure paid for by budget gimmicks — it should be clear that they are more interested in cable TV talking points than helping Americans in need," she said.
The Republican plan would pay for the five-month extension by extending customs user fees through 2024, preventing beneficiaries from also receiving Social Security disability insurance, and extending pension smoothing (which would allow employers to contribute less to their employees' pension plans). Notably, Republicans rejected the latter offset earlier in the negotiations.
The bill would also reform the overall program, requiring state and federal agencies involved to identify why an applicant is unemployed and "identify steps" that person should take "to improve employment prospects." It would also prevent "millionaires and billionaires" from receiving the benefits, according to a release.
Also on Thursday, House Democrats made a stronger push for an extension in a letter to House Speaker John Boehner signed by 161 of their members. The letter cites a report from the Center on Budget and Policy Priorities estimating that 200,000 veterans have now lost their unemployment-insurance benefits.