Republicans Audition for 2016 at the Conservative Political Action Conference
For potential candidates, this year's gathering was a momentous encounter with a passionate segment of the GOP base.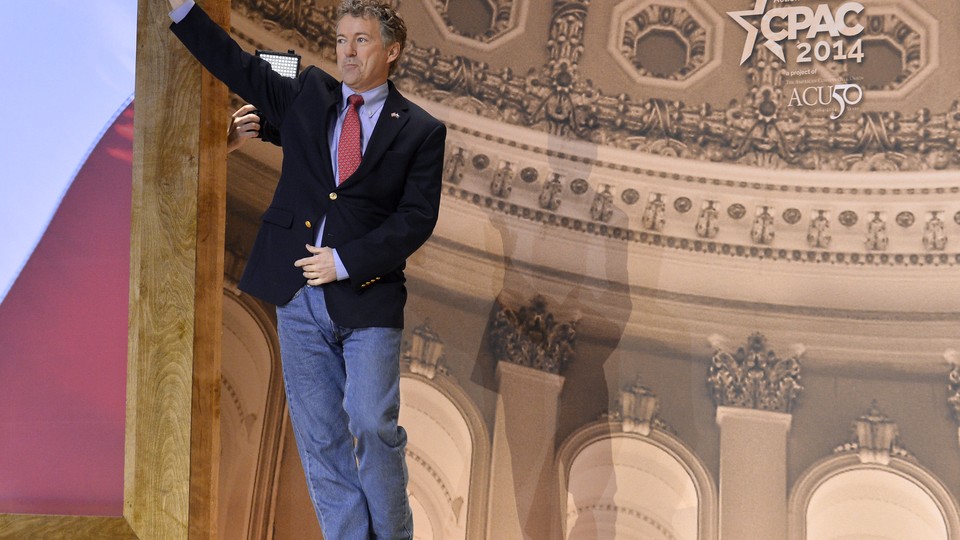 Updated, 6:24 p.m.
NATIONAL HARBOR, Md.—From the moment Rand Paul took the stage at this year's Conservative Political Action Conference, the senator from Kentucky had the crowd in the palm of his hand.
"Imagine a time when liberty is again spread from coast to coast," Paul began. "Imagine a time when our great country is again governed by the Constitution. Imagine a time when the White House is once again occupied by a friend of liberty."
The annual conservative gathering and carnival tends to have a different cast depending on where it comes in the presidential cycle, and for that purpose, this year's edition is potentially momentous. By next year, presidential contenders will be declared or nearly so and openly jockeying for favor; this year represents a softer tryout, a testing of messages, an open casting call. Texas Senator Ted Cruz, Wisconsin Representative Paul Ryan, New Jersey Governor Chris Christie, Louisiana Governor Bobby Jindal, Florida Senator Marco Rubio, Texas Governor Rick Perry, former Arkansas Governor Mike Huckabee, former Pennsylvania Senator Rick Santorum, and Paul were among the "potentials" who came to test the waters.
Though CPAC draws right-wingers of all stripes, from Oliver North to Santorum to a guy on stilts in a Ronald Reagan costume, it is increasingly dominated by libertarians, a combined result of their passionate engagement in movement politics and the discount rates the conference offers to college students. That makes it, for Paul, something of a hometown crowd. On Saturday, he won the conference's straw poll in a landslide (see below for full results). The enormous ballroom at the convention center in the Washington suburbs was crammed with an audience of thousands for his speech on Friday, which Paul devoted exclusively to civil-liberties issues.
"We will not trade our liberty for security—not now, not ever," he said, decrying the National Security Agency's "surveillance" of Americans' cell-phone use.
Paul's speech was vigorous and rousing, but his decision to focus on his signature issue was an interesting one. For the past year or so, Paul has been touring the country talking about expanding the appeal of the Republican Party (and, coincidentally, ending up in places like Iowa and New Hampshire). At the same time, he has worked to raise his own profile on a number of issues, from immigration to abortion to the budget, so as not to get pigeonholed as merely a civil libertarian. Given the current international crises in Ukraine and Venezuela, many of the CPAC speakers addressed foreign policy, an area where Paul has sought to separate himself from the pure anti-interventionist views of his father, former Representative Ron Paul. Rand Paul's speech seemed to signal—both to his own passionate supporters and to political watchers sizing up the field—that even as he broadens his portfolio, he remains, at his core, devoted to the libertarian creed.
If you think the Republican Party is confusing, imagine how the politicians considering seeking its presidential nomination must feel. Their CPAC addresses were a window into their various guesses for where the party's heart lies and where they think it ought to be. So what did they talk about, and how were they received? A brief rundown:
* Cruz drew an unfortunate time slot, opening the conference at 9 a.m. on Thursday when many audience members and reporters were still lined up outside. He urged the crowd not to be swayed by establishmentarians urging moderation—not a tough sell here—and got a cheer when he demanded Republicans "repeal every word of Obamacare." Considering the audience's natural sympathy with him and the rhetorical feats of which he's capable, Cruz's speech seemed rather boilerplate. Indeed, Cruz later made more interesting remarks at a counter-CPAC convention across the street (the product of a long-running feud between anti-Islamists and CPAC organizers), where he called for a foreign policy that splits the difference between Paulian isolationism and John McCain-style hawkishness.
* Ryan's strength has never been his scintillating public speaking. He focused his speech on defending the idea that it is conservative policies and principles that truly empower the poor: "People don't want a life of comfort," he said, "they want a life of dignity." He also made a can't-we-all-get-along plea to his fellow Republicans, saying of the party's "infighting, conflict, backbiting, discord," "Look, I'm Irish. That's my idea of a family reunion." If Ryan, the 2012 vice-presidential nominee, is to seek national office again in 2016, this speech seemed to confirm he'd do so with a pitch to the GOP establishment on his economic-policy bona fides.
*Christie's speech was hotly anticipated as a pitch for redemption on both ideological and personal grounds. National conservatives view him warily since his 2012 buddy act with President Obama, and he did not attend CPAC as he sought reelection last year. (This year, the blue-state GOP governors running for reelection who are sometimes mentioned as presidential timbre, Wisconsin's Scott Walker and Ohio's John Kasich, similarly absented themselves.) Meanwhile, Christie's image has been dented nationally by the scandal surrounding George Washington Bridge lane closures. None of that came up, naturally, in Christie's perfectly adequate speech. He added some red-meat lines to his usual spiel about bipartisanship and pragmatism, taking shots at the media and calling Democrats "the party of intolerance." Nobody booed, the laugh lines got laughs, the applause lines got applause. He did what he came to do.
* Jindal, once regarded as an affable combination of Southern-accented Bubba and Rhodes Scholar policy wonk, seems lately to be itching for a more confrontational image, recently getting into a near-brawl with Democratic colleagues at a National Governors Association press conference. Events abroad, he said, have convinced him Obama may even be a worse president than Jimmy Carter. Jindal focused his policy pitch on school choice and "standing up to defend the Duck Dynasty family when they got in trouble."
* Rubio focused on foreign policy. He accused the Obama Administration of naively ignoring the mounting danger posed by Venezuela, Cuba, Iran, al-Qaeda, and Russian President Vladimir Putin, and drew on his family's experience escaping Cuban communism. "There is only one nation on earth capable of rallying to stand up to totalitarians," Rubio said. "The United Nations cannot do this—in fact, they cannot do anything." Rubio has been speaking on foreign policy for some time now, establishing himself as a counterpoint to Paul and a serious conservative voice on international issues. His recent Senate floor speech on Venezuela lit up the conservative commentariat. If this tack helps conservatives forgive Rubio for his work on bipartisan immigration reform, so much the better—though Donald Trump was there to remind them, calling out Rubio by name in his own CPAC speech.
* Perry was one of the conference's big surprises. The ridicule from his disastrous 2012 presidential bid still trails him like a bad odor, but those who have watched him longer believe his performance then was not truly reflective of his political abilities, and tend to believe he's telling the truth when he says pain medication from a recent back surgery had him off his game. Despite drawing a 9 a.m. slot, Perry gave a rip-roaring speech calling for "a little rebellion on the battlefield of ideas." The themes were familiar to anyone who watched him in 2012: jobs created in Texas, low taxes and less regulation, restricting the federal government to a narrow interpretation of its constitutional mandates—"and what the heck, deliver the mail, preferably on time and on Saturdays." It is testament to Perry's abilities that this silly, if not hypocritical, line had the crowd on its feet, clapping and cheering.
* Huckabee is contemplating another presidential run—"It's not a decision I've made," he told reporters after his speech Friday—and there are plenty of social-conservative activists in Iowa to whom he remains a hero, and who would welcome such a development. His main competition for their affections would be Santorum, who won them over in 2012, and the contrast between the men's speeches was instructive. Huckabee combined overt religious appeals ("I know there's a God, and I know that this nation would not exist if He had not been the midwife of its birth") with a random selection of policy punch lines ("The only time Vladimir Putin shivers is when he takes his shirt off in the cold Russian winter"). Santorum ripped GOP elites for wanting the party to moderate on social issues while failing to offer appealing economic policies to working people. The men have similar policy profiles—both are willing to deviate from strict fiscal conservatism in support of "values"—but Huckabee's appeal is his ministerial background and personal charisma, while Santorum has an earnestness and fury that perpetually teeter on the edge of aggrieved hectoring. Based on CPAC, it's not at all clear which profile social conservatives prefer.
Update: Straw poll results:
Paul: 31 percent
Cruz: 11 percent
Dr. Ben Carson: 9 percent
Christie: 8 percent
Walker: 7 percent
Santorum: 7 percent
Rubio: 6 percent
Ryan: 3 percent
Perry: 3 percent
Jindal: 2 percent
Former Secretary of State Condoleezza Rice: 2 percent
Huckabee: 2 percent
Former Alaska Govenor Sarah Palin: 2 percent