Republican Governors Top the Democrats' Hit List in 2014
The Democratic Governors Association is running a first-strike operation against several of the GOP's leading presidential contenders.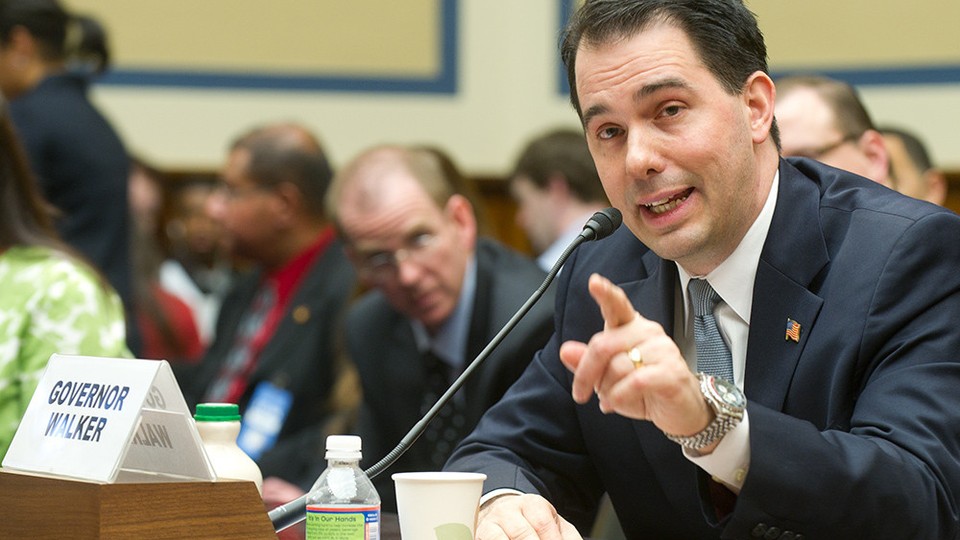 A Democratic Party stuck to playing defense in House and Senate races is focusing anew on a handful of key gubernatorial battles as its best chance to make its mark in this year's midterm election. The party's biggest potential prize: Knocking off highly touted Republican governors before they become a threat in the next presidential campaign.
Officials at the Democratic Governors Association are running a first-strike operation against a collection of GOP White House hopefuls like Wisconsin Gov. Scott Walker and Ohio Gov. John Kasich, two possible presidential candidates-in-waiting who face a reelection campaign at home first. Other likely presidential contenders, like Louisiana Gov. Bobby Jindal and New Jersey Gov. Chris Christie, aren't running for relection this year, but nonetheless fall into the DGA's sights.
"If Democrats really care about the things we said we cared about, we need to take these guys out," said Lis Smith, a DGA consultant. "These will be same issues that will come up in 2016."
DGA strategists stress they're not thinking about 2016 and care only about winning races this year, especially in important battleground like Pennsylvania and Florida, where vulnerable Republican governors don't have national ambitions. But they are also keenly aware that their efforts could nonetheless have a big impact on the next presidential election — a reality not lost on them when they try to recruit attention and money to fight this year's races.
The goal for Democrats is to defeat a candidate like Walker or Kasich, an outcome that would potentially knock them out of the 2016 presidential race before it even begins. Their work in 2014 could amount to an early playbook for the 2016 Democratic presidential nominee.
Walker has been in the group's focus, with public polls showing he faces a competitive reelection test against wealthy businesswoman Mary Burke. The DGA has played a pivotal role fueling the controversy involving Walker's staff working with him on his first gubernatorial election — against state law.
When the scandal reemerged last month, the DGA passed along a combative interview from Walker to Fox News' Chris Wallace. Earlier this year, before his State of the State address, the DGA criticized the governor for failing to produce as many jobs for Wisconsin as he originally promised. And when the governor took the MSNBC's The Daily Rundown to oppose an increase in the federal minimum wage, the group again criticized him with a flurry of press releases.
The DGA has traditionally been overshadowed by the better-funded Republican Governors Association — last year, the RGA raised $50 million to the DGA's $28 million. Still, last year's haul was a record one in an off year — one officials say was attributable in part to the group's strategy of nationalizing the state-centric races to draw Democrats' interest.
"Our job isn't to bloody up the presidential candidates," said Danny Kanner, a DGA spokesman. "But that said, it is important for Democrats to understand that we can defeat some of these guys now."