Rep. Dave Camp, Powerful House Committee Chairman, Is Leaving Congress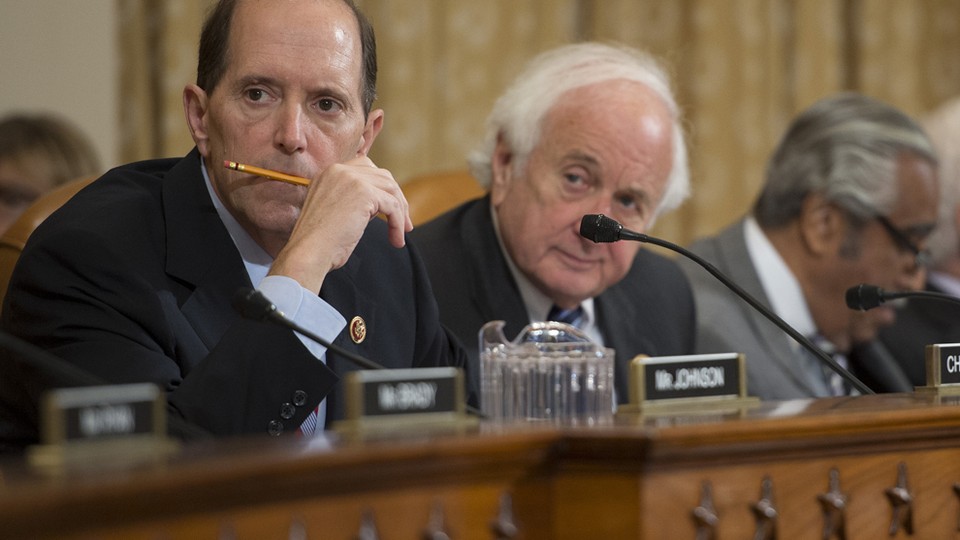 Republican Rep. Dave Camp, chairman of the powerful House Ways and Means Committee, announced he will be retiring at the end of his term.
"This decision was reached after much consideration and discussion with my family," Camp said in a statement. "Serving in Congress is the great honor of my professional life. I am deeply grateful to the people of the 4th Congressional District for placing their trust in me. Over the years, their unwavering support has been a source of strength, purpose, and inspiration."
Camp was first elected to Congress in 1990, and became chairman in 2011 when Republicans retook the House.
But due to committee term limits, this is the last Congress that Camp will be able to serve as the House's lead tax-writer. He spent last year traveling around the country with then-Senate Finance Committee Chairman Max Baucus in their effort to push through tax reform, but that campaign stalled in February when President Obama appointed Baucus as ambassador to China.
Camp went ahead with his own overhaul proposal in March, but that wasn't embraced by House GOP leadership. Camp is an ally of House Speaker John Boehner, who declined to endorse Camp's plan, instead saying the chamber will begin a "conversation" about tax reform. Senate Minority Leader Mitch McConnell said he has "no hope for [reform] happening this year."
In a statement Monday, Speaker Boehner said Camp "has been a leader in the fight to increase economic growth and help create more American jobs," and that he and "the whole House" will miss him.
Camp is one of several close Boehner allies to announce his retirement this year. Others include Reps. Mike Rogers, also of Michigan; Doc Hastings of Washington; Tom Latham of Iowa; and Buck McKeon of California.
"During the next nine months, I will redouble my efforts to grow our economy and expand opportunity for every American by fixing our broken tax code, permanently solving physician payments for seniors, strengthening the social safety net, and finding new markets for U.S. goods and services," Camp said in his retirement announcement.
Camp's retirement opens the path for Rep. Paul Ryan of Wisconsin, the House Budget Committee chairman, to make a bid for the Ways and Means gavel. Ryan signaled his interest in the top tax-writing post earlier this year amid rumors that Camp would seek an exemption to House Republicans' term limits for an additional two years as chairman. But Rep. Kevin Brady serves as the most senior member on the congressional panel, and plans to challenge Ryan for the post.
The departure also opens up another congressional seat in Michigan, coming on the heels of retirement announcements from Democratic Rep. John Dingell and Democratic Sen. Carl Levin, along with Rogers. Camp's retirement sets off something of a sea change in Michigan. With Democratic Rep. Gary Peters running for the state's open Senate seat, at least four of Michigan's 14 House seats will see new members next year.
But Camp's district is solidly Republican, according to the Cook Political Report. Obama lost it in 2012 and narrowly won it in 2008. Candidates running in the primary have until April 22 to file.
Republicans are eyeing potential successors for Camp's seat, including state Sen. John Moolenaar, who had been elected to the state Senate in 2010 after serving in the state House.