Ranking Member Profile: Lisa Murkowski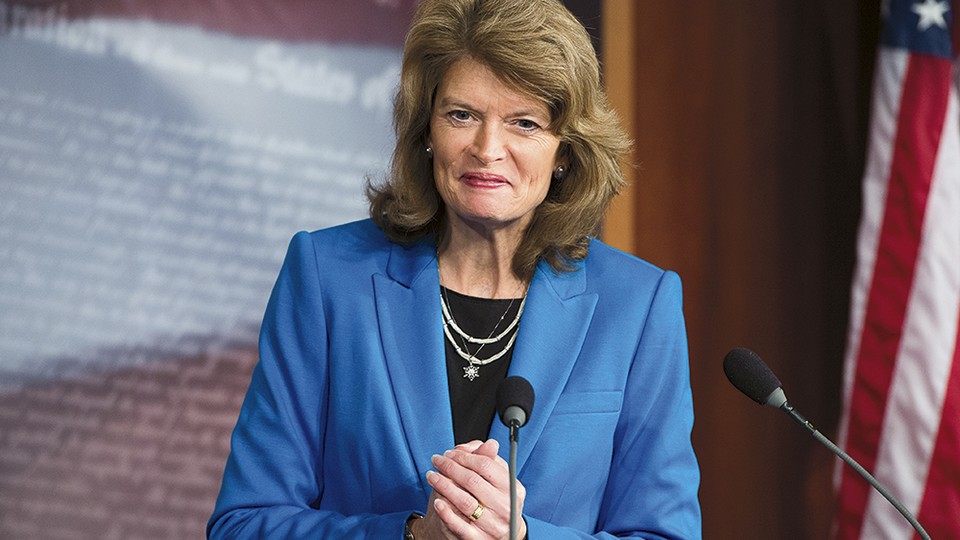 In another political age, this might be the start of a bright year for Sen. Lisa Murkowski of Alaska, the top Republican on the Senate Energy and Natural Resources Committee and a strong advocate of the oil industry.
Fellow oil-state Sen. Mary Landrieu just became chairwoman of the committee, and the Louisiana Democrat — who sits to the right of her caucus on energy — sees eye-to-eye with Murkowski on plenty of things.
But Murkowski, 56, freely acknowledges that the Senate's limited agenda presents few chances to act on anyone's policy goals. And so the blessings are bittersweet.
"You have to have that level of patience," Murkowski said. "But where I am not as patient is with the political messaging, pushing back on what I think are good, solid initiatives because they don't necessarily benefit the majority [party] at the time.
"It seems that I am getting a little more impatient as these years are going on, and I am just not seeing the accomplishments coming out of the Congress."
Gridlock, in short, annoys the daughter of Frank Murkowski, himself a senator for more than two decades and a former Alaska governor. While there's little doubt that family ties helped steer her toward politics — after she served in the Legislature, her father appointed her to the Senate in 2002 when he vacated the seat to become governor — it was the policy side and the ability to shape major changes that truly caught and held her interest.
Andrew Halcro, who served with Murkowski in the Alaska Legislature in the 1990s, tells a story of Murkowski toting around marked-up folders as they walked through the state Capitol. "She turns to me and says, 'Do you ever get the feeling that you and I are the only two people on these committees that really read these bill packets?' " Halcro said.
"She is genuinely curious," said Halcro, now president of the Anchorage Chamber of Commerce. "She wants to learn. She actually does the heavy lifting herself."
Abandoning her original ambition to be a teacher, Murkowski studied law and eventually found politics. "In retrospect I would not have been a good teacher, because I would have given those kids so much homework every night," she said. Perhaps not so much as she gives herself. "It's a serious job," she said. "I need to be informed, and as fabulous as my staff is, I don't expect them to be the senator." But when it comes to energy policy, Murkowski is increasingly confronting a discouraging question: Informed to what end? Major legislation stands little chance in an election year — a frustrating state of affairs for a senator who doesn't spend a lot of time seeking attention for herself.
"I think she is much more interested in doing the work, much more interested in her connection with people in Alaska," said McKie Campbell, her former staff director on the committee and a longtime friend. "I think she is interested in having a large impact on national policy, but not as interested in being a national figure.
"For a senator, there is very little ego," Campbell added. "That is sometimes to the frustration of her staff, who would like her to go out and be on Sunday shows more, have a higher profile."
In 2010 Murkowski did become a national political figure as she sought a second full Senate term and faced one of the biggest political hurdles of her career.
Murkowski lost her 2010 primary to Joe Miller, a Sarah Palin-backed tea-party challenger. So she launched an improbable write-in campaign without the National Republican Senatorial Committee's support — and won. It was the first successful write-in campaign for the Senate since the 1950s.
Murkowski has forged her own path in other ways, too. She's a woman in the largely male Senate, and she's among the GOP's moderates on social issues. She supports gay marriage and abortion rights, although she gets some credit from antiabortion activists for her votes on certain funding and abortion-restriction measures.
"I think that Lisa's voice is a really important one in articulating points of view that may not be held by some of our colleagues," said Sen. Susan Collins, a moderate Republican from Maine and a close friend of Murkowski's.
Murkowski calls 2010 a clarifying moment.
"It was one of those experiences that you go through that really causes you to search pretty deep in yourself to find out, why am I doing this? Once you have identified why you are doing it — it's because you love a place [Alaska] so deeply — you kind of lose the fear of being the only one on your side that is voting 'no' or 'aye,' " Murkowski said.
"I try to be a good team player with my conference, and I think I am respected as one, but I think I am also respected as one who has perhaps a little more independent trail to take, and I am happy with it."
But how happy can she be in this Senate?
Washington is constraining for Murkow- ski, who enjoys skiing and biking in her home state. But she is poised to become a more powerful senator if Republicans gain control of the chamber in November. That would make her chairwoman of the Energy Committee, and of the Appropriations subpanel that oversees spending for the Interior Department and the Environmental Protection Agency. And when it comes to energy, Murkowski sees chances to progress in other ways. Recently she has been pushing the Obama administration to relax the decades-old restrictions on crude-oil exports — an issue on which Republicans haven't yet reached consensus.
"Maybe from the [2010 election] experience that I went through," she adds, pausing to find the right words, "there is no fear of losing here, because what I am trying to do is not advance a bill. I am trying to advance the thought, the dialogue, the debate on this."
And she's willing to absorb some bruises along the way. Back in 2009 she ripped up ligaments in her left knee in a skiing accident south of Anchorage that sent her tumbling hundreds of feet. "She's back," says Campbell, "still skiing the steep stuff."