Rand Paul Wins the 2014 CPAC Straw Poll
The Kentucky Republican is the undisputed favorite at this year's conference, and Marco Rubio is the biggest loser.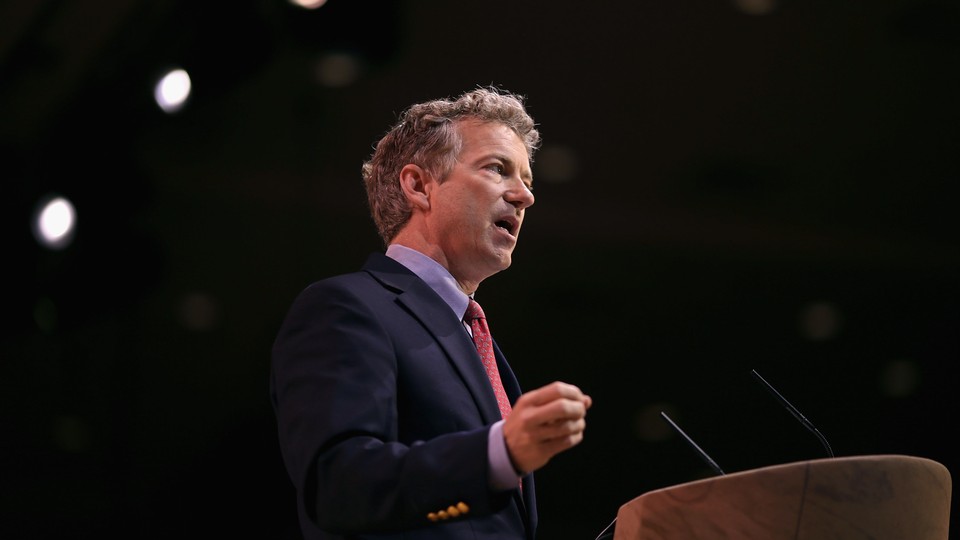 Libertarian darling Rand Paul won the Washington Times/Conservative Political Action Conference straw poll on Saturday, taking 31 percent of the vote in the multicandidate field. Ted Cruz came in a distant second place with 11 percent. Ben Carson came in third, registering in the single digits.
Marco Rubio suffered the biggest drop in his numbers, going from 23 percent in 2013 to 6 percent of the vote this year, a percentage that puts him in 7th place.
The annual straw poll traditionally serves as a barometer for the feelings of the conservative movement. This year marked the poll's 28th year.
Paul, who's already been dubbed the "king" of this year's CPAC, was also the winner of last year's poll, garnering 25 percent of the vote to second-place finisher Rubio's 23 percent. Other past winners include Mitt Romney, who won in 2012, 2009, 2008, and 2007; Ron Paul, who won in 2010 and 2011; George Allen, who won in 2006; and Rudy Giuliani, who won in 2005.
Only 2,459 ballots were cast this year out of almost 11,000 attendees. That number is slightly higher than the number of votes cast in 2010, the last midterm election year.
Top finishers from the straw poll are below. The rest of the candidates received a negligible number of votes. See the full poll results here:
Sen. Rand Paul, Kentucky: 31%
Sen. Ted Cruz, Texas: 11 %
Dr. Ben Carson: 9%
Gov. Chris Christie, New Jersey: 8%
Gov. Scott Walker, Wisconsin: 7%
Former Sen. Rick Santorum, Pennsylvania: 7%
Sen. Marco Rubio, Florida: 6%
Rep. Paul Ryan, Wisconsin: 3%
Gov. Rick Perry, Texas: 3%
{{ BIZOBJ (video: 4800) }}